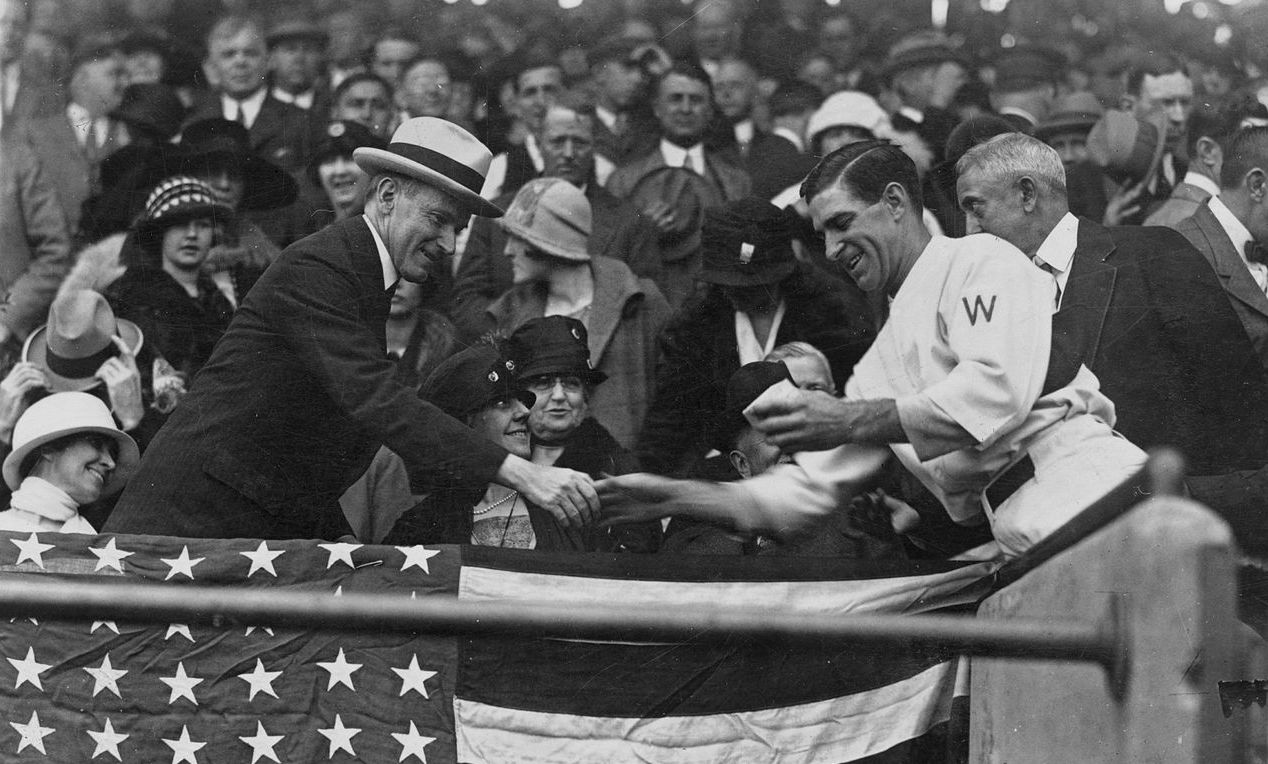 God is a Nats Fan: A Kid from New York Remembers
God is a Nats Fan: A Kid from New York Remembers
"God is a Nats Fan" first appeared in The Amer­i­can Spec­ta­tor on 21 Octo­ber 2019. Scroll down to the com­ments for emails with fel­low fanat­ics as the 2019 World Series unfolds.
Y

ankee Stadium, 1958

When Wash­ing­ton was in town, the drill was always the same: 15¢ for a bus to the Stat­en Island Fer­ry. A nick­el fer­ry ride and 15¢ more for the BMT to Wood­lawn and Jerome Avenues. As the sub­way erupt­ed into sun­light from the bow­els of the Bronx, this kid wear­ing his navy blue hat with its white "W" would con­front the Citadel of Base­ball, proud and aus­tere with its eagle logos, bristling with pen­nants. The House That Ruth Built was home to the team I root­ed against.

Through the turn­stiles, down dark alley­ways smelling of beer and cig­ars, and sud­den­ly you'd burst upon this hal­lowed expanse of green. In the out­field were memo­ri­als to The Babe, Lou Gehrig and Miller Hug­gins. Bil­ly Crys­tal once quipped, "I thought they were buried there!" All us kids thought that.

Nine­ty cents got you into the bleach­ers, but gen­er­al admis­sion cost only $1.30. From there, after a cou­ple innings, you could sneak into an emp­ty $2.50 reserved seat or, if atten­dance was light, a $3.50 box. Now and then the vis­it­ing Sen­a­tors would get ahead, and scary Bronx voic­es would holler: "Hey kid — the Wash­ing­ton section's in the bleachers!"
Why the Nats?
Don't get me wrong. All us New York kids backed a home team. But in those days we had three choic­es, and I chose the Nation­al League Giants. The sure-win­ner Yan­kees were too easy to root for. When I dis­cov­ered base­ball, they were all-dom­i­nant, win­ning five straight pen­nants and World Series from 1949 to 1953. The Evil Empire, even then! I pre­ferred underdogs.
I looked around for an Amer­i­can League rival, and my eye fell upon the Wash­ing­ton Sen­a­tors. (Offi­cial­ly they were the Nation­als until 1956, and every­body called them the Nats.) I liked their uni­form with the big navy blue "W." Why not? In the ear­ly Fifties the Nats were good, but not great. Decent pitch­ing, light hitting.
Once in July 1952, we found our­selves only five games behind the Yanks. Man­ag­er Bucky Har­ris was inter­viewed: "Could you guys actu­al­ly win the pen­nant?" Bucky laughed, but I was euphor­ic. Maybe! Alas, we fin­ished fifth at 78-76—the orig­i­nal Sen­a­tors' last over-.500 sea­son. After 1960 they moved to Min­neso­ta and became the Twins. An expan­sion team took their place, and when I lived in cen­tral Penn­syl­va­nia I drove to a few games. They had only one win­ning sea­son, and after 1971 they hied to Texas to become the Rangers. Bummer.
Better Than You Think
Long before then, this kid with his "W" hat had mem­o­rized Wash­ing­ton baseball's great days. And there were many. In the decade 1924–33, the Sen­a­tors, Yan­kees, and Philadel­phia Ath­let­ics owned the Amer­i­can League. They won every pennant—three, four, and three respectively.
In 1924, the Nats won a sev­en-game World Series—improbably. Trail­ing 3-1 in the eighth, play­er-man­ag­er Bucky Har­ris smashed a grounder to third. It hit a peb­ble, deflect­ing over the Giants' Fred­die Lind­strom. Wash­ing­ton scored two and tied the game. Next Bucky brought in the aging vet­er­an, Wal­ter John­son, "The Big Train," baseball's great­est pitch­er. Wal­ter pitched four score­less innings against the for­mi­da­ble Giants.
In the bot­tom of the 12th, Nats catch­er Mud­dy Ruel rifled a dou­ble. John­son (who usu­al­ly hit for him­self) reached first on an error. Incredibly—impossibly—Earl McNeely came up and hit anoth­er grounder to third that took anoth­er bad hop over Lind­strom and Ruel lum­bered home! I'm sure it hit the same peb­ble — because God put it there, and as every­one knows, God is a Nats fan.
Making History
The Sen­a­tors won pen­nants in 1925 and 1933, but lost both of those Series. In '25 they blew a three-games-to-one lead to the Pitts­burgh Pirates. In '33 the Giants took revenge, win­ning hand­i­ly, four games to one.
Had the 2019 Nation­als wound up play­ing the Yan­kees, it would have been a "rub­ber" World Series matchup between Wash­ing­ton and New York. But between dif­fer­ent teams from oppo­site leagues, since fran­chis­es have changed, and moved. Busi­ness arrange­ments mean noth­ing to Wash­ing­ton fans. Above Nation­als Park, we've always flown our three pen­nants, and now there'll be anoth­er one fly­ing beside them.
The Sen­a­tors near­ly won their fourth pen­nant in 1945 and were most­ly respectable there­after. Until 1955, when they fin­ished last—likewise in 1957–59. This earned them the sobri­quet "First in War, First in Peace, and Last in the Amer­i­can League." That's not real­ly fair. They were bet­ter than that.
Nats – talgia
As life unfold­ed, I drift­ed from base­ball, espe­cial­ly after the Giants fled to Frisco and the expan­sion Sen­a­tors flopped. Once, in the Eight­ies, I tuned in a game, only to find a guy bat­ting who didn't play the field, called a "Des­ig­nat­ed Hit­ter." What is that? I won­dered. Evi­dent­ly a con­so­la­tion prize for expired roost­ers who can't field but still can hit, to thrill a few fans with left­over home runs. Sacrilege!
In my opin­ion, the DH ruins the game. Excus­ing pitch­ers from hit­ting removes key strat­e­gy decisions—when to pinch-hit or bunt. As a result, bunting is almost a lost art. Even in my beloved Nation­al League, I fume as I watch pro­fes­sion­al hit­ters square away before the pitch, giv­ing away the ele­ment of sur­prise that is the essence of a good bunt.
Then, sud­den­ly, in 2005, Wash­ing­ton had a base­ball team again—complete with the Six­ties curly "W" logo and again called the Nation­als. Now they were in the Nation­al League, where pitch­ers still bat. Nos­tal­gia drew me back. Avid­ly I watched them play .500 base­ball that first year — the same as they did in 1953 for old Bucky Harris.
Every­body knows the rest of the sto­ry. It took years of trying—frustrating years, includ­ing four when we nev­er got past a divi­sion series. It took a hell­ish, Sen­a­tors-like per­for­mance last April and May that left us 19-31 after the first 50 games. Every­body was say­ing, "It's over—again." It took one of the most impos­si­ble come­backs since the New York Giants surged from 13 1/2 games behind to wrest a pen­nant from the Dodgers in 1951. Guess what? In 2019 the Nation­als whupped those Dodgers again!
Field of Dreams
Win­ning the pen­nant for the first time in 86 years was main­ly about step­ping up. All our guys did: bril­liant starts, sol­id relief, fine field­ing, clutch hit­ting from the most for­mi­da­ble offense Wash­ing­ton has seen since the 1930s. Bless them all, from fans old and new, who prayed for this moment.
High above in their Field of Dreams, old Sen­a­tors must be intox­i­cat­ed. Play­er-man­ag­er-own­er Clark Grif­fith, the "Old Fox," who raised the team from cel­lar to cham­pi­onship, is envy­ing today's own­er, Mark Lern­er. Isn't Max Scherz­er, who also hits well, the pitch­er equiv­a­lent of Wal­ter John­son — who like­wise hit for him­self? Aren't our starters Stephen Stras­burg, Ani­bal Sanchez, and Patrick Corbin the coun­ter­parts of Cami­lo Pas­cual, Pedro Ramos, and Con­nie Mar­rero? Yes, all those greats were at one time Wash­ing­ton hurlers.
Is Howie Kendrick's 2019 bat the equal of Tris Speaker's in 1927? Aren't short­stop Trea Turner's glove and bat as good as those of Joe Cronin? Behind the plate, who needs to choose between Rick Fer­rell and Kurt Suzu­ki, between Mud­dy Ruel and Yan Gomes?
Antho­ny Ren­don at third fields as well and hits much hard­er than the Sen­a­tors' "Walk­ing Man," Eddie Yost. And what out­field­ers! Juan Soto, Vic­tor Rob­les, Adam Eaton, and Michael A. Tay­lor could be the coun­ter­parts of Sam Rice, Heinie Manush, and Goose Goslin — or, to put a more mod­ern spin on it, of Roy Siev­ers, Har­mon Kille­brew, and Frank Howard.
What a sea­son this has been: reviv­ing old mem­o­ries, cre­at­ing new ones we'll nev­er for­get. And now, please excuse me. I'm going to sneak into Minute Maid Park and plant a peb­ble on the third-base line — just in case.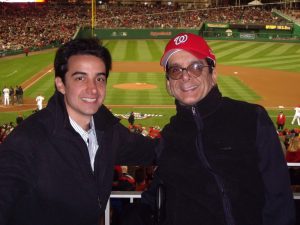 Dedication
To the mem­o­ry of Charles Krautham­mer, who I know is tuned in. (Left: Daniel and Charles at Nation­als Park, a fam­i­ly photo.)
2019 World Series:
Scroll to com­ments below for ban­ter among Nats fanat­ics as the fourth Wash­ing­ton World Series unfolds.