Johns Hopkins University Press releases this month the seventh and final volume of The Papers of George Catlett Marshall: "The Man of the Age," October 1, 1949 – October 16, 1959. It was masterfully edited by Mark Stoler and Daniel Holt under the auspices of the Marshall Center. It joins its predecessors presenting the papers of one of the greatest generals and statesmen of his age (1880-1959). I quickly assigned it for review by the Hillsdale College Churchill Project, for its many references to Churchill in George Marshall's final phase. This and the previous volume are indispensable for anyone wishing to understand the complicated international scene immediately after World War II.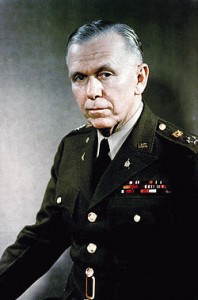 After resigning as Secretary of State (1947-49) owing to ill health, Marshall recovered long enough to be President Truman's Secretary of Defense (1950-51)—the only uniformed military officer ever to hold that position. In 1953 he headed the U.S. delegation to the coronation of HM Queen Elizabeth II, and became the only career U.S. army officer to receive the Nobel Peace Prize, largely for the Marshall Plan (European Recovery Act) that helped Europe revive after the war.
Alistair Cooke always sniffed and told me that the Marshall Plan should really have been called the Acheson Plan, for all the work Dean Acheson put into it. But Harry Truman insisted it be named for his Secretary of State. In part through Marshall's efforts and prestige, it passed Congress with bipartisan support—not something transformative Acts of Congress seem to do nowadays.
Thomas E. Ricks has a good brief review of "Marshall VII" in Foreign Policy. "He had his faults, but he was a thoughtful, well-balanced man, and that comes out even in his minor exchanges. Again and again, I am struck at how well he handled Congress. He was clear and honest. Yet he also took very political steps." Ricks calls Marshall "a decent man, not always treated decently."
Marshall and Churchill
Churchill and Marshall probably had more disputes over allied strategy in the war than Churchill and his own generals, yet their respect for each other was profound. A friend directed me to Marshall's last poignant message to Churchill in this book, January 1958: "I don't know anyone with whom I had more arguments than with you, and I don't know anyone whom I admire more" (986).
There is quite a lot more on Churchill here, including Marshall's handwritten statement upon Churchill's retirement, 5 April 1955 telephoned to the BBC at their request: "A great, a very great man has retired from a long and powerful part in World Leadership. The most remarkable career of modern times has reached its active conclusion. I was with him during many critical moments [crossed out: 'and days']. Always he was towering in his strength and courage. I am thankful that his voice can still be heard in is beloved House of Commons." Alas, it never was heard there again.
I have always admired Marshall (and, in some respects,
Senator William Jenner
, whom Ricks calls "Reptile, Indiana"—but that is another story). General Marshall was of course the target of partisan Republicans once he became Secretary of State and acceded, after careful thought, to the
relief of General MacArthur
from Korea in 1951. I only wish State had had someone of his caliber these last eight years.
In
Churchill by Himself
are two Churchill quotes on Marshall: "The noblest Roman of them all" (to
General Ismay
, which is famous), and a more obscure one from
The Hinge of Fate,
on a communiqué to the Russians—which shows Marshall the diplomat. After the Roosevelt-Churchill "Trident" talks and Churchill's second address to Congress in May 1943, the President had suggested Churchill take Marshall along in his aircraft (both were headed east) to discuss the draft. Churchill wrote:
​
As soon as we were in the air I addressed myself to the Russian communiqué. As I found it very hard to make head or tail of the bundle of drafts, with all our emendations in the President's scrawls and mine, I sent it along to General Marshall, who two hours later presented me with a typed fair copy. I was immensely impressed with this document, which exactly expressed what the President and I wanted, and did so with a clarity and comprehension not only of the military but of the political issues involved. It excited my admiration. Hitherto I had thought of Marshall as a rugged soldier and a magnificent organiser and builder of armies—the American

Carnot

. But now I saw that he was a statesman with a penetrating and commanding view of the whole scene. I was delighted with his draft, and also that the task was done. I wrote to the President that it could not be better, and asked him to send it off with any alterations he might wish, without further reference to me.
​How different these characters were from their counterparts today. I've always appreciated Marshall's reply to a publisher, after his retirement, who offered him a million dollars for a tells-all book. Marshall refused, saying, "I have been adequately compensated for my services."
{ 0 comments }