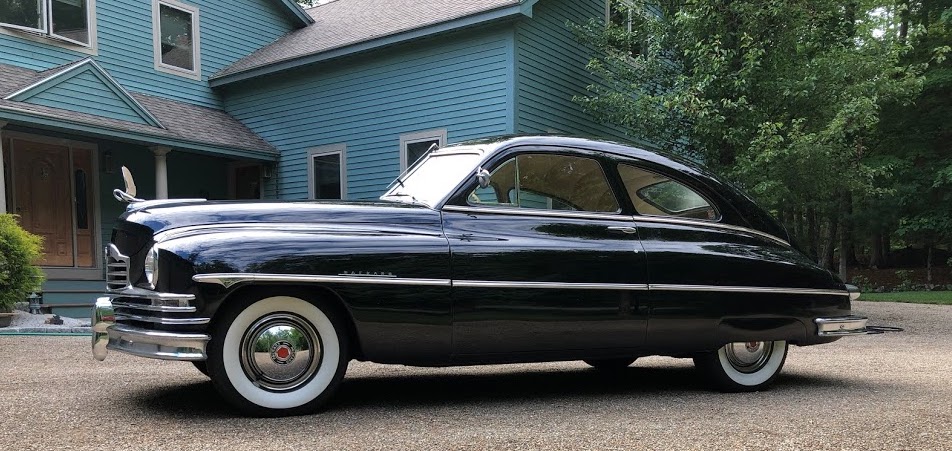 I nev­er planned to be a "his­to­ri­an." I was a Chem­istry drop-out at Rens­se­laer Poly­tech­nic Insti­tute (1960), a fail-safe grad­u­ate of Wag­n­er Col­lege (1963), a 120-day-won­der U.S. Coast Guard offi­cer (1964-67), and a bored bureau­crat at the Penn­syl­va­nia Depart­ment of Health (1967-70). Chance sale of a car arti­cle land­ed me an edi­tor­ship at Auto­mo­bile Quar­ter­ly, then in its hey­day. There, with the help of two bril­liant edi­tors, Don Vor­der­man and Bev­er­ly Kimes, I got into my bones the essen­tials of writ­ing his­to­ry. I left AQ to free­lance in 1975 and have been, as my wife likes to remind me, unem­ployed ever since.
Sleep­less in Har­ris­burg, I began col­lect­ing stamps and found­ed the Churchill Study Unit, to inves­ti­gate Churchill com­mem­o­ra­tive postage, in 1968. Three years lat­er it became the Inter­na­tion­al Churchill Soci­ety, a broad­er orga­ni­za­tion for any­one inter­est­ed (pro and con) in Win­ston Churchill, his life and times, and edit­ing its quar­ter­ly, Finest Hour. I left the Soci­ety to oth­ers in the 1970s in sin­gle-mind­ed pur­suit of an obses­sion with old cars. I wrote, co-wrote or pub­lished 54 books and 2000 arti­cles on auto­mo­tive history—American, Eng­lish and Euro­pean, most of them "pot­boil­ers," but a few have stood the test of time: Kaiser-Fraz­er: Last Onslaught on Detroit, Tri­umph Cars, The Stude­bak­er Cen­tu­ry, The Ency­clo­pe­dia of Amer­i­can Cars, The Com­plete Book of Col­lectible Cars, GM: 100 Years, and Packard: A His­to­ry of the Motor­car and the Company.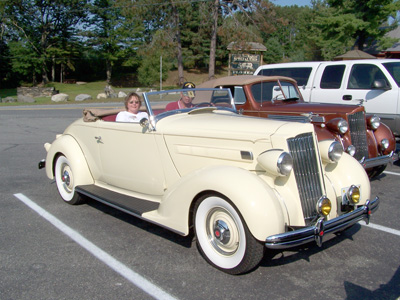 For me, Packard built the grand­est cars in Amer­i­ca. I had the hon­or to serve as edi­tor of The Packard Cor­morant from 1975 through 2001, and have been a trustee of the Packard Motor­car Foun­da­tion since 2003. I was betimes edi­tor of The Mile­stone Car, The Vin­tage Tri­umph and Car Clas­sics mag­a­zines, and sam­pled about forty col­lec­tor cars. For eight years I owned a won­der­ful 1936 Packard One Twen­ty con­vert­ible named "Gats­by," now in Germany.
With part of the pro­ceeds I bought a body-off restora­tion, a 1953 Stude­bak­er Com­man­der Star­lin­er with stick over­drive, which gives us longer legs on the inter­states to attend old car tours well away from home. The Star­lin­er was designed for Ray­mond Loewy by my old friend Bob Bourke, who is no longer with us. I wish he could to see this beau­ti­ful car, the high point, I believe, of Amer­i­can pro­duc­tion styling in the 1950s: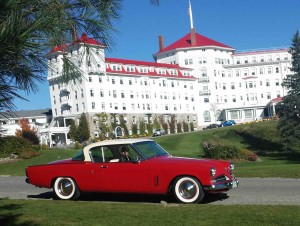 In 1981 the door­bell rang and Win­ston Churchill was stand­ing there (fig­u­ra­tive­ly). I had dug out an old box of stamps and picked up his won­der­ful auto­bi­og­ra­phy, My Ear­ly Life: exag­ger­at­ed, ego­tis­ti­cal and not quite accu­rate, but in Harold Nicolson's words, "like a beaker of cham­pagne." I revived the Churchill Soci­ety, mori­bund since 1975, and pro­duced a new issue of its jour­nal Finest Hour. Lit­tle did I imag­ine that by this small club would morph into an insti­tu­tion ded­i­cat­ed "to fos­ter­ing lead­er­ship, states­man­ship, vision and bold­ness among demo­c­ra­t­ic and free­dom-lov­ing peo­ples through the thoughts, words, works and deeds of Win­ston Spencer Churchill," or that Finest Hour would grow to 64 pages, or that I would sur­vive 140 quar­ter­ly deadlines.
Along the way I began col­lect­ing Churchill's books and, because I couldn't get enough, was a Churchill spe­cial­ist book­seller from 1982 to 2004, when I sold the busi­ness to Chartwell Book­sellers in New York City. I pub­lished an Amer­i­can edi­tion of Churchill's rare 1931 book, India (1991), A Connoisseur's Guide to the Books of Sir Win­ston Churchill (1998) and five books of quo­ta­tions, Win­ston Churchill by Him­self (2008), The Defin­i­tive Wit of Win­ston Churchill (2009). The Patriot's Churchill (2010), All Will Be Well: Good Advice from Win­ston Churchill (2011), and Churchill in His Own Words (2012). I am now writ­ing what I hope will be the first of sev­er­al "Kin­dle Sin­gles" on spe­cial aspects of the Churchill saga.
Retir­ing as edi­tor of Finest Hour after the Autumn 2014 edi­tion, I joined Hills­dale Col­lege, pub­lish­ers of Sir Winston's Offi­cial Biog­ra­phy, as a Senior Fel­low for the Churchill Project. It was a delight to join my old friend, Hills­dale Pres­i­dent Lar­ry Arnn, where Win­ston Churchill has a good and per­ma­nent home. Togeth­er with many bright young people—I call them the A-team—we are plan­ning new, excit­ing edu­ca­tion­al pro­grams on Churchill's life and phi­los­o­phy, reach­ing thou­sands through sem­i­nars, con­fer­ences, online cours­es, web events, and stream­ing video. Click here for more details and go to "Appear­ances" for upcom­ing events.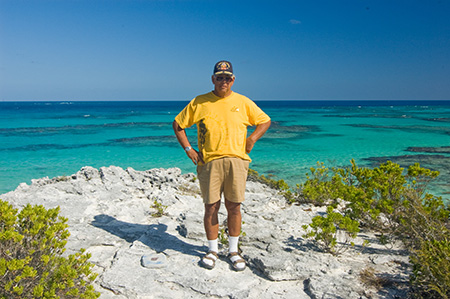 And now for some­thing com­plete­ly dif­fer­ent. In 2003 we built a house on Eleuthera, Bahamas, which we've loved since we land­ed there in 1981, where Bar­bara and I now spend four months a year, writ­ing, play­ing, and edit­ing our local prop­er­ty own­ers asso­ci­a­tion newslet­ter, The Rain­bow Times.
In 1998 Her Majesty the Queen saw fit to reward me with a CBE (Com­man­der of the Most Excel­lent Order of the British Empire), "for ser­vices to Anglo-Amer­i­can under­stand­ing and the mem­o­ry of Sir Win­ston Churchill." What does one say to such an hon­or? Only Churchill's words when he received the Nobel Prize for Lit­er­a­ture in 1953: "I am proud, but also I must admit, awestruck at your deci­sion to include me. I do hope you are right. I feel we are both run­ning a con­sid­er­able risk and that I do not deserve it. But I shall have no mis­giv­ings if you have none."
It has been an honor—and cer­tain­ly the only like­ly cred­it on my cre­ma­to­ry urn—to devote a career to Win­ston Churchill, the Wash­ing­ton or Lin­coln of his cen­tu­ry; to rise above the triv­ial and the leg­endary, above the frothy soap opera pic­ture, above the mem­o­ra­bil­ia, above even the blood, toil, tears and sweat; to defend his rep­u­ta­tion from carpers and cranks; to show that warts and all, Churchill was one of a kind—a politi­cian who not only talked, but thought—not just the per­son of a cen­tu­ry, but of a millennium.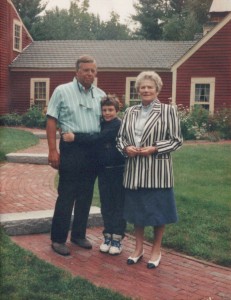 Churchill wrote of the cul­mi­nat­ing event of his life, the night he became Prime Min­is­ter, 10 May 1940: "I thought I knew a good deal about it all, and was sure I should not fail." Well, that is what this web­site is about: an oppor­tu­ni­ty to share what I know; to answer ques­tions; to set the record right (and Churchill was not always right); to poke curi­ous­ly into obscure cor­ners of his­to­ry; to learn more myself—and to com­mu­ni­cate with Churchill­lians, car nuts, Bahami­an adven­tur­ers, an eclec­tic mix—but I do know a good deal about it all.
We once referred to the sev­en (count 'em) peo­ple who sub­scribed to both my Churchill and Packard mag­a­zines as "The Saint­ed Sev­en Sub­scribers." And that is what you are: a Saint­ed Web-Brows­er, for hav­ing land­ed here at richardlangworth.com. I hope the vis­it will reward you in some pleas­ant or use­ful way.