Curt Zoller, Bibliographer
Curt Zoller, Bibliographer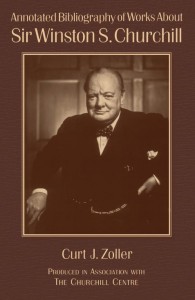 Lagu­na Hills, Calif., Octo­ber 6th— Curt Zoller, a Churchill schol­ar for a third of a cen­tu­ry, passed away a week short of his 94th birth­day. "Over the last two years his health had been rapid­ly declin­ing," writes his daugh­ter Mar­sha, "but he tried so hard to 'Nev­er give in.'"
A seri­ous book col­lec­tor, Curt was a long­time colum­nist for Finest Hour, the Churchill quar­ter­ly I edit­ed from 1982 to 2014, where he wrote "Churchill­triv­ia," the Quiz col­umn. In 2004 he pub­lished an invalu­able ref­er­ence, The Anno­tat­ed Bib­li­og­ra­phy of Works About Sir Win­ston S. Churchill, signed copies of which are still avail­able from Mark Weber, the Churchill Book Spe­cial­ist. In it, Curt logged thou­sands of books, arti­cles, dis­ser­ta­tions and togeth­er we wrote anno­ta­tions for the pri­ma­ry works.
Curt Zoller also pub­lished Her­schel Logan's The Amer­i­can Hand­press: Its Ori­gin, Devel­op­ment and Use (1980), and co-authored, with Michael McMe­namin, an impor­tant book on Bourke Cock­ran: Becom­ing Win­ston Churchill: The Untold Sto­ry of Young Win­ston and His Amer­i­can Men­tor (2007).
Gert Zoller, Curt's wife of 67 years and care­giv­er for the last four, con­tin­ues to do well at 93, sup­port­ed by her daugh­ter Mar­sha who lives near­by. Any­one wish­ing to be in touch please con­tact me offline.
A man nev­er dies as long as he is remem­bered. Curt's friends will remem­ber the delight of his com­pa­ny and friend­ship; his books assure him a per­ma­nent memo­r­i­al among Churchill scholars.