Churchill's "Infallibility": Myth on Myth
Churchill's "Infallibility": Myth on Myth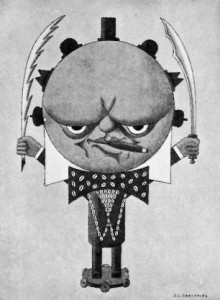 Mr. Daniel Knowles ("Time to scotch the myth of Win­ston Churchill's infal­li­bil­i­ty," (orig­i­nal­ly blogged on the Dai­ly Tele­graph but since pulled from all the web­sites where it appeared), wrote that the "nation­al myth" of World War II and Churchill "is being used in an argu­ment about the future of the House of Lords."
Mr. Knowles quot­ed Lib­er­al Par­ty leader Nick Clegg, who cit­ed Churchill's 1910 hope that the Lords "would be fair to all par­ties." Sir Winston's grand­son, Sir Nicholas Soames MP, replied that Churchill "dropped those views and had great rev­er­ence and respect for the insti­tu­tion of the House of Lords." Soames con­clud­ed: "But it doesn't mat­ter. The basis of this argu­ment is mythol­o­gy, not history."
Churchill's view on the Lords was more nuanced than Clegg stat­ed, and cer­tain­ly did change after pas­sage of the 1911 Par­lia­ment Act, which Churchill helped pass. It elim­i­nat­ed the Lords' veto of mon­ey bills, restrict­ed their delay of oth­er bills to two years, and reduced the term of a Par­lia­ment to five years. You can look it up.
What to do about the House of Lords is a mat­ter for the British peo­ple and their rep­re­sen­ta­tives. My task is mere­ly to refute non­sense about Win­ston Churchill—which I will now respect­ful­ly pro­ceed to do, quot­ing from Mr. Knowles's treatise:
• "We idolise Churchill because we don't real­ly know any­thing about him."
Only syco­phants idol­ize Churchill. But if they do, it's not because they know noth­ing about him. He has the longest biog­ra­phy in the his­to­ry of the plan­et. He has 15-mil­lion pub­lished words. There are a mil­lion doc­u­ments in the Churchill Archives. One hun­dred mil­lion words were writ­ten about him. He gets 37 mil­lion Google hits. Don't be silly.
• "His finest hours aside, Win­ston Churchill was hard­ly a paragon of pro­gres­sive thought."
Churchill's was at times so pro­gres­sive that he was called a trai­tor to his class. His own Con­ser­v­a­tive Par­ty nev­er quite trust­ed him because they knew he con­tin­ued to har­bor prin­ci­ples of the Lib­er­al Par­ty he had been part of from 1904 to 1922. To cite exam­ples would bore you. So let's just say that he favored a Nation­al Health Ser­vice before the Labour Par­ty did, and believed in a sys­tem of social secu­ri­ty before the Labour Par­ty existed.
• "He believed that women shouldn't vote – telling the House of Com­mons that they are 'well rep­re­sent­ed by their fathers, broth­ers, and husbands.'"
Churchill nev­er said that in the Com­mons. It's a pri­vate note past­ed into his copy of the 1874 Annu­al Reg­is­ter in 1897, when he was 23. At that time the major­i­ty of British women them­selves were opposed to hav­ing the vote. Churchill changed his view on women's suf­frage after observ­ing the role women played in World War I—and when he real­ized, as his daugh­ter said, "how many women would vote for him."
• "He was fierce­ly opposed to self-deter­mi­na­tion for the peo­ple of the Empire…."
Was the fierce inde­pen­dence Churchill admired in Cana­di­ans, Boers, Zulus, Aus­tralians, Sudanese, New Zealan­ders and Maoris a sham and a façade, then? Churchill did have a tic about the ear­ly Indi­an inde­pen­dence move­ment, with its Brah­min roots. Yet in 1935 he declared that Gand­hi had "gone very high in my esteem since he stood up for the Untouch­ables." And Churchill was proven right that a pre­ma­ture British exit from India would result in a Hin­du-Mus­lim bloodbath—how many died is still unknown.
• "….advo­cat­ing the use of poi­soned gas against 'unciv­i­lized tribes' in Mesopotamia in 1919."
That Gold­en Oldie has been refut­ed repeat­ed­ly for twen­ty years. The spe­cif­ic term he used was "lachry­ma­to­ry gas" (tear gas). He was not refer­ring to a killer gas like chlorine.
• "Even his dis­trust of Hitler was prob­a­bly moti­vat­ed most­ly by a hatred of Germans."
Is this the same Churchill who urged that shiploads of food be sent to block­ad­ed Ger­many after the 1918 armistice, incur­ring the wrath of his col­leagues, who wished to "squeeze Ger­many until the pips squeaked"? Is this the man who wrote to his wife in 1945: "…my heart is sad­dened by the tales of mass­es of Ger­man women and chil­dren fly­ing along the roads every­where in 40-mile long columns to the West before the advanc­ing Armies"? Real­ly, Mr. Knowles should be ashamed of himself.
• "In 1927, he said that Mussolini's fas­cism 'had ren­dered ser­vice to the whole world,' while Il Duce him­self was a 'Roman genius.'"
Lots of politi­cians said favor­able things about Mus­soli­ni after he restored order to a reel­ing Italy in the 1920s. Churchill was among the first to real­ize and to say pub­licly what Mus­soli­ni real­ly was. Churchill wasn't always right the first time—but he was usu­al­ly right in the long run.
• "In 1915, he had to resign as First Lord of the Admi­ral­ty after the dis­as­ter of Gallipoli."
He had to resign because of the Dar­d­anelles, not Gal­lipoli, which was some­one else's idea (and hadn't yet become a dis­as­ter). Churchill ini­tial­ly was even doubt­ful about the plan to force the Dar­d­anelles, but he defend­ed it and was a handy scape­goat. He vowed nev­er again to cham­pi­on "a car­di­nal oper­a­tion of war" with­out ple­nary author­i­ty; hence his assump­tion of the title "Min­is­ter of Defence" in World War II.
• "His deci­sion in 1925 to restore Britain to the Gold Stan­dard caused a deep and unnec­es­sary recession."
There was already a reces­sion. Churchill, Keynes and the Gold Stan­dard com­prise a far more com­pli­cat­ed sub­ject than Mr. Knowles rep­re­sents. Among oth­er things, the Gold Stan­dard was insist­ed upon by the Bank of Eng­land. Churchill was cer­tain­ly wrong to buy their argu­ments, and saw many of its effects com­ing; he was also incred­i­bly unlucky in the way things transpired.
• "That led direct­ly to the gen­er­al strike in 1926, in which he was report­ed to have sug­gest­ed using machine guns on the miners."
Mr. Knowles con­fused his red her­rings. It was the Welsh min­ers at Tony­pandy in 1910 against whom Churchill is mytho­log­i­cal­ly sup­posed to have sent troops—but top marks for the machine guns, a new twist on the old myth. (In fact, Churchill opposed the use of troops, in Tony­pandy and in the Gen­er­al Strike.)
Mr. Knowles concluded:
Yes, he was, in the most part, a bril­liant war leader. His role in the cre­ation of the mod­ern wel­fare state is also worth remem­ber­ing. But his views on Lords reform are as irrel­e­vant today as his views on India or female suf­frage. This is a debate we should have based on prin­ci­ple, and on a prac­ti­cal eval­u­a­tion of how well the House of Lords works. Cit­ing dead men only mud­dies it.
Well, it is my instinc­tive feel­ing any­one who fails to do basic research can pro­duce only what amounts to a nation­al myth, divorced from reality.
Churchill was not always "a bril­liant war leader." He did help cre­ate what became the wel­fare state–and warned against its excess­es. His views on Lords reform are not irrel­e­vant, but they do require more study than we read in the Tele­graph Blog­post. His views on India are still rel­e­vant to cer­tain Indi­ans who have writ­ten on the sub­ject. (As one wrote, the Axis Pow­ers had quite dif­fer­ent ideas in mind for India than the old British Raj).
As for female suf­frage, ask all the women who vot­ed for him. Cit­ing live Tele­graph blog­gers only mud­dies the waters.
Mr. Knowles has tweet­ed that "The whole point of the post was to take down Clegg. That piece is bizarre." I cer­tain­ly agree his piece is bizarre. But Mr. Clegg last­ed until 2015.