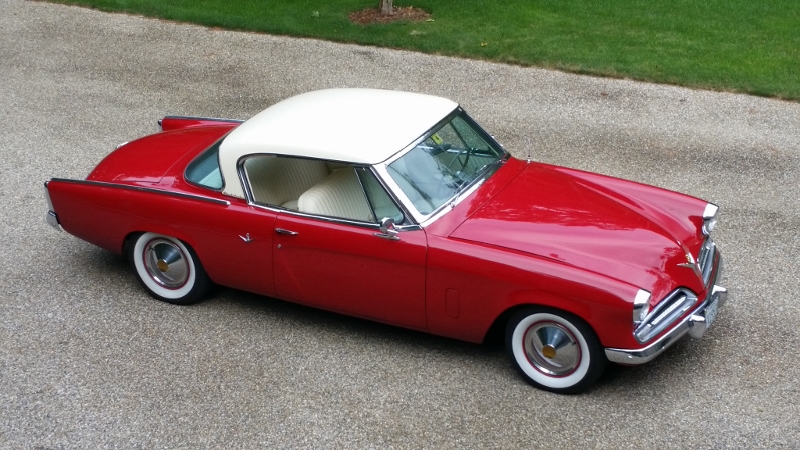 Why Studebaker Failed: In the End, It is Always Management
Why Studebaker Failed: In the End, It is Always Management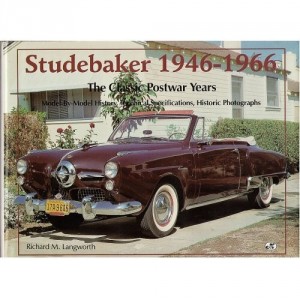 Why did Stude­bak­er go out of busi­ness? I have your book Stude­bak­er 1946-1966, orig­i­nal­ly pub­lished as Stude­bak­er: The Post­war Years. I worked for the old com­pa­ny at the end in Hamil­ton, Ontario. Your book brought back mem­o­ries of many old Stude­bak­er hands. Styl­ists Bob Doehler and Bob Andrews were good friends about my age.
I am look­ing for­ward to the last chap­ter dis­cussing how Stude­bak­er went wrong, espe­cial­ly since I also have the­o­ries. It would fun to com­pare notes. I often quote from your book: "For many years, Ray­mond Loewy Asso­ciates would be the only thing stand­ing between Stude­bak­er and dull mediocrity."
Like you I owned a 1962 Gran Tur­is­mo Hawk, a sur­pris­ing­ly impres­sive car. Drove it back and forth to Hamil­ton when we were work­ing on the last 1966 pro­duc­tion Stude­bak­ers. I put a '53 Star­lin­er deck­lid on it and '54 Star­lin­er wheel cov­ers; I thought each addi­tion was an improve­ment. —B.M.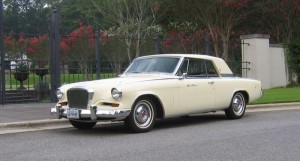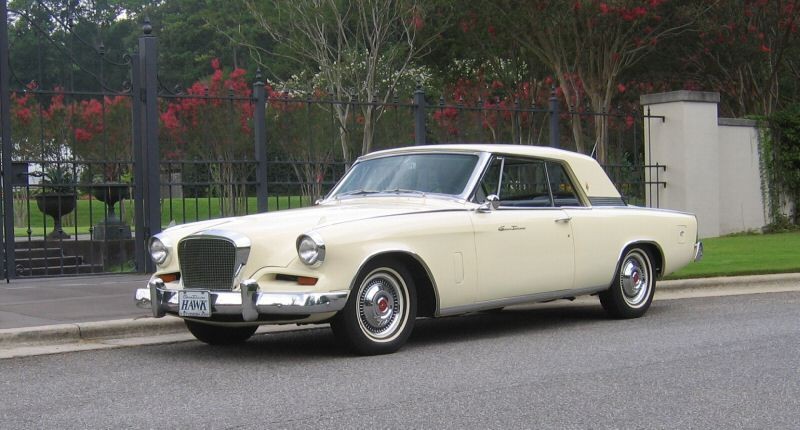 Studebaker remembered
Thanks for the kind words. My GT Hawk was one of the best cars I ever owned: fast yet easy on gas, styl­ish, fun to dri­ve. It leaked oil and the famous "flex­i­ble frame" was a lit­tle creaky, but it was a sat­is­fy­ing car, if over­ly sus­cep­ti­ble to the dread­ed tinworm.
At the end of my book is a list of what Stude­bak­er did wrong, begin­ning with chair­man Paul Hoff­man accept­ing every union demand after World War II. James Nance, the last pres­i­dent of Packard, which pur­chased Stude­bak­er in 1954, had it right. "The trou­ble with Stude­bak­er was that they wouldn't take a strike. Every­body else took strikes after the war and rea­son­able com­pro­mis­es were reached on wages and ben­e­fits. Stude­bak­er didn't, and they nev­er caught up."
What Packard didn't know when they bought Stude­bak­er they learned to their hor­ror when accoun­tants final­ly got into the books. Studebaker's break-even point by the mid-Fifties was 50,000 or more cars high­er than their best-ever annu­al vol­ume. A Stude­bak­er design­er told me he once priced the 1953 Star­lin­er using Gen­er­al Motors cost­ings. He found that GM could have sold the iden­ti­cal car for $300 less (which was a lot more then than it is now).
Packard indeed had its own prob­lems. But Stude­bak­er dragged Packard down with it, mak­ing it impos­si­ble for Nance to find the finances to bankroll an all-new 1957 line that might have allowed Stude­bak­er-Packard to go on longer than it did.
The greatness of Raymond Loewy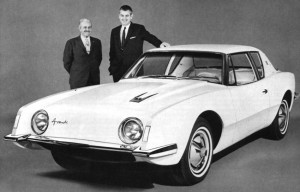 And yes, Ray­mond Loewy led the teams that cre­at­ed the 1953 Star­lin­er and 1963 Avan­ti. They were the key to the cars being as dis­tinc­tive as they were. Loewy had a keen eye for tal­ent. He hired and direct­ed fine design­ers, such as Bob Bourke (Star­lin­er) and Bob Andrews, John Epstein and Tom Kel­logg (Avan­ti). The Avan­ti was impres­sive, but per­haps not the right prod­uct for Stude­bak­er. Otto Klaus­mey­er, a long­time and out­stand­ing engi­neer, told me he regard­ed it as "our first a duck-back, droop-snoot sport car."
Studebaker's sales and mar­ket­ing peo­ple blunt­ed those good designs by inept plan­ning and pro­mo­tion. In 1953, for exam­ple, they built a sur­feit of sedan mod­els, find­ing to their shock that peo­ple main­ly want­ed the beau­ti­ful Star­lin­er hard­tops and Starlight coupes. Their pro­duc­tion mix was the exact oppo­site of what the pub­lic desired.
Brooks Stevens' life support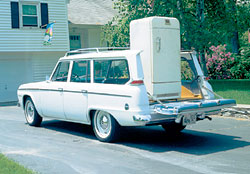 But Studebaker's styling was con­sis­tent­ly good. Try­ing to save the rump com­pa­ny in the Six­ties, Pres­i­dent Sher­wood Egbert hired Brooks Stevens, who deft­ly facelift­ed the Lark and Hawk, and came up with nov­el ideas like the slid­ing-roof Wag­o­naire sta­tion wagon—but these were all reskins of the 1950s mod­els. Stevens and Loewy then offered excit­ing ideas for all-new designs for 1966 and beyond.
But by then it was too late. Stude­bak­er shut down its main fac­to­ry in South Bend, Indi­ana, in Decem­ber 1963, and the Hamil­ton Ontario plant closed after build­ing the last 1965-66 mod­els. But no—Studebaker didn't have to fail. George Mason of Nash saw the future before any­one else. He tried to build a con­glom­er­ate of independents—Studebaker, Packard, Nash, Hudson—in the 1940s. Nobody else was lis­ten­ing. It was prob­a­bly the only way to stave off death for those com­pa­nies. After World War II, economies of scale worked great­ly in favor of the big automak­ers. But hind­sight is always cheap. And far too eas­i­ly indulged.