Kaiser-Frazer, Gettysburg, 30 July 2015
Kaiser-Frazer, Gettysburg, 30 July 2015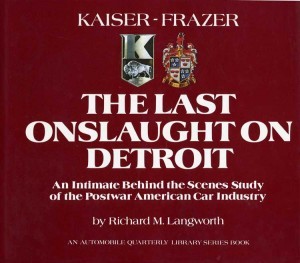 My first book, Kaiser-Fraz­er: Last Onslaught on Detroit (New York: Dut­ton, 1975, reprint­ed 1980) was based on dozens of inter­views with com­pa­ny engi­neers, styl­ists and exec­u­tives, and packed with rare pho­tos from pro­to­types to per­son­al­i­ties. It won the 1975 "dou­ble crown": the Antique Auto­mo­bile Club of Amer­ica McK­ean Tro­phy and the Soci­ety of Auto­mo­tive His­to­ri­ans Cug­not Award. Kaiser-Fraz­er and Kaiser-Willys (1945-55) com­prised a blip in auto­mo­tive his­tory, and some said their cars were the answer to a ques­tion nobody asked. You pays your mon­ey and you takes your choice, but if you want to hear the rec­ol­lec­tions of peo­ple who made Detroit what it was in the 1950s, this book may be illu­mi­nat­ing.
It was my plea­sure to speak on the writ­ing of that book at the Kaiser-Fraz­er Own­ers Club 2015 Nation­al Meet in Get­tys­burg in July 2015.
Excerpt:
In life, nature and nur­ture do not suf­fice. Suc­cess requires they be joined, and their con­ver­gence is due to a third ingre­di­ent called luck. That is, being in the right place at the right time. Kaiser-Fraz­er was supreme­ly lucky to have arrived when it did, and to recruit the peo­ple that were then avail­able. And one of the most charm­ing things about them, from Joe Fraz­er down to the low­est engi­neer on the totem pole, is that they nev­er ceased say­ing so.
The company's achieve­ment is not just the result of the com­pul­sive appli­ca­tion of mas­sive tal­ent, but of a series of events at a unique time. "Luck" means, then, the innu­mer­able things that hap­pen which ini­tial­ly have lit­tle to do with tal­ent or striv­ing. In oth­er words, we are awed by the phe­nom­e­non of K-F in part because it is filled with inci­dents that, were they part of a nov­el, would cause dis­be­liev­ers to dis­miss them as poet­ic license.
Imag­ine, then, a nov­el about a fic­tion­al com­pa­ny called Kaiser-Fraz­er. It will of course be ten years long: what used to be called a Vic­to­ri­an triple deck­er. For the first melo­dra­mat­ic detail that strikes the read­er is just how long it last­ed. Against tru­ly for­mi­da­ble odds, the com­bined might of a major indus­try dur­ing the great­est peri­od of eco­nom­ic expan­sion in Amer­i­can his­to­ry. Except that it was not a nov­el. It was the Last Onslaught on Detroit.