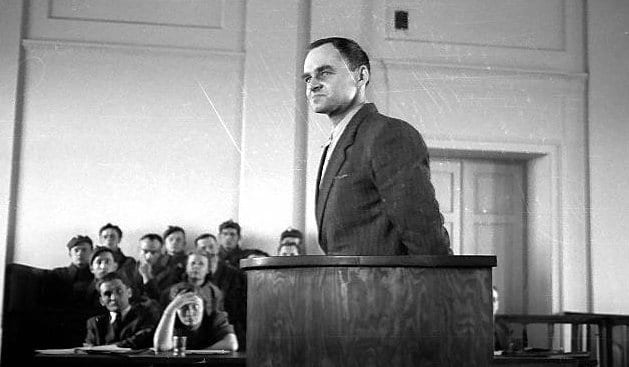 Witold Pilecki: A Brave Pole Who Did His Best for Liberty
Witold Pilecki: A Brave Pole Who Did His Best for Liberty
Excerpt­ed from Richard Cohen and Richard Lang­worth: "Witold Pilec­ki: A Deserv­ing Addi­tion to "The Right­eous Among the Nations," for the Hills­dale Col­lege Churchill Project. Mr. Cohen is a real estate lawyer based in Lon­don and head of the Essex Branch of the Jew­ish His­tor­i­cal Soci­ety of Eng­land. For the full text and illus­tra­tions please click here.
War aim or by-product?
Jack Fair­weath­er, The Vol­un­teer: One Man, an Under­ground Army, and the Secret Mis­sion to Destroy Auschwitz. (The sto­ry of Witold Pilec­ki.) New York: Harper­Collins, 2019, $28.99, Ama­zon $20.49, Kin­dle $13.99.
By 1 August 1946 the world knew the full truth of the Holo­caust. Churchill said: "I had no idea, when the war came to an end, of the hor­ri­ble mas­sacres which had occurred." Though he had reports from 1942 to 1944, his state­ment was broad­ly true. He did not real­ize the full mag­ni­tude and num­ber of death camps until they were all lib­er­at­ed. Even then, it took time to recon­struct much evi­dence destroyed by the Nazis. Through­out the war, many civ­il ser­vants and min­istries insist­ed that sav­ing the Jews was not a war aim. but a by-prod­uct of victory.
"Show us the proof"
In the event, to save Jews, it was nec­es­sary to show proof of Nazi geno­cide. The evi­den­tial moun­tain was hard­er to scale giv­en atti­tude of offi­cial­dom. Churchill knew and resent­ed the broad anti-Semi­tism in his and Allied gov­ern­ments. The Jews, some offi­cials said, exag­ger­at­ed their mis­treat­ment and were "prone to wailing."
Sim­i­lar argu­ments sur­faced against Jew­ish immi­gra­tion to the West at the Evian and Bermu­da refugee con­fer­ences (1938, 1943). They added weight to Hitler's asser­tions that nobody in the world want­ed Jews among them. In Britain the Man­date of Pales­tine added anoth­er com­pli­ca­tion. Large num­bers of Jew­ish refugees there, it was said, risked pro­vok­ing the Arab population.
A prob­lem with His­to­ry as an intel­lec­tu­al dis­ci­pline is that it is too easy after the fact. Dur­ing the Sec­ond World War, nobody knew for a long time who would pre­vail. By the time they did, it was too late for hun­dreds of thou­sands. Dur­ing the war, indus­tri­al geno­cide on the scale actu­al­ly being prac­tised was unknown to human beings, unimag­in­able to many. They learned too late.
Witold Pilecki: "Were we all…people?"

…was an ordi­nary per­son who did extra­or­di­nary things. In Sep­tem­ber 1940, he walked into a Nazi roundup of Poles with the object of being sent to Auschwitz. In 1940-41, Auschwitz main­ly con­tained Poles. By 1942, how­ev­er, Jews were the main com­po­nent, and a grim change occurred. Poles had been per­se­cut­ed; Jews were mur­dered. Pilec­ki report­ed the chang­ing events, the con­struc­tion of the gas cham­bers and cre­ma­to­ria. Elo­quent­ly, he con­trast­ed the placid scene in the world beyond the fences:
When march­ing along the grey road towards the tan­nery in a col­umn rais­ing clouds of dust, one saw the beau­ti­ful red light of the dawn shin­ing on the white flow­ers in the orchards and on the trees by the road­side, or on the return jour­ney we would encounter young cou­ples out walk­ing, breath­ing in the beau­ty of spring­time, or women peace­ful­ly push­ing their chil­dren in prams. Then the thought uncom­fort­ably bounc­ing around one's brain would arise…. swirling around, stub­born­ly seek­ing some solu­tion to the insol­u­ble ques­tion: Were we all…people?"
After three years Pilec­ki escaped. He lived to sur­vive the Nazis, only to fall to Poland's next abusers, the Com­mu­nists. He fought in the War­saw Upris­ing in August-Octo­ber 1944, and remained loy­al to the gov­ern­ment-in-exile after the Com­mu­nist takeover. In 1947, he was arrest­ed by the secret police and exe­cut­ed after a show tri­al. Fairweather's Pilec­ki account is not alto­geth­er new. It was first told in Fight­ing Auschwitz (1975) by the Pol­ish his­to­ri­an Józef Gar­lińs­ki, him­self a for­mer Auschwitz inmate.
Passing word to London
Pilec­ki report­ed to Under­ground leader Ste­fan Rowec­ki in Octo­ber. Already Poles were ask­ing that, "for the love of God," Auschwitz should be lev­eled. It might be a sui­cide mis­sion and cause pan­ic, Pilec­ki opined, but some pris­on­ers might escape. Rowec­ki send reports to Wla­dys­law Siko­rs­ki, pre­mier of the exiled gov­ern­ment in Lon­don. Pilec­ki report­ed instal­la­tion of the first gas cham­ber in mid-1942.
Siko­rs­ki had a prob­lem. Many British hosts thought of Poles as "unruly for­eign­ers with hard-to-pro­nounce names. 'Soz­zle-some­thing,' Churchill is report­ed to have called the senior Pol­ish com­man­der Kaz­imierz Sosnkows­ki." The British knew of Ger­man con­cen­tra­tion camps being used to cor­ral ene­my sol­diers. They were reluc­tant to accept Pol­ish reports of atrocities.
Then there was the mechan­ics of an attack. Britain was strug­gling to keep its bombers air­borne, let alone hit tar­gets as far east as Poland. Too often, "bomb­ing" con­sist­ed of open­ing the bomb bays after hav­ing flown for "about the right amount of time"! Some­times the ene­my had no idea what they were aim­ing at.
Portal, Prime Minister and Pope
Fair­weath­er says Churchill's sched­ule was too full to hear them, which con­tra­dicts the evi­dence (see Adden­dum below). Pilecki's appeals reached the Chief of Air Staff, Sir Charles Por­tal. His response was curt. Bomb­ing Auschwitz was a diver­sion, he said, giv­en the need to con­cen­trate on Ger­man indus­tri­al plants. The "weight of bombs" at this dis­tance with the lim­it­ed force avail­able [was] very unlike­ly to cause enough dam­age to enable pris­on­ers to escape."
In Novem­ber The New York Times pub­lished the first reports of exter­mi­na­tions at Auschwitz in west­ern media. Rab­bi Stephen Wise of the Amer­i­can Jew­ish Con­gress brought a report men­tion­ing Auschwitz to Roo­sevelt. FDR said he was aware, but did noth­ing. "Roo­sevelt didn't reveal his con­cerns about stok­ing anti-Semi­tism at home by focus­ing on Jew­ish suf­fer­ing." Fair­weath­er makes a pow­er­ful case that Anglo-Amer­i­can gov­ern­ments were chary about pro­vok­ing more anti-Semitism.
Fair­weath­er reports that the For­eign Office "repeat­ed­ly told the Poles, reprisals are such are ruled out…. The Poles are being very irri­tat­ing over this." He does not report that Churchill him­self dis­cussed bomb­ing reprisals as ear­ly as Decem­ber 1942. (See addendum.)
Pilecki's "Polishness"
In fair­ness, Fair­weath­er notes that Pilec­ki nev­er saw the Holo­caust "as the defin­ing act of World War II." His essence was "his Pol­ish­ness or his sense of nation­al struggle."
We asked Esther, Lady Gilbert, a Holo­caust his­to­ri­an like her late hus­band Sir Mar­tin, for her view of The Vol­un­teer. Its sto­ry, she believes, is "of the Pol­ish expe­ri­ence, hor­ri­ble as that was. But if by 'Holo­caust' we specif­i­cal­ly mean the inten­tion to wipe out every last Jew and Jew­ish com­mu­ni­ty, it is not a Holo­caust sto­ry. The Pol­ish Under­ground split between the Armia Kra­jowa, the Home Army, and the Armia Ludowa, the Pol­ish Com­mu­nists. If bet­ter organ­ised and work­ing togeth­er, he might have made more impact."
One good effect of Pilecki's reports, Lady Gilbert con­tin­ues, was the Allied War Dec­la­ra­tion of Decem­ber 1942. It was plain, and stark: "Ger­man author­i­ties, not con­tent with deny­ing [Jews] the most ele­men­tary human rights, are now car­ry­ing into effect Hitler's oft-repeat­ed inten­tion to exter­mi­nate the Jew­ish peo­ple in Europe."
The Auschwitz Protocols
Pilec­ki escaped from Auschwitz in April 1943. Reports that Auschwitz was exter­mi­nat­ing mass­es of Jews came with eye-wit­ness escapees' reports (the Auschwitz Pro­to­cols) between Decem­ber 1943 and April 1944. These prompt­ed Churchill's famous com­mand: "Get every­thing out of the air force you can, and invoke me if nec­es­sary." As in 1941, the ple­nary author­i­ties con­sid­ered, and again said no, main­ly for the same rea­sons. The full account is in Sir Mar­tin Gilbert's defin­i­tive book, Auschwitz and the Allies.
Fair­weath­er says bomb­ing the camp would have "alert­ed the world" to what was going on. Per­haps not. The Allied Dec­la­ra­tion had alert­ed the world, with lit­tle reac­tion. The Ger­mans were adept at cov­er­ing up. Even when pre­sent­ed with Auschwitz Pro­to­cols, Allied offi­cials found rea­sons not to send bombers. Some dis­trust­ed Pol­ish under­ground sources. Mil­i­tary pri­or­i­ties moti­vat­ed oth­ers. Well into 1943, just hold­ing their own was a chal­lenge. Then there was the ques­tion of Jew­ish objec­tions to bomb­ing the inmates—a wide­ly shared view.
Fair­weath­er says the deci­sion not to bomb was "uncon­scionable." In hind­sight, it cer­tain­ly seems so. At the time? Thought­ful peo­ple may dif­fer over that. His­to­ry stum­bles along the trail of the past, Churchill said, try­ing to "kin­dle with pale gleams the pas­sion of for­mer days."
A place among the Righteous
Fair­weath­er believes Pilec­ki and his com­pa­tri­ots do not receive the cred­it they deserve. Get­ting him­self shipped to Auschwitz was a breath-tak­ing act of brav­ery. His­to­ry will val­ue Pilecki's elo­quent sto­ry of the vic­tims of Nazi, and lat­er Com­mu­nist, crimes against humanity.
We searched for the name of Witold Pilec­ki on the web­site "Right­eous Among the Nations," part of the Yad Vashem Memo­r­i­al site in Jerusalem. Lady Gilbert explains the rea­sons in her com­ment below.
Addendum by Richard Langworth
In 1940, Fair­weath­er has Churchill "on the roof of his secure accom­mo­da­tion" watch­ing the Blitz. Rooftops in the Blitz were not secure. Staffers talked the PM down for his own safe­ty. Churchill did not sit there con­tent­ed­ly watch­ing the fires.
More seri­ous is the asser­tion that the Poles couldn't get Churchill's atten­tion because his sched­ule was too busy. A cur­so­ry read­ing of The Churchill Doc­u­ments would show he made time for much less seri­ous things than this. He had a capac­i­ty for detail that put many to shame. And the record shows that he made time for the Poles.
Eight days after the Decem­ber 1942 Allied Dec­la­ra­tion, Siko­rs­ki described the "mass expul­sion of the Pol­ish pop­u­la­tion, slaugh­ter and mass exe­cu­tions" in five Pol­ish dis­tricts. He did not men­tion Jews. The Chiefs of Staff Com­mit­tee met on 31 Decem­ber. There, Churchill asked Por­tal about bomb­ing "cer­tain tar­gets in Poland" as a reprisal—as the Poles had asked. Por­tal replied Jan­u­ary 3rd:
…the car­ry­ing out of air attacks as reprisals…would be an explic­it admis­sion that we were bomb­ing civil­ians as such and might well invite bru­tal vengeance on our air crews. [The Pol­ish request is] more strict­ly a polit­i­cal war­fare mat­ter and relates to the Jews. [Hitler] has so often stressed that this is a war by the Jews to exter­mi­nate Ger­many that it might well be, there­fore, that a raid, avowed­ly con­duct­ed on account of the Jews, would be an asset to ene­my propaganda.
* * *
Three days lat­er Por­tal ampli­fied his rea­son­ing. Fair­weath­er notes that the Pol­ish 303 Squadron shot down more Ger­mans in the Bat­tle of Britain than any oth­er unit. Portal's words show that he too appre­ci­at­ed the Poles' brave con­tri­bu­tion. From Mar­tin Gilbert, Auschwitz and the Allies, 222:
It would be "very unprof­itable [Por­tal wrote] to divert our best bombers to Pol­ish tar­gets and to keep them wait­ing for long peri­ods for the moon­light and good weath­er with­out which they could not locate such dis­tant objec­tives." In addi­tion, "the small scale of attack" which Britain could pro­duce at such a dis­tance "would not be impres­sive as a reprisal." It would be more effec­tive, Por­tal wrote, after a suc­cess­ful air-raid over Ger­many, to empha­sise "to the world" the part played in such a raid by the Pol­ish Air Force."
It seems so sim­ple in ret­ro­spect: bomb Auschwitz, stop the killing. Our knowl­edge of the hor­ror over­whelms con­tem­po­rary fac­tors. Por­tal added that a reprisal, how­ev­er inef­fec­tive would over­whelm the RAF "with requests from all oth­er Allies that we should also redress their griev­ances in the same way." The result would be noth­ing but "token reprisals which would not only be com­plete­ly inef­fec­tive as deter­rents but would also destroy the last shred of the cloak of legal­i­ty which at present cov­ers our oper­a­tions." —RML