Ty Cobb: Inconvenient Truths
Ty Cobb: Inconvenient Truths

Cobb as Mon­ster: "Give peo­ple some­thing they want to believe and they will take it and run with it and make it their own. After all, who doesn't like a mon­ster story—especially one that allows the teller to express his own superiority—to say, 'I'm not a slave to feel­ings of racism and anger like this pathet­ic man was; I look down upon that kind of behav­ior.' A scary sto­ry that is also a feel-good sto­ry is hard to beat."
Charles Leerhsen has done a rare thing: bucked pop­u­lar cant and human nature to deliv­er a breath­tak­ing reap­praisal of the great­est base­ball play­er of all time. Click here to watch his bril­liant lec­ture at Hills­dale Col­lege. I also strong­ly rec­om­mend his book, A Ter­ri­ble Beau­ty—which teach­es us a lot, and not just about base­ball. (Click here for Cobb's numbers.)
"The Anti-Jackie Robinson"
Leerhsen set out with the typ­i­cal view of Ty Cobb, only to encounter scores of incon­ve­nient truths missed or ignored by ear­li­er biog­ra­phers, whose work inspired the sick por­trait in Ken Burns's doc­u­men­tary, Base­ball. Cobb was no saint—Leerhsen doc­u­ments his flam­ing tem­per and readi­ness for brawls—but most of the oth­er alle­ga­tions are either vast­ly exag­ger­at­ed or demon­stra­bly false.
Cobb was 180 degrees from the pop­u­lar image of a racist, mur­der­ing, spike-fly­ing, child-hat­ing mis­an­thrope, who steamed stamps off the envelopes kids sent him for his auto­graph. Re the lat­ter: Leerhsen found that Cobb replied to all who wrote, often send­ing mul­ti­ple auto­graphed pho­tos, writ­ing five-page let­ters to some, and telling them all how hon­ored he was that they had writ­ten to him.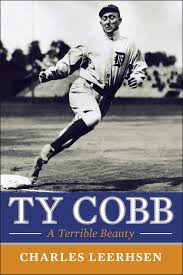 Born in Geor­gia in 1886, Cobb was descend­ed from abo­li­tion­ists. His great-grand­fa­ther preached against slav­ery. His grand­fa­ther was a con­sci­en­tious objec­tor who refused to fight in the Con­fed­er­ate Army because of slav­ery. His father was an edu­ca­tor and state sen­a­tor who once broke up a lynch mob. Leerhsen oblit­er­ates the pre­vail­ing pic­ture of Cobb as the "anti-Jack­ie Robinson":
Cobb was not asked about race until In 1952 when the Texas League was inte­grat­ed. He said: "The negro should be accept­ed whole­heart­ed­ly and not grudg­ing­ly. The negro has the right to play pro­fes­sion­al base­ball and who's to say he has not?"

At that time oth­er play­ers were keep­ing mum, or say­ing they didn't think mixed-race base­ball was a good idea….[But Cobb] attend­ed Negro League games, some­times toss­ing out first balls, some­times sit­ting in the dugout with the play­ers. He said Willie Mays was the only play­er he'd pay to see, and that Roy Cam­panel­la was the play­er who remind­ed him most of himself.
"Sports is not so much about scores as it is about sto­ry lines," Leerhsen con­tin­ues: "And with­out antag­o­nists, sto­ries fall flat." To a man, oth­er play­ers he quotes denied that Cobb was a "spik­er," fly­ing spikes-first toward catch­ers or infield­ers, intend­ing to do them harm. Cobb even wrote to
Ban John­son
, pres­i­dent of the
Amer­i­can League
, ask­ing that play­ers be told to dull their spikes, to rid them of the spik­ing charge. "But the sto­ry was too appeal­ing. The idea of a
Jack the Rip­per
in base­ball flan­nels too tit­il­lat­ing to go away." It nev­er did went away. Ken Burns pro­mot­ed it, and "the Inter­net goosed the game to hyperspeed—just search for Ty Cobb and see what you find."
And it's not just about Cobb
When next you hear Churchill, Cobb, or even some polit­i­cal can­di­date, exco­ri­at­ed with pop­u­lar charges every­body else is throw­ing around, con­sid­er the pos­si­bil­i­ty that they may all not be true. As Charles Leerhsen warns us:
A scary sto­ry that is also a feel-good sto­ry is hard to beat. But I knew that going in….I under­stand that humans like gos­sip and to wag their fin­gers and take delight in the sup­po­si­tion that the rich and famous are pos­si­bly more mis­er­able than they are.
Read this book and reflect.