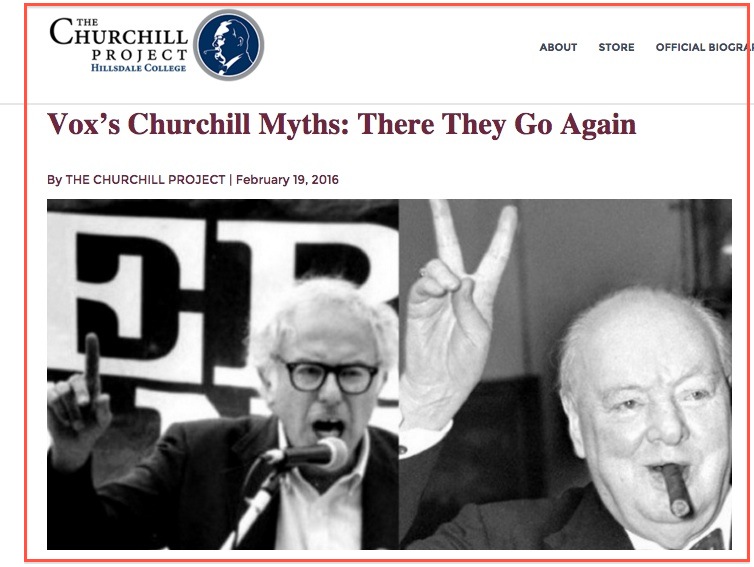 Vox Non-Populi: More Churchill Mythology
Vox Non-Populi: More Churchill Mythology
Win­ston Churchill was no saint; it is a dis­ser­vice to pre­tend he was. But he is too com­plex to be pigeon­holed by writ­ers who crit­i­cize selec­tive­ly. Hills­dale College's Churchill Project responds to the mythol­o­gy. Read full arti­cle.
Excerpt
Win­ston Churchill is in the news, as is often the case. On Feb­ru­ary 11th, Pres­i­den­tial can­di­date Bernie Sanders had words of praise for Churchill's war lead­er­ship. Vox Media has crit­i­cized him and Churchill in sharp lan­guage. Are the crit­i­cisms of Churchill true?
Dur­ing the Demo­c­rat debate on 11 Feb­ru­ary 2-16, can­di­dates were asked to name two lead­ers, one Amer­i­can and one for­eign, who would influ­ence their pol­i­cy deci­sions. Sen­a­tor Bernie Sanders chose Franklin Roo­sevelt and Win­ston Churchill.
Fair enough, we thought; they saved west­ern civilization.
But Churchill? Of course he mount­ed the effort to defeat Hitler, Vox said, but Sen. Sanders put his cred­i­bil­i­ty on the line. He praised "a chem­i­cal weapons enthu­si­ast and unre­con­struct­ed racist who cut a swath of suf­fer­ing and death…." Churchill's fight against tyran­ny in Europe "doesn't look quite as prin­ci­pled when con­trast­ed with his com­mit­ment to main­tain­ing it elsewhere."
Vox Mythology
Vox offers a famil­iar litany of Churchill mythol­o­gy, cit­ing alleged sins which have long since been refut­ed by rep­utable historians.