Sarah Churchill – Curtis Hooper Prints
Sarah Churchill – Curtis Hooper Prints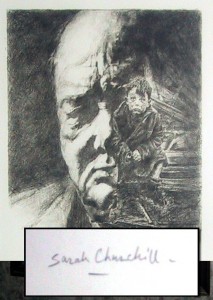 In the 1970s, Sarah Churchill was involved in the com­mer­cial pub­li­ca­tion of a series of draw­ings by Cur­tis Hoop­er enti­tled, "A Visu­al Phi­los­o­phy of Sir Win­ston Churchill." I am often asked about these draw­ings, and what they are worth. I am qual­i­fied nei­ther to appraise art nor to tes­ti­fy to its gen­uin­i­ty, but I have talked to Mr. Hoop­er and offer what I know here­with.
Except for one pic­ture based on a sketch of her father by Sarah, each print was based on a famous pho­to­graph of Sir Win­ston. The pub­lish­er was Graph­ic House in New Jer­sey. The scheme was quite suc­cess­ful.
Each print was assigned a par­tic­u­lar Churchill quo­ta­tion and signed in pen­cil by Sarah Churchill and Cur­tis Hoop­er (the lat­ter in addi­tion to his print­ed sig­na­ture on the lith­o­graph). Each was num­bered, and pre­sent­ed with a debossed coat of arms and Churchill quo­ta­tion. The pub­lished for­mat was 22 1/2″ x 34 1/2″. Some sources say each print had an edi­tion of 400, and some prints indi­cate 300. But this was a max­i­mum fig­ure, and in fact the actu­al num­ber pro­duced was much low­er (see let­ter below from "Robert").
These prints are also seen (also signed in pen­cil) in small­er for­mat, about the size of a sheet of U.S. sta­tionery, but were not part of the orig­i­nal project and appear to be repro­duc­tions. Indeed it may be that some of large for­mat prints now offered are repro­duc­tions. Accord­ing to Cur­tis Hoop­er, the large-for­mat ver­sions can be iden­ti­fied by the pres­ence of his sig­na­ture along with Sarah's. As always with all fine art, one should buy from a rep­utable deal­er who is able to sup­ply prove­nance and assure authen­tic­i­ty.
Very few full col­lec­tions of these prints exist, and a com­plete set would be quite valu­able. The small­er prints seem to be very numer­ous, but since they are not orig­i­nals they car­ry no authen­tic­i­ty and no great val­ue. The larg­er prints, prop­er­ly authen­ti­cat­ed, are worth much more.
I once pub­lished what we then believed to be a com­plete col­lec­tion of six­teen prints, donat­ed to Hills­dale Col­lege by the Churchill schol­ar Har­ry V. Jaf­fa. Infor­ma­tion received since indi­cates there are more than thir­ty.