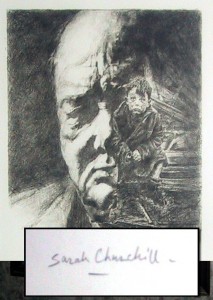 In the 1970s, Sarah Churchill was involved in the commercial publication of a series of drawings by Curtis Hooper entitled, "A Visual Philosophy of Sir Winston Churchill."  I am often asked about these drawings, and what they are worth. I am qualified neither to appraise art nor to testify to its genuinity, but I have talked to Mr. Hooper and offer what I know herewith.
Except for one picture based on a sketch of her father by Sarah, each print was based on a famous photograph of Sir Winston. The publisher was Graphic House in New Jersey. The scheme was quite successful.
Each print was assigned a particular Churchill quotation and signed in pencil by Sarah Churchill and Curtis Hooper (the latter in addition to his printed signature on the lithograph). Each was numbered, and presented with a debossed coat of arms and Churchill quotation. The published format was 22 1/2″ x 34 1/2″. Some sources say each print had an edition of 400, and some prints indicate 300. But this was a maximum figure, and in fact the actual number produced was much lower (see letter below from "Robert").
These prints are also seen (also signed in pencil) in smaller format, about the size of a sheet of U.S. stationery, but were not part of the original project and appear to be reproductions. Indeed it may be that some of large format prints now offered are reproductions. According to Curtis Hooper, the large-format versions can be identified by the presence of his signature along with Sarah's. As always with all fine art, one should buy from a reputable dealer who is able to supply provenance and assure authenticity.
Very few full collections of these prints exist, and a complete set would be quite valuable. The smaller prints seem to be very numerous, but since they are not originals they carry no authenticity and no great value. The larger prints, properly authenticated, are worth much more.
I once published what we then believed to be a complete collection of sixteen prints, donated to Hillsdale College by the Churchill scholar Harry V. Jaffa. Information received since indicates there are more than thirty.