Syria: Stop the Churchill Comparisons!
Syria: Stop the Churchill Comparisons!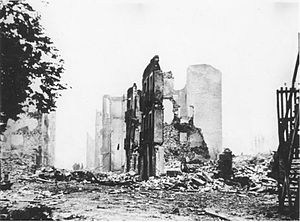 Mr. Brent Budows­ki adds to the long list of Churchill com­par­isons over the Syr­ia tragedy by com­par­ing Pres­i­dent Oba­ma to Sir Win­ston (The Hill, Sep­tem­ber 13th). Sen­a­tors Ted Cruz (R., Tex.), and Rand Paul (R., Ky.), and Rep. Alan Grayson (D., Fla.) "lit­er­al­ly offer no pol­i­cy and no ideas about how to stop the slaugh­ter of inno­cent peo­ple with chem­i­cal weapons."
Oba­ma by con­trast "has made the hard call and pro­posed the strong action that would take a real stand and make a real dif­fer­ence." Just like Churchill in the 1930s, "when the Span­ish fas­cists with sup­port from Hitler and Mus­soli­ni began their attacks against the Repub­li­can gov­ern­ment of Spain."
Real­ly, these Churchill com­par­isons need to stop. For the record, Churchill took no sides and pro­posed no action in the Span­ish Civ­il War. He knew of and was appalled by the fate of Guer­ni­ca, which killed about as many as the chem­i­cal weapons—whoever autho­rized them—in Syr­ia. But he pro­posed "no ideas to stop the slaugh­ter." That was chiefly because his unwa­ver­ing focus was on the main dan­ger, Nazi Germany.
We can­not pos­tu­late what Churchill would do today. But it doesn't seem far-fetched to sug­gest that in today's Mid­dle East his focus would be on the main dan­ger. Fig­ure out which regime that is, and you too can be com­pared to Win­ston Churchill.