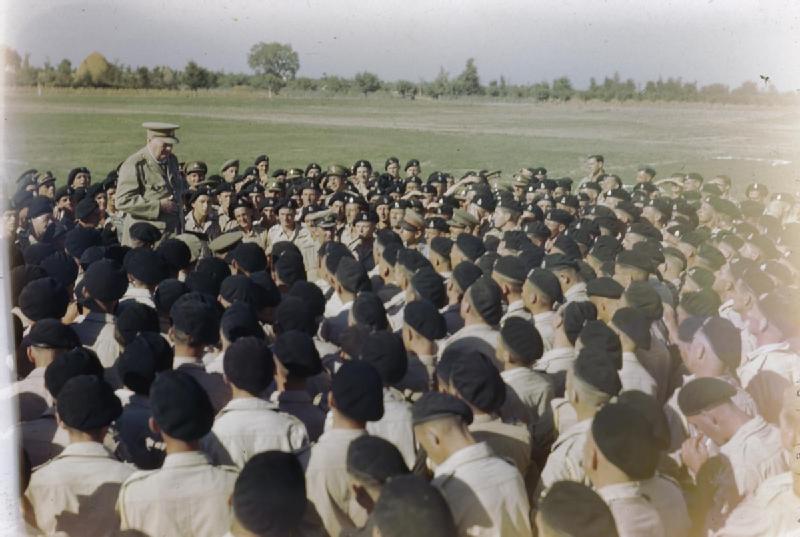 The Language: Some Issues over "Issues"
The Language: Some Issues over "Issues"
Trashing tradition
"Issues over Issues" is reprint­ed with revi­sions from an essay in 2007.
"I con­fess myself to be a great admir­er of tra­di­tion. The longer you can look back, the far­ther you can look forward….The wider the span, the longer the con­ti­nu­ity, the greater is the sense of duty in indi­vid­ual men and women, each con­tribut­ing their brief life's work to the preser­va­tion and progress of the land in which they live, the soci­ety of which they are mem­bers, and the world of which they are the ser­vants." —Win­ston S. Churchill, Roy­al Col­lege of Physi­cians, 2 March 1944
"The Car­di­nals' bus from their hotel in mid­town Man­hat­tan was delayed by more than an hour as it made its way to the ball­park on Wednes­day. A com­bi­na­tion of bad weath­er, typ­i­cal New York traf­fic and the plane crash all led to major issues for the bus."
Major issues for the bus?
It is sub­tle, and it creeps into our dis­course in the most inno­cent ways. But the cam­paign to replace what Churchill called old and good words is endless.
Issues versus problems
An exam­ple is the sub­sti­tu­tion of polit­i­cal­ly cor­rect words for long-under­stood words in every­day lan­guage. My pet favorite is the word "issues," now sub­sti­tut­ed for the word "prob­lems." The idea is that we must not be "judg­men­tal" (anoth­er pop­u­lar favorite) about our trou­bles, because our trou­bles may be right. After all, a mug­ger with a knife is only express­ing his own predilec­tions. This extends even to inan­i­mate objects. In the sports report above, not only peo­ple but now even bus­es have "issues."
No. "Issues" are sub­jects on which there is dis­agree­ment. What the bus (or, more cor­rect­ly, its dri­ver) had were "prob­lems." This word-sub­sti­tu­tion is sub­con­scious­ly catch­ing, because we all want to use hip forms of speech. If edi­tors don't watch out, even we fall for it. I recent­ly had to stop myself from say­ing that I had "issues" with the fanat­ics who are try­ing to kill us. What I have, of course, are "prob­lems," if not "vio­lent objections."
Tilt traditional
One might expect any­one who stud­ies the life of Win­ston Churchill to tilt toward tra­di­tion­al lan­guage, and one would be right. I don't care what you think about the war in Ukraine, eco­nom­ic pol­i­cy, immi­gra­tion, reli­gion, glob­al warm­ing, or Messrs. Biden, Sunak or Trudeau. All those are legit­i­mate, er, "issues," over which rea­son­able peo­ple may disagree.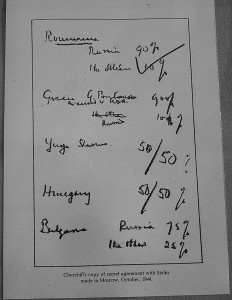 An "issue" (in the legit­i­mate mean­ing of the word) came up at a schol­ar­ly pan­el over the "per­cent­ages" agree­ment. That was the "spheres of influ­ence" in east­ern Europe, agreed between Churchill and Stal­in at the "Tol­stoy" con­fer­ence in Octo­ber 1944. That, it was being said at the time, proved that Churchill and Britain were no dif­fer­ent than Stal­in and Rus­sia. Both sides had iden­ti­cal objec­tives, i.e., their own nation­al interests.
There are those who would have us believe that the West­ern democ­ra­cies are no bet­ter than Nazis, Sovi­ets, or Islam­o­fas­cists. We heard the line quite recent­ly at Cairo, when a High Per­son­age sug­gest­ed that the dis­place­ment of Pales­tini­ans after the 1948 Arab-Israeli war was moral­ly equiv­a­lent to the Holocaust.
"Us" versus "Them"
Leave aside that Churchill saw the "Tol­stoy" agree­ment as a tem­po­rary expe­di­ent which might save Greece from com­mu­niza­tion (as indeed it did). Did Churchill's behav­ior prove that "we" were the same as "them"?
No. The "nation­al inter­ests" of Britain in Greece includ­ed objec­tives like get­ting the ouzo con­ces­sion for Har­rods and Greek sup­port of British poli­cies after the war. The "nation­al inter­ests" of Rus­sia in Poland were sim­ply every­thing that Poland had. Every­thing Poland pro­duced, every­thing it aspired to do and be, was sub­ject to Sovi­et approval. To my knowl­edge, noth­ing Greece did after the war was done at the behest of Lon­don. But every­thing Poland did after the war was direct­ed by Moscow. That was the dif­fer­ence between "us" and "them." Small won­der that the west­ern democ­ra­cies today find their most enthu­si­as­tic friends among the for­mer War­saw Pact.
What Churchill meant by "Christian civilisation"
Churchill some­times referred to "Chris­t­ian civil­i­sa­tion" (a phrase I have seen edit­ed out of some tran­scripts). By this, Churchill did not mean to exclude Jews or Bud­dhists or Mus­lims. He meant those words in a much broad­er sense. Just as, to Churchill, the word "man" meant "mankind." His allu­sions to Chris­tian­i­ty referred to its uni­ver­sal ethics: the Ten Com­mand­ments (a "judg­men­tal" set of rules now expunged from cer­tain pub­lic places), the Ser­mon on the Mount, char­i­ty, for­give­ness, courage. As he put it in Jan­u­ary 1941:
It is no exag­ger­a­tion to say that the future of the whole world and the hopes of a broad­en­ing civ­i­liza­tion found­ed upon Chris­t­ian ethics depend upon the rela­tion between the British Empire or Com­mon­wealth of Nations and the Unit­ed States. The iden­ti­ty of pur­pose and per­sis­tence of resolve pre­vail­ing through­out the Eng­lish-speak­ing world will, more than any oth­er sin­gle fact, deter­mine the way of life which will be open to the gen­er­a­tions and per­haps to the cen­turies which fol­low our own.
A shade of difference
So let us reit­er­ate what should not need to be reit­er­at­ed. The democ­ra­cies which fought and won World War II have also pro­duced the most pros­per­i­ty and lib­er­at­ed the most peo­ple in his­to­ry. Some of them com­mit­ted them­selves mil­i­tar­i­ly on behalf of Mus­lim pop­u­la­tions from Bosnia to Afghanistan. On the whole, those efforts paid off. They allowed peo­ple to say what they think with­out fear of being stuck up against a wall. I include the Sovi­ets among the allies who won the war. I exclude them from the afore­men­tioned group, because they enslaved at least as many as they helped liberate.
A mod­est pro­pos­al: avoid PC fil­ters to describe Churchill's thoughts and deeds, how­ev­er antique they may sound today. Also: when democ­ra­cies fight, it's not equiv­a­lent to what fanat­ics did to us in New York, Wash­ing­ton, Lon­don or Madrid. "We" are not the same as "them." No "issues" there.
Just want­ed to get that off my chest.