Jordan, Part 1: The Greatest Car Ad in History
Jordan, Part 1: The Greatest Car Ad in History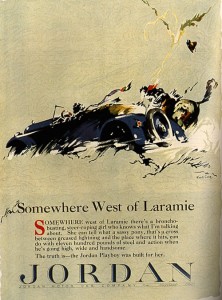 The great­est adver­tise­ment in the his­to­ry of the auto­mo­bile, "Some­where West of Laramie," was writ­ten for a con­ven­tion­al car dur­ing a dull era and a duller econ­o­my, by a cocky lit­tle 40-year-old red­head, Edward S. Jor­dan.
In con­tem­po­rary jar­gon the Jor­dan was "assem­bled": "an extreme­ly neat machine, the prin­ci­pal com­po­nents of which are con­struct­ed by spe­cial­ists," as an Eng­lish mag­a­zine kind­ly put it. "We nev­er were auto­mo­bile man­u­fac­tur­ers," Jor­dan admit­ted in a 1945 mono­graph, The Inside Sto­ry of Adam and Eve:
We were pio­neers of a new tech­nique in assem­bly pro­duc­tion, cus­tom style sales and adver­tis­ing. We had one air com­pres­sor to pow­er the assem­bly line…bought only the finest com­po­nent parts from the most expe­ri­enced qual­i­ty parts mak­ers, designed a chas­sis for those parts that pos­sessed the most ide­al weight dis­tri­b­u­tion yet attained. Then we 'dolled them up' just as every good car is dressed today.
No one cares about the cars, though sur­vivors do exist, and from the mid-Twen­ties on they were pret­ty snap­py num­bers. Some Jor­dans are even rec­og­nized by the Clas­sic Car Club of America.
What we do care about was the mag­ic Ned Jor­dan wove around them: the most roman­tic (and often risqué) prose hereto­fore expend­ed on an automobile—and the first car ads seri­ous­ly direct­ed at women.
Con­tin­ue read­ing Part 2 tomorrow….