Churchill's Brandy? Not Really….
Churchill's Brandy? Not Really….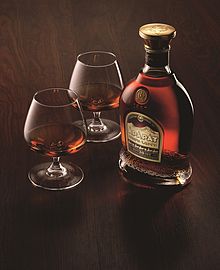 Brandy Ban­ter: The Evening Stan­dard described ArArAt Armen­ian brandy, once reserved for Com­mu­nist par­ty elite. It was "the brandy that Stal­in served Churchill" accord­ing to con­sumer busi­ness edi­tor Jonathan Prynn:
The prime min­is­ter enjoyed ArArAt brandy when it was served by Stal­in at the Yal­ta con­fer­ence in Feb­ru­ary 1945. After the Sec­ond World War, the Sovi­et leader arranged for Churchill to be sent 400 bot­tles every year.
This seems high­ly doubt­ful. There is no record in the Churchill Archives Cen­tre of even a bot­tle of brandy being sent to Churchill—although he did com­pli­ment Stal­in on an Armen­ian brandy served at Yal­ta. Also, by 1946, Churchill was say­ing things about the Rus­sians that they prob­a­bly didn't think mer­it­ed gifts. I am indebt­ed to archivist Lynsey Dar­by at the Churchill Archives Cen­tre Cam­bridge, who writes:
I've looked at a num­ber of files in the Churchill Papers, and at Cita Stelzer's book, Din­ner with Churchill. The evi­dence points towards Churchill enjoy­ing a range of dif­fer­ent (but always high-qual­i­ty) brandies, not just Armen­ian cognac. Mrs. Stelz­er does men­tion Churchill pick­ing up a bot­tle of Armen­ian cognac dur­ing a din­ner giv­en by Stal­in in 1942. Oth­er brandies men­tioned in the book are l'Hertier de Jean Fremi­court (which Antho­ny Mon­tague Browne said was Churchill's favorite in his lat­er years) and Prunier (which Churchill served at Pots­dam). In the Churchill Papers, frus­trat­ing­ly the name of the brandy is often not giv­en. In accounts from his wine mer­chants, the brandy is usu­al­ly described sim­ply as "fine old liqueur."
ArArAt Brandy
ArArAt is pro­duced by the Yere­van Com­pa­ny, whose Armine Ghaz­aryan queried me about their brand "Dvin." She asked for the ori­gins of the Churchill sto­ry. I have found no record of cas­es of either brandy being shipped to Churchill, either at his request or Stalin's. But Ms. Ghaz­aryan kind­ly explains how "Dvin" relates to "ArArAt":
Dvin is a part of the Ararat range (includ­ing Ararat 3, Ararat 5, Ani 6-year-old, Otborny 7-year-old, Akhta­mar 10-year-old, Tonakan 15-year-old, and Nairi 20-year-old. There are also some exclu­sive brandies: Ere­buni 25, Kilikia 30, Spara­pet 40, Arme­nia 20 and Dvin. The lat­ter is 10 years old but 50% alcohol.
My own con­tri­bu­tion to all this is that the stan­dard brandy Churchill served at Chartwell was Hine (which is quite agree­able). A Lon­don wine mer­chant, hired to appraise the cel­lar at Chartwell in the 1950s, pro­nounced it "a sham­bles." The only con­tents worth men­tion­ing were a col­lec­tion of vin­tage Hine, and of course Pol Roger Cham­pagne.
Trivialities
Churchill drank a still white wine on occa­sion. The only such type men­tioned by the apprais­er was a case of' "per­fect­ly dread­ful" Chardon­nay. Churchill had per­son­al­ly bot­tled this with his long­time friend Hilaire Bel­loc. He for­bade throw­ing it out.
It was report­ed years ago that Churchill agree­ably paid all the liquor accounts except for his wife Clementine's gin, which he insist­ed she pay for her­self. I referred this sto­ry to Sir Winston's grand­son, the late Win­ston Churchill. He replied: "I nev­er saw my grand­moth­er drink gin; her tip­ple, at least in lat­er life, was Dubon­net." Equal­ly short shrift was giv­en by Churchill's daugh­ter, Lady Soames, who thun­dered. "Absolute b—-; and you may quote me! Of course they would have had the odd Mar­ti­ni, espe­cial­ly when stay­ing with the Roo­sevelts. FDR mixed a mean one. But they were cer­tain­ly not gin-drinkers by habit."