"Fauxcahontas." Elizabeth Warren & Randolph Churchill: "Race: Human"
"Fauxcahontas." Elizabeth Warren & Randolph Churchill: "Race: Human"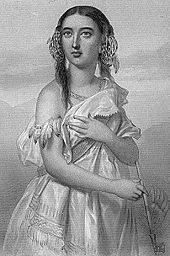 A col­league for­wards Mark Steyn's hilar­i­ous rant on Eliz­a­beth War­ren, the Mass­a­chu­setts politi­cian who passed her­self off as a native Amer­i­can (because she has "high cheek­bones") in order get invit­ed to lunch (and not, under­stand, for any career advan­tage).
"A friend got his son into a bet­ter pub­lic school by say­ing he was a native Amer­i­can," my col­league writes. "Unfor­tu­nate­ly they didn't tell the kid, so he was quite bewil­dered when the prin­ci­pal approached him one day about an after-school meet­ing for those inter­est­ed in Indi­ans. He also told me that this city you can change your racial iden­ti­fi­ca­tion, but only once."
Dur­ing a recent encounter with the med­ical world I was hand­ed one of those ques­tion­naires with the inevitable ques­tion "Race." I checked, "Oth­er" and then wrote in "Human," hop­ing for a repercussion—but alas no one noticed.
I was inspired by Ran­dolph Churchill, son of Sir Win­ston, who used a par­al­lel but obvi­ous­ly dif­fer­ent tac­tic when con­fronting the Race Ques­tion on a South African land­ing card in the old days of Apartheid:
"Damned cheek!," said Ran­dolph, and he began writ­ing furi­ous­ly:
Race: human. But if, as I imag­ine is the case, the object of this enquiry is to deter­mine whether I have coloured blood in my veins, I am most hap­py to be able to inform you that I do, indeed, so have. This is derived from one of my most revered ances­tors, the Indi­an Princess Poco­hon­tas, of whom you may not have heard, but who was mar­ried to a Jamestown set­tler named John Rolfe …
The sto­ry goes that the author­i­ties did not take this too well. Upon land­ing Ran­dolph was denied admis­sion to the Repub­lic of South Africa and put on the next plane out….
_____________
His­tor­i­cal note: A lead­ing Churchill myth is that Win­ston was descend­ed in part from an Iro­quois Indi­an. Even the myth does not claim Poco­han­tas, who has been linked as an ances­tor to two Amer­i­can First Ladies, Edith Wil­son and Nan­cy Rea­gan, but not to the Churchills. I sus­pect Ran­dolph knew this, but with his usu­al zeal was adding to the leg­end to express his out­rage.