Churchill on Socialism
Churchill on Socialism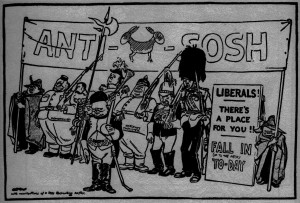 This quo­ta­tion is now going around the web, broad­ly attrib­uted to Churchill. Is it accu­rate? "Social­ism is a phi­los­o­phy of fail­ure, the creed of igno­rance, and the gospel of envy, its inher­ent virtue is the equal shar­ing of mis­ery." —M.S. via email.
It is more or less cor­rect, but it's a trun­cat­ed ver­sion of two sep­a­rate com­ments, run togeth­er to make them more inter­est­ing (in the eye of the drafter).
"Social­ism is the phi­los­o­phy of fail­ure, the creed of igno­rance, and the gospel of envy." —Perth, Scot­land, 28 May 1948, in Churchill, Europe Unite: Speech­es 1947 & 1948 (Lon­don: Cas­sell, 1950), 347.
"The inher­ent vice of cap­i­tal­ism is the unequal shar­ing of bless­ings. The inher­ent virtue of Social­ism is the equal shar­ing of mis­eries." —House of Com­mons, 22 Octo­ber 1945
A vari­a­tion on the above is: "I do not at all won­der that British youth is in revolt against the mor­bid doc­trine that noth­ing mat­ters but the equal shar­ing of mis­eries, that what used to be called the 'sub­merged tenth' can only be res­cued by bring­ing the oth­er nine-tenths down to their lev­el…" —House of Com­mons, 13 June 1948
Churchill's lega­cy includes his philip­pics against social­ism, said the late Dr. Har­ry Jaf­fa,
which are no less tren­chant than those against fas­cism and Com­mu­nism. Con­sid­er the fol­low­ing excerpts from a speech in the Com­mons in 1949: "I was brought up to believe that tax­a­tion is a bad thing, but the con­sum­ing pow­er of the peo­ple a good thing. I was brought up to believe that trade should be reg­u­lat­ed main­ly by the laws of sup­ply and demand and that, apart from basic nec­es­saries in great emer­gen­cies, the price mech­a­nism should adjust and cor­rect undue spend­ing at home….I was also taught that it was one of the first duties of Gov­ern­ment to pro­mote that con­fi­dence on which cred­it and thrift….can alone stand and grow. I was taught to believe that these process­es, work­ing freely with­in the lim­its of the well-known laws for cor­rect­ing monopoly….would pro­duce a live­ly and con­tin­u­ous improve­ment in pros­per­i­ty. I still hold to those gen­er­al principles.

"Social­ists [on the oth­er hand] regard tax­a­tion as good in itself and as tend­ing to lev­el our society….Everything pos­si­ble is done dis­cour­age and stig­ma­tize the inven­tor. The Chan­cel­lor [of the Exche­quer] speaks in slight­ing terms of prof­it earners….What a lot of con­tempt he put into it—"profit earn­ers." There was an old Glad­ston­ian expres­sion: 'Let the mon­ey fruc­ti­fy in the pock­ets of the peo­ple.' That is regard­ed as a mon­strous device of a deca­dent cap­i­tal­ist system."

This more­over puts us in mind of that dic­tum con­cern­ing prop­er­ty assert­ed by the Father of the Amer­i­can Con­sti­tu­tion, James Madi­son, when he said, in the Tenth Fed­er­al­ist, that "the pro­tec­tion of dif­fer­ent and unequal fac­ul­ties of acquir­ing prop­er­ty [is] the first object of gov­ern­ment." One might add that accord­ing to Madi­son, the U.S. Con­sti­tu­tion is intend­ed to pro­vide equal pro­tec­tion to unequal abil­i­ties. This is just as sure­ly what Abra­ham Lin­coln meant when in 1864 he wrote to the Workingmen's Asso­ci­a­tion of New York that "Prop­er­ty is the fruit of labor; prop­er­ty is desir­able; it is a pos­i­tive good in the world. That some should be rich shows that oth­ers may become rich, and hence is just encour­age­ment to indus­try and enterprise." *
* Har­ry V. Jaf­fa, "Requiem for Social­ism and the Iron Cur­tain," Remarks on Churchill's Birth­day, 30 Novem­ber 1990.