Churchill-Mussolini Non-Letters
Churchill-Mussolini Non-Letters
(Or: "You Haven't Looked Hard Enough")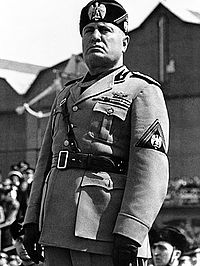 "The Untold Sto­ry of Mussolini's Fake Diaries" (Dai­ly Beast, 12 April 2015) eval­u­ates Mussolini's sup­posed diaries, let­ters or doc­u­ments ped­dled over the years, while rais­ing some incrim­i­nat­ing charges, or sup­po­si­tions, about Win­ston Churchill:
Before the war, Churchill offered Il Duce a deal. After the war, British intel­li­gence tried to destroy their cor­re­spon­dence…. When Churchill became prime min­is­ter in May 1940 he tried, in a series of let­ters, to dis­suade Mus­soli­ni from join­ing the Axis pow­ers. He was ignored. Three weeks lat­er Italy joined Nazi Ger­many and declared war on Great Britain. Although there would have been copies in Lon­don of the Churchill-Mus­soli­ni exchanges, none has ever turned up and in April 1945, some­body in Lon­don was very anx­ious that Mussolini's copies should nev­er see the light of day.
There was no "series of let­ters." Churchill him­self pub­lished his only let­ter to Mus­soli­ni (16 May 1940), try­ing to per­suade the Duce to stay out of the war—and Mussolini's neg­a­tive response (18 May) in 1949.1 (Inci­den­tal­ly, Italy joined the Axis in 1936, not 1940.)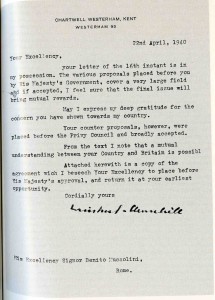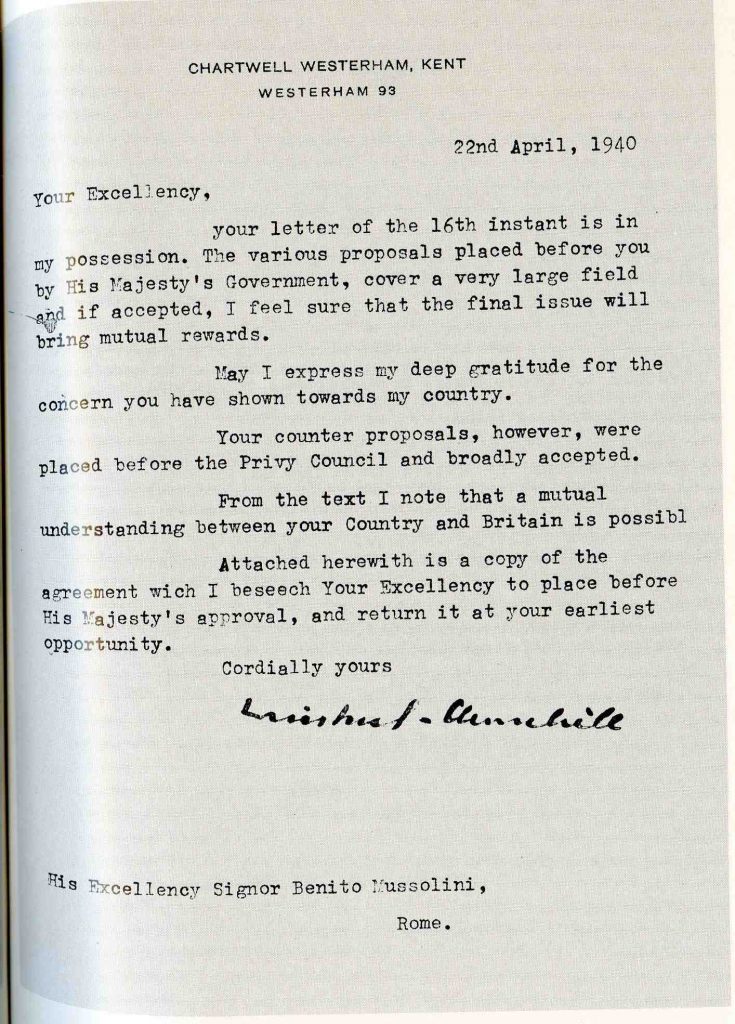 Of course there were at least three faked let­ters, pub­lished in the past, and referred to by con­spir­a­cy books. One of the more recent, Il carteg­gio Churchill-Mus­soli­ni alla luce del proces­so Guareschi (2010), was explod­ed by review­er Patrizio Gian­gre­co, who illus­trat­ed the alleged Churchill let­ters. Com­plete with inau­then­tic let­ter­heads and fake sig­na­tures, they are almost laugh­able in their ama­teur­ish­ness.2
The Dai­ly Beast states that Churchill, en route to Lake Como for a paint­ing hol­i­day in Sep­tem­ber 1945, stopped in Milan to stand bare­head­ed at Mussolini's unmarked grave. No evi­dence is offered, nor does it seem like­ly: Churchill flew from Lon­don Sep­tem­ber 2nd and arrived at Como the same day3—but I'm sure the con­spir­acists would claim that his vig­il at Il Duce's grave was "cov­ered up."
Churchill is said to have flown to Milan under the cov­er name "Colonel War­den," which the Dai­ly Beast sug­gests was his pilot's name. In fact, Churchill had used "War­den" as a code­name for him­self and his fam­i­ly ("Mary War­den") since ear­ly in the war. It like­ly stemmed from his 1941 appoint­ment as Lord War­den of the Cinque Ports.4
Churchill, we are then told, arrives at his vil­la on Lake Como, "owned by none oth­er than Gui­do Done­gani…an indus­tri­al­ist and Fas­cist col­lab­o­ra­tor," who was "inter­ro­gat­ed by British intel­li­gence and lat­er released." Churchill meets with Done­gani, who appar­ent­ly hands him the incrim­i­nat­ing let­ters, papers or diaries—they are var­i­ous­ly described.
The author adds that he enlist­ed offi­cial biog­ra­ph­er Mar­tin Gilbert to authen­ti­cate the diaries, let­ters, or what­ev­er they were: "Gilbert, the his­to­ri­an, con­clud­ed that the cor­re­spon­dence had been retrieved and hand­ed over to Churchill but it nev­er turned up in the Churchill archives and was nev­er seen again."
This is pass­ing strange, since Sir Mar­tin Gilbert dis­missed the idea of secret Mus­soli­ni cor­re­spon­dence, and noth­ing in his writ­ings sug­gests Done­gani met with Churchill. Writ­ing to his wife the day after he arrived at Como, Churchill says the vil­la belonged to "one of Mussolini's rich com­mer­cants who had fled, whith­er is not known."5 (Again, the con­spir­acists would prob­a­bly say this was a smokescreen.)
The so-called Mus­soli­ni Diaries are labeled "Fake" in the article's title, so one must sup­pose there is no argu­ment. There are a con­fus­ing num­ber of ref­er­ences to var­i­ous peo­ple who tried to ped­dle them, includ­ing one who ran away when hailed at an air­port. An Inter­pol agent who inves­ti­gat­ed the sto­ry is quot­ed as say­ing Ital­ians "need­ed peo­ple to believe that the diaries were forged" because oth­er­wise "they would encour­age a revival of the Mus­soli­ni cult and Fascism."
How those faked 1940 let­ters, or oth­er doc­u­ments from 1945, would, if gen­uine, have revived Fas­cism is dif­fi­cult to under­stand. Per­haps the best rejoin­der is that of the his­to­ri­an Andrew Roberts:
Leav­ing aside the fact that Churchill would not by that stage have want­ed or need­ed peace with Mus­soli­ni, one charge goes that the rel­e­vant doc­u­ments are in a water­proof bag at the bot­tom of Lake Como. So, when one takes issue with them, the con­spir­a­cy the­o­rists say, "go and look." Of course, if you don't find any­thing, they just say, "you haven't looked hard enough."6
End­notes
1. Win­ston S. Churchill, Their Finest Hour (Lon­don: Cas­sell, 1949), 107-08.
2. Patrizio Gian­gre­co, "Lead­ing Churchill Myths: 'Churchill Offered Peace and Secu­ri­ty to Mus­soli­ni,'" Finest Hour 149, Win­ter 2010-11, pp 52-53/57. (The let­ters were first pub­lished in Can­di­do in 1954.)
3. Mar­tin Gilbert, Win­ston S. Churchill, vol. 7 Road to Vic­to­ry 1941-1945 (Hills­dale Col­lege Press, 2013), 134.
4. War­ren F. Kim­ball, Churchill and Roo­sevelt, The Com­plete Cor­re­spon­dence, 3 vols. (Prince­ton Uni­ver­si­ty Press, 1984), II 344. Lady Soames to this writer, 2005.
5. Gilbert, Road to Vic­to­ry, 344, and con­ver­sa­tions with this writer, 2010.
6. Andrew Roberts, "Churchill's Rep­u­ta­tion," remarks at the Cab­i­net War Rooms, Lon­don, 16 Novem­ber 2005.