"Jaw to Jaw" versus "Jaw, Jaw"
"Jaw to Jaw" versus "Jaw, Jaw"
In the fol­low­ing news­pa­per arti­cles from 27 June 1954, Churchill is quot­ed as say­ing "to jaw-jaw is always bet­ter than to war-war": "Churchill urges Patience in Cop­ing with Red Dan­gers" by W. H. Lawrence, New York Times, p. 1 and "'Vig­i­lance and Time' Asked by Churchill by Wal­ter Tro­han, Chica­go Dai­ly Tri­bune, p. 1. —M.D., via email.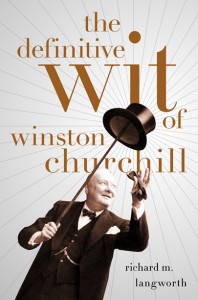 From my Defin­i­tive Wit of Win­ston Churchill, page 37:
"Meet­ing jaw to jaw is bet­ter than war."
–1954 Com­mon­ly mis­quot­ed as 'Jaw, jaw is bet­ter than war, war,' an expres­sion coined four years lat­er by Prime Min­is­ter Harold Macmil­lan, on a vis­it to Australia.
I ver­i­fied this from Sir Mar­tin Gilbert who refers his offi­cial biog­ra­phy, Vol­ume 8, "Nev­er Despair," Lon­don: Heine­mann, 1988:page 1004: "Churchill then told the Amer­i­can legislators…that con­fer­ences of this kind were vital­ly impor­tant, that meet­ing jaw to jaw is bet­ter than war."*
* foot­note 1: "On 30 Jan­u­ary 1958 Harold Macmil­lan, speak­ing in Can­ber­ra, echoed Churchill's words with the phrase (fre­quent­ly but wrong­ly attrib­uted to Churchill him­self), 'Jaw, jaw is bet­ter than war, war.'" Also page 1005 foot­note 1: "'Notes on remarks by the Pres­i­dent and the Prime Min­is­ter at the Con­gres­sion­al Lun­cheon at the White House, Sat­ur­day after­noon, June 26, 1954': Eisen­how­er papers."
Sev­er­al news­pa­per accounts appeared at the time, quot­ing Churchill as say­ing "jaw-jaw…" etc.. Clear­ly, the news­pa­pers inac­cu­rate­ly quot­ed Churchill before Macmil­lan used the phrase "jaw, jaw" (which may explain where Macmil­lan picked it up).