End of Glory for Two "Icons"
End of Glory for Two "Icons"
How are the mighty fall­en, and the weapons of war per­ished! —II Samuel 1:27
Item: St. George's Chapel, Big­gin Hill, Kent, Dai­ly Mail, 4 January
"With its mag­nif­i­cent stained-glass win­dows, it stands as a fit­ting memo­r­i­al to the Bat­tle of Britain pilots who gave their lives to save the nation from Nazi inva­sion. But the ornate­ly fur­nished chapel Sir Win­ston Churchill insist­ed should remain a 'per­ma­nent shrine to the glo­ri­ous Few' is to be closed down and board­ed up. Defy­ing the wartime leader's express wish­es, defence chiefs have decreed that the £50,000-a-year cost of run­ning St. George's Chapel of Remem­brance is an 'inap­pro­pri­ate' use of resources."
Item: The War Office, 57 White­hall, Lon­don, Dai­ly Mail, 16 December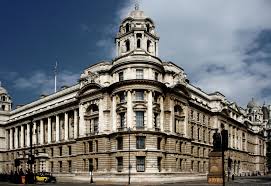 A key site dur­ing both World Wars and home to sec­re­taries of state for war Lord Hal­dane, Lord Kitch­en­er, David Lloyd George and Win­ston Churchill, the War Office has been sold to be rede­vel­oped into a five-star hotel, res­i­den­tial apart­ments with pri­vate func­tion rooms and a fit­ness facil­i­ty. Built in 1906 for £1.2, mil­lion, the Grade II-list­ed, 580,000 sq. ft. prop­er­ty changed hands for £300 mil­lion. Accord­ing to the Evening Stan­dard, the buy­ers are Hin­du­ja Group, chaired by S.P. Hin­du­ja and co-chair­man G.P. Hin­du­ja, in part­ner­ship with a Obras­con Huarte Lain Desar­rol­los (OHLD), a Span­ish indus­tri­al company.
Nowa­days, every­thing is "iconic"—a word that should be abjured, along with "issues" (the PC sub­sti­tute for "prob­lems") and "reach­ing out" (which replaces "con­tact­ing" in the Age of Niceness).
The Chica­go Cubs are "icon­ic," even though they lose every year. Win­ston Churchill is "icon­ic," but there are bet­ter ways to describe him. Enough of the icon­ic. Every April finds us "reach­ing out" to the Inter­nal Rev­enue Ser­vice; doesn't mean we love them.
The demise of the War Office is unavoid­able. At 580,000 square feet, it had become a cost­ly white ele­phant, fis­cal­ly unsus­tain­able. Dec­la­ra­tions of war are out of fash­ion. We don't even have War Min­istries or War Depart­ments. Nowa­days, their old func­tions are per­formed by "nicer" icons like Min­istries of Defence and Depart­ments of Home­land Secu­ri­ty. At any rate, the need for a build­ing that big to fight the skir­mish­es of the 21st cen­tu­ry is clear­ly past. Unless of course all hell breaks loose, in which case it won't matter.
Full marks, then to the British gov­ern­ment, which grant­ed a 250-year lease on the War Office with the pro­vi­so that "the her­itage and secu­ri­ty of the build­ing is well man­aged." And to the Hin­du­ja broth­ers, who "reached out" to the past by declar­ing: "We will make every effort to hon­our the her­itage and restora­tion of this nation­al mon­u­ment, ele­vate its sta­tus and recon­nect it with the pub­lic." (The build­ing has long been closed to the pub­lic; the Hin­du­jas vow to open it again.)
The loss of St. George's Chapel would be inde­fen­si­ble. Big­gin Hill is the "icon­ic" (er, immor­tal) site where the Roy­al Air Force sal­lied forth to beat the "Hun raiders" (as Churchill called them) out of the day­light air and win the Bat­tle of Britain.
£50,000 a year is a tri­fle for gov­ern­ments which waste that much every hour. St. George's does not stand on invalu­able real estate; it is not need­ed for a fit­ness cen­ter. Sure­ly a char­i­ta­ble enter­prise could be fund­ed to pre­vent the ignominy of it being board­ed up?
I do not share the Respectable Ten­den­cy toward smarmy expres­sions of "sup­port for the troops," even what some of those who cheer say are inap­pro­pri­ate bat­tles. (Times have changed: I wore the uni­form when we were com­pared in pub­lic to baby-killers.) Cyn­ics may won­der why the armed ser­vice that lays more lives per capi­ta on the line than all the oth­ers every day, the police, is not sim­i­lar­ly wor­shipped, instead of excoriated.
But the fliers of the RAF, who rose to con­front a seem­ing­ly invin­ci­ble ene­my in 1940, saved Britain, and much else besides. They "held the fort alone," as Churchill put it—"till those who hith­er­to had been half blind were half ready."
They deserve their remem­brance at Big­gin Hill.