"Americans will do the right thing…."
"Americans will do the right thing…."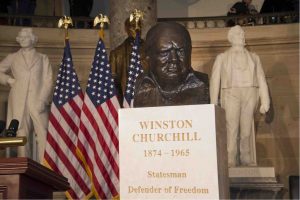 As Con­gress ded­i­cat­ed a new bust of Win­ston Churchill in the U.S. Capitol's Stat­u­ary Hall on Octo­ber 29th, NPR con­sid­ers a famous non-quo­ta­tion by Win­ston Churchill about Americans.Kudos to NPR for get­ting it right. Of course, all the politi­cians quot­ed man­aged to mis­quote the misquote!
"Amer­i­cans can always be trust­ed to do the right thing, once all oth­er pos­si­bil­i­ties have been exhausted."
Did Churchill say it? I'm asked often.
The answer is: unproven. It is in my quo­ta­tions book, Churchill By Him­self, page 124, Chap­ter 8 (Amer­i­ca), under the head­ing, "Char­ac­ter­is­tics of Amer­i­cans." But I waf­fled in the accom­pa­ny­ing note:
Cir­ca 1944. Unat­trib­uted and includ­ed ten­ta­tive­ly. Cer­tain­ly he would nev­er have said it pub­licly; he was much too care­ful about slips like that. It can­not be found in any mem­oirs of his col­leagues. I have let it stand as a like­ly remark, for he cer­tain­ly had those sen­ti­ments from time to time in World War II.
Lack of Provenance
This is one of the few quotes in my book that I could not find among his 15 mil­lion pub­lished words and 35 mil­lion about him. I have been told that it came from Sir John Colville's mem­oirs, but I can't find it there. Nor did Sir John men­tion it in our con­ver­sa­tions. If proven apoc­ryphal it will go to my appen­dix of inac­cu­rate quo­ta­tions, enti­tled, "Red Her­rings." In the mean­time, it sticks: Con­gress­man Paul Ryan recent­ly used it (slight­ly inac­cu­rate­ly) in a speech at Clare­mont Insti­tute.
It's a great line (and fair­ly appo­site at the moment). Here's anoth­er Churchill remark along those lines which we do know is genuine:
Their nation­al psy­chol­o­gy is such that the big­ger the Idea the more whole­heart­ed­ly and obsti­nate­ly do they throw them­selves into mak­ing it a suc­cess. It is an admirable char­ac­ter­is­tic, pro­vid­ing the Idea is good.
—The Sec­ond World War, vol. V, Clos­ing the Ring (Lon­don: Cas­sell, 1952), 494.