Michael Dobbs Churchill Novels
Michael Dobbs Churchill Novels
My in-laws gave me the four-book series of his­tor­i­cal nov­els by Michael Dobbs about Win­ston Churchill, set against the back­drop of World War II. I enjoyed them immense­ly. They are very enjoy­able reads while also infor­ma­tive and insight­ful of Dobbs's sub­jec­tive views of the major play­ers of the era. –T.D.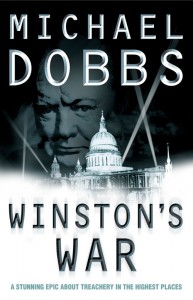 I cer­tain­ly agree. I enthu­si­as­ti­cal­ly endorsed these nov­els in Finest Hour: Winston's War (FH 116), Nev­er Sur­ren­der (FH 122), Churchill's Hour (FH 126) and Churchill's Tri­umph (FH 131). You may be inter­est­ed in Mr Dobbs's con­tri­bu­tion to our 40th anniver­sary issue last autumn:
A novelist's eye looks to the inner man: not sim­ply what he achieves but who he is, how true and how strong his heart beats. In my eye, Win­ston Churchill had one of the most extra­or­di­nary hearts of all time. It beat as res­olute­ly as a drum, and to its tim­bre the world marched from the jaws of Hell. Yet that same huge heart also over­came obsta­cles in his pri­vate affairs that would have crip­pled most ordi­nary mor­tals. He was great not because he got every­thing right (hah!) or because he was always pleas­ant and polite (he wasn't), but because he man­aged to save our world even while bat­tling with his own pri­vate demons.

Is he rel­e­vant in today's world? Of course he is. Open your news­pa­per and you will be bom­bard­ed with mes­sages about a World Cri­sis, a Gath­er­ing Storm, nations torn between the appeals of meet­ing jaw to jaw as an alter­nate to war. Some of the issues have changed, of course, but the fun­da­men­tal inspi­ra­tion of Win­ston Churchill's life was that we make our own world, that the tide of his­to­ry isn't dri­ven by irre­sistible Marx­ist-Fas­cist tides and irre­versible social trends but by the pas­sions of men and women. What we do, you and I, and those we elect, makes a dif­fer­ence. In the end, it's up to us, and how big we find our hearts to be.

Yet it's the nature of the man that appeals to me most. When I talk to school chil­dren about that strange beast Win­ston Churchill, I show him not just as an over­ly-round six­ty-some­thing with lit­tle hair and a fat cig­ar who did extra­or­di­nary things, but also as a tor­ment­ed and at times fright­ened child who was sub­ject­ed to abuse at school and—let's be frank—a fair dose of parental neglect at home. Yet still he made it through. If Win­ston were in a class­room today he would be sit­ting in the back row, a child with few friends, with a trou­bled home life, with learn­ing dif­fi­cul­ties, with school reports that summed him up as all but worth­less, who couldn't even make it to uni­ver­si­ty. And yet….

To watch the fas­ci­na­tion of young eyes sud­den­ly alert, iden­ti­fy­ing with our Old Man, real­is­ing that per­haps they, too, might find some way to over­come their own per­son­al chal­lenges, nev­er fails to be a tran­scend­ing moment.

What would his mes­sage be today? I sus­pect it would not be framed in terms of Mis­sion Accom­plished, but nei­ther would it be Mis­sion Impos­si­ble. Wher­ev­er he is remem­bered, the mem­o­ry brings hope and a reminder that noth­ing in the course of human affairs is beyond our reach. He remains an inspi­ra­tion to school­child­ren and states­men, and to the rest of us who fall some­where in between.