Bull in a China Shop
Bull in a China Shop
An recent arti­cle declares: "Win­ston Churchill once described Amer­i­can diplo­ma­cy as 'a bull who car­ries his own chi­na shop around with him.'" Is this an accu­rate quote, and if so, in rela­tion too what? —L.K., Texas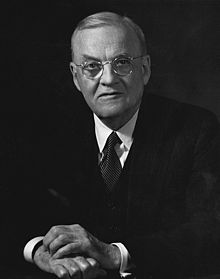 The expres­sion is fre­quent­ly repeat­ed, but in regard to Eisenhower's Sec­re­tary of State John Fos­ter Dulles, not Amer­i­can diplo­ma­cy. But it does not track among Churchill's 15 mil­lion pub­lished words (books, arti­cles, speech­es, papers), or 35 mil­lion about him. The phrase "chi­na shop" comes up 22 times, vir­tu­al­ly all of them remarks by oth­ers about Churchill….
In oth­er episodes, Churchill bemoaned Dulles' "great slab of a face" and defined him as "dull, duller, Dulles." Meet­ing Dulles and Eisen­how­er at Bermu­da, where he had cam­paigned for a sum­mit con­fer­ence with Stalin's suc­ces­sor in Moscow, Churchill told his doc­tor that Dulles said
noth­ing but evil can come out of meet­ing with Malenkov. Dulles is a ter­ri­ble hand­i­cap. Ten years ago I could have dealt with him. Even as it is I have not been defeat­ed by this bas­tard. I have been humil­i­at­ed by my own decay.
Many deep stud­ies have been pub­lished on Churchill and the military—Fisher, Alan­brooke, de Gaulle, Mont­gomery, the Admi­rals, the Generals—yet there is still none on Churchill and the supreme Allied com­man­der and lat­er pres­i­dent of the Unit­ed States, Dwight Eisen­how­er. Peter Boyle pub­lished The Churchill-Eisen­how­er Cor­re­spon­dence (1991) and James Humes a trib­ute to the two (2001). But we still await a study of the great issues that sep­a­rat­ed Churchill and Eisenhower—invasion routes to Ger­many, a post­war "sum­mit" with the Rus­sians, the 1956 Suez crisis—or the rap­proche­ment between them in the years after Suez. These sub­jects offer a rich trove for min­ing by a fas­tid­i­ous historian.