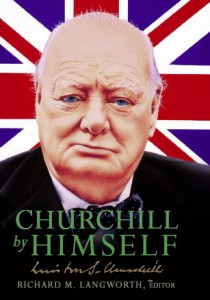 Born Meyer Tuch­schnei­der in the lower east side of Man­hat­tan in 1925, Richard Deane Tay­lor achieved immor­tal­ity among Churchillians when he painted one of the most evoca­tive and accu­rate por­traits of Win­ston Churchill for Collier's in 1951, to mark Churchill's return to office fol­low­ing the British gen­eral election.
Years later, Richard's great work was revived on the cover of the Churchill mag­a­zine Finest Hour. He then he gave me the priv­i­lege of using it on the first Eng­lish edi­tion of my book of quo­ta­tions, Churchill By Him­self. It also adorns The Churchill Com­pan­ion, a com­pendium of facts.
The youngest and last sur­viv­ing child Pol­ish immi­grants who arrived in the 1920s, Richard let­tered for Beck and Con­stanza Stu­dios and did illus­tra­tions for Faw­cett Pub­li­ca­tions' Shazam! Cap­tain Mar­vel comic books while a teenager at Brook­lyn Tech. Drafted by the Army in 1943, he received three medals for hon­or­able ser­vice through 1946, when he took up the study of fine arts at the Acad­e­mie de la Grande Chau­miere and the École nationale supérieure des Beaux-Arts in Paris. Back in Amer­ica in the early Fifties, he pro­duced won­der­fully real­is­tic por­traits for Col­liers, Newsweek and True, and com­mer­cial art for Rem­ing­ton Rand, Dewar's and Impe­r­ial Whisky, Esso, Revlon, John­son & John­son, Schae­fer Beer and Air France. At the High School of Art and Design in the late Six­ties, he  is remem­bered fondly as a beloved instruc­tor who appre­ci­ated the chal­lenges his stu­dents from low-income areas  while devel­op­ing their tal­ents. He is believed to have influ­enced two gen­er­a­tions of comic-book and com­mer­cial artists.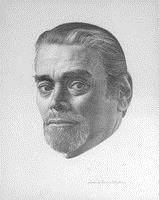 Richard com­pleted count­less oil and water­color paint­ings, pen-and-ink draw­ings and charcoal/graphite sketches through­out his career. He was an avid pho­tog­ra­pher who loved travel, gui­tar and base­ball. Richard leaves behind a son and daugh­ter and three grand­chil­dren. "A man never dies as long as he is remem­bered," and Richard's por­trai­ture is a last­ing trib­ute to his life and work.
_____
Back­ground infor­ma­tion is based on Richard's obit­u­ary in The New York Times.
{ 1 comment }