"A Cer­tain Splen­did Mem­ory…"  Din­ner of the New Eng­land Churchillians, Union Club, Boston, 21 Novem­ber 2014.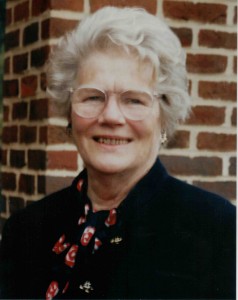 Yes­ter­day at West­min­ster Abbey, over a thou­sand of her friends and admir­ers joined in a memo­r­ial to Lady Soames. A few weeks ago, in the first and only spe­cial edi­tion of Finest Hour, fifty of them wrote about her. So it is timely to remem­ber her here in Boston, where she was with us so many times.
Tim­o­thy Robert Hardy led that issue because after all, a Shake­spearean actor who dou­bled as her Papa is bound to know the right words, and he did.
He began with their meet­ing in 1981, with Chartwell a clut­tered film set as he played her father in the "Wilder­ness Years" TV series. "What she in her kind­ness said of my attempt," Tim wrote, "made me feel I was for­given for all presumptions."
And that was Mary, as I pre­sume to call her—because she insisted on it the first time we met. Not because it was I. She was like that with everyone.
I knew we'd feel her loss quickly, and it hasn't taken long. She'd be there with us now, glar­ing at the things peo­ple said about her father in just the last few weeks: That he starved three mil­lion Bengalis…that he wanted to nuke Moscow…that he skipped Roosevelt's funeral in a fit of pique.
Well. She always urged us "to keep the mem­ory green and the record accu­rate." She demon­strated how to do this early, at a con­fer­ence in Colo­nial Williams­burg in 1991, where an enter­tainer imper­son­at­ing Thomas Jef­fer­son made the mis­take of sug­gest­ing that Sir Win­ston was too fond of alcohol.
"My dear Mr. Jef­fer­son," Mary said firmly, "you have no way of know­ing that. And since I as his daugh­ter never saw him the worse for drink, I think you should avoid idle spec­u­la­tion." Mr. Jef­fer­son left early.
I know she would be in the fray with us now, say­ing "Really, my dear," to peo­ple who write books about him—not solid books, but frothy hagiogra­phies or pop­ulist shock­ers. And some who, through their fame in other spheres, are ele­vated to ora­cles, who blithely inform us what Churchill would do about ISIS or Iraq or the National Debt.
Mary always had an answer for peo­ple like that. I rec­om­mend it to you when­ever you hear some self-proclaimed expert say what her father would do today. Her answer always was: "How do you know?"
"From that time on," Tim Hardy con­cluded, "I have so many mem­o­ries of times spent with this great lady: aris­to­cratic, straight­for­ward, gen­er­ous, open-hearted, gen­tle, able to be sharp, humor­ous, witty, poised, loyal, with an extra­or­di­nary abil­ity to get peo­ple to meet oth­ers with whom she thought they would become friends." Well, sure, all who knew her thought that. But Tim says it bet­ter than most.
"There still is much to say," wrote her sis­ter Sarah, in the poem that closed her memo­r­ial issue, "And yet, my tongue and pen, so wont to fly, have of a sud­den both run dry."
And so I am just glad to recall—in her father's words about his own father—"a cer­tain splen­did mem­ory, which many Hon­or­able Mem­bers still preserve."
{ 0 comments }