Churchill Sank the Titanic?
Churchill Sank the Titanic?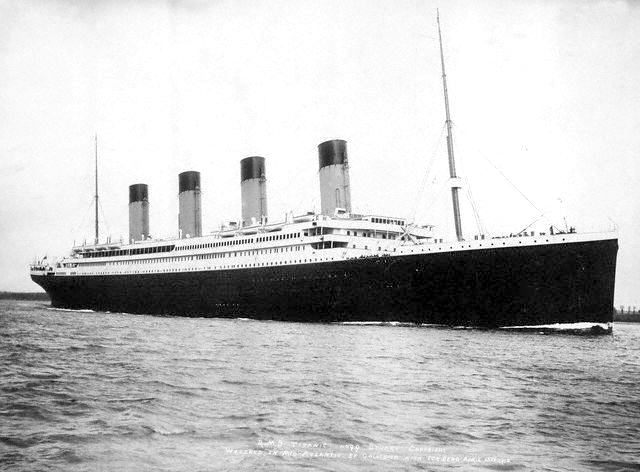 Robert Strange, a British inves­tiga­tive jour­nal­ist, in his book Who Sank The Titan­ic?, holds Churchill respon­si­ble for the cen­tu­ry-old dis­as­ter, The Sun reports. (This makes a nice book­end with the old charge that he also sank the Lusi­ta­nia.)
On 10 April 1912, the world's largest pas­sen­ger ship set out on her maid­en voy­age from Southamp­ton, Cher­bourg and Queen­stown to New York. Four days lat­er, Titan­ic struck an ice­berg and sank in under three hours, killing 1514 peo­ple. Mr. Strange, who says he spent three years research­ing doc­u­ments in the Nation­al Archives, lev­els the chief blame on Churchill:
As a new­ly-pro­mot­ed gov­ern­ment min­is­ter, Churchill had final respon­si­bil­i­ty for all marine safe­ty when the Titan­ic was being planned, designed and built [but was] fatal­ly dis­tract­ed by a com­bi­na­tion of burn­ing polit­i­cal ambi­tion, wound­ed pride and the pur­suit of his future wife Clemen­tine. I believe he bears a heavy bur­den of responsibility….From the start, he seems to have washed his hands of the Marine Divi­sion. Super­vi­sion of Titanic's con­struc­tion was passed to Fran­cis Car­ruthers, a poor­ly-trained and under­paid Board of Trade engi­neer who failed to spot flaws in the ship's con­struc­tion….

By the time the Titan­ic was final­ly launched, Churchill had achieved his aim of pro­mo­tion to Home Sec­re­tary and there­by escaped pub­lic exam­i­na­tion about his role in the Titan­ic deba­cle. [But] the ship was first pro­posed, designed and had its keel laid down on his watch. It is incon­ceiv­able that the min­is­ter respon­si­ble for safe­ty at sea would not have been ful­ly briefed about the con­struc­tion of what was to be the biggest ship afloat. And he was very aware of the lack of lifeboats. He had been warned again and again but failed to take action.
Churchill was Pres­i­dent of the Board of Trade from 12 April 1908 to 18 Feb­ru­ary 1910. RMS Titan­ic, and her sis­ter ship Olympic, were con­ceived in mid-1907 and the plans drawn in late 1907/early 1908. It is there­fore incor­rect to say that Churchill was in charge when the ships were planned or designed.
Churchill was at the Board of Trade when the final plans were approved (July 1908) and the hulls laid down (Decem­ber 1908/March 1909). But Titan­ic com­plied with all cur­rent Board of Trade reg­u­la­tions. Her lifeboat capac­i­ty (1178) actu­al­ly exceed­ed the require­ment (990). And if Fran­cis Car­ruthers, the engi­neer assigned, "failed to spot flaws" in the ship's con­struc­tion, how was it pos­si­ble for Churchill to spot them?
Ear­li­er researchers have sug­gest­ed weak­ness­es in Titanic's steel plates and riv­ets con­tributed to her rapid sink­ing. This begs the ques­tion of how her sis­ter the Olympic man­aged an illus­tri­ous 24-year career, includ­ing troop trans­port dur­ing World War I, and sev­er­al col­li­sions, earn­ing the nick­name "Old Reli­able," with faulty riv­ets and weak plates.
True, Olympic was refit­ted with a dou­ble hull after the Titan­ic dis­as­ter. Yet oil tankers up to five times her ton­nage, and 100 feet or more longer, remained sin­gle hulled until the Exxon Valdez episode in 1989. To blame Churchill for design defects reminds us of the author who crit­i­cized Churchill's urgent despatch of tanks to North Africa in 1941 before they'd been ful­ly test­ed. A review­er com­ment­ed: "The Prime Min­is­ter must also be a mechan­ic!"
What about the "burn­ing ambi­tion, wound­ed pride and pur­suit of his future wife"? Churchill was offered the Board of Trade in April 1908, achiev­ing Cab­i­net rank. While he lost the manda­to­ry re-elec­tion for new min­is­ters in Man­ches­ter in April, he won hand­i­ly at Dundee in May. His "pur­suit" of Clemen­tine was near­ing its suc­cess­ful end by July. All these pride­ful accom­plish­ments were before the Titan­ic plans were sub­mit­ted to the Board of Trade.
Nei­ther was it Churchill's respon­si­bil­i­ty per­son­al­ly to review ship plans sub­mit­ted to the Marine Divi­sion. Churchill saw his per­son­al role, vol­ume II of the offi­cial biog­ra­phy records, "as respon­si­ble for the direct defence of Free Trade," and fos­ter­ing "the com­mer­cial inter­ests of our coun­try, with­in the lim­its of state inter­ven­tion." It is cer­tain­ly true that he found those tasks more inter­est­ing than riv­ets and steel plate, which he quite prop­er­ly assigned to under­lings.
The spe­cif­ic charge that Churchill was warned and ignored the ques­tion of lifeboats must await my review of Mr. Strange's book and the sources he offers for this con­clu­sion.