Sunbeam Harrington Harangue
Sunbeam Harrington Harangue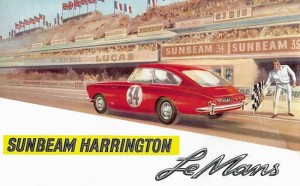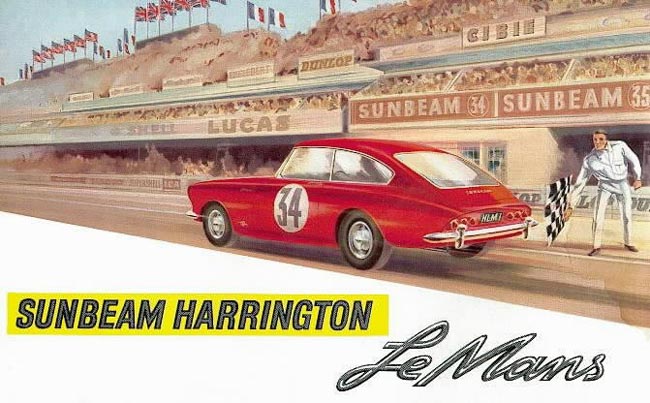 Sun­beam Har­ring­ton Le Mans: first encounter. It was in 1963 at Beck­rag Motors in Irv­ing­ton, New Jer­sey, where I'd arrived to buy a bolt-on hard­top for my Sun­beam Alpine. The Le Mans was in their show­room, gleam­ing red, entic­ing­ly shaped, with wire wheels, snug Micro­cell buck­et seats and the wal­nut dash­board I'd tried to fake with con­tac-paper on my Alpine. It looked like 100 mph stock-still. The price was $4295, about $3000 more than I could even bor­row. I had to stick with my hard­top Alpine.
The Le Mans was your basic Eng­lish blacksmith's revenge, cob­bled up from a pro­duc­tion vehi­cle, like the Tri­umph Her­ald-based Bond Equipe, but rather more impres­sive. The base car was the Alpine; the builder was Thomas Har­ring­ton Ltd. in Hove, Sus­sex, where they knew a few things about cus­tom con­ver­sions.
The Alpine had been designed for the Rootes Group (by Ray­mond Loewy Asso­ciates) in the late Fifties; Har­ring­ton shaved its by-then-dat­ed tail­fins and deck and applied their own fiber­glass fast­back, which clamped onto the stock wind­screen and ran back to a Kamm-like tail, sand­wiched onto the met­al body and held down in the rear by a bolt that could have come from the Gold­en Gate Bridge. They added a hatch­back and swing-out rear win­dows, "Le Mans" let­ter­ing, a slim strip of body­side bright­work end­ing in an arrow point, and a svelte inte­ri­or, and built about 250 copies, which wasn't bad for a closed cus­tom body style sell­ing for almost dou­ble the price of a stock Alpine.
In the 1980s I briefly owned a white Har­ring­ton, in pret­ty good shape, too, and wrote a "dri­veRe­port" for Dave Brownell's Spe­cial-Inter­est Autos, now sad­ly defunct ("Rootes Builds a Faster Fast­back," SIA #76, August 1983). Con­sumed with enthu­si­asm, I start­ed a Har­ring­ton Reg­is­ter and pub­lished two or three edi­tions of a newslet­ter called the Har­ring­ton Harangue. But my Le Mans was a buck­et of bolts in need of restora­tion, oth­er things inter­fered and I let it go. If it's still out there, the ser­i­al num­ber is #6413.
In the Inter­net Age, past sins come back to haunt you. Imag­ine my sur­prise to hear via this web­site from Jan Igg­bom, a retired Swedish Air Force offi­cer and, since 1969, a Har­ring­ton own­er (of the only Le Mans sold new in Swe­den). Two years ago, with Ian Spencer in the USA, Mr. Igg­bom cre­at­ed a web-based Har­ring­ton Reg­is­ter which has tracked almost half of the cars built. Jan writes:
The own­ers who have dis­cov­ered us have become mem­bers in the Har­ring­ton Soci­ety. It's not a club, just some­thing which holds the own­ers togeth­er. We thought about writ­ing a book, but a book is some kind of final result, while a web­site is more alive. I'm updat­ing the site at least a cou­ple of times every month. Ian and I have tried to dig deep in the Har­ring­ton sto­ry. We have both been in con­tact with Clive and Justin Har­ring­ton many times, and have writ­ten arti­cles with them. We have also found a cou­ple of old employ­ees from the fac­to­ry who have ver­i­fied some facts for us.
It sounds irre­li­gious, but I've nev­er been able to relate to Fer­raris, pos­si­bly because I could nev­er afford one. Give me a quirky Eng­lish rig like the Sun­beam Har­ring­ton Le Mans, with an inter­est­ing past and a shape you don't see every day. There's some­thing about the smell of leather and oil, the way the rain beads on the bon­net, that reminds you of the days when almost any­body in Eng­land could build a sports car, and most of them did….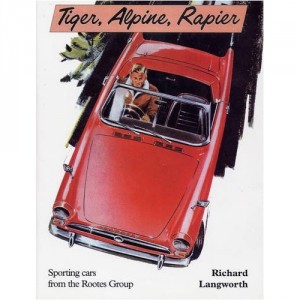 In 1961-63, teams of Sun­beams appeared at the great French endurance race for which the Har­ring­ton was named. In 1961 a high­ly-mod­i­fied Har­ring­ton Alpine (reg. no. 3000RW) cir­cu­lat­ed Le Mans like a clock­work mouse, win­ning a tro­phy called the Index of Ther­mal Effi­cien­cy. You can look it up in my book, Tiger Alpine Rapi­er: Sport­ing Cars from the Rootes Group.
Thanks and a tip of the hat to Messrs. Igg­bom and Spencer for pre­serv­ing an inter­est­ing cor­ner of auto­mo­tive his­to­ry.