"Remember the past": Santayana, but never Churchill
"Remember the past": Santayana, but never Churchill
I am a librar­i­an and I have a patron who inquired about famous quote by George San­tayana (in The Life of Rea­son, 1905): "Those who can­not remem­ber the past are con­demned to repeat it." We know the quote was orig­i­nal­ly Santayana's, but our patron would like to know when Mr. Churchill first used it. Unfor­tu­nate­ly, my col­league and I have not been able to locate the the time or con­text of quote as it relates to Mr. Churchill. —D.J., New York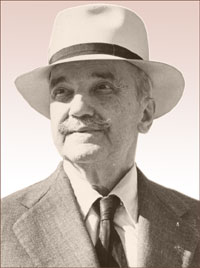 I searched Churchill's 15 mil­lion pub­lished words (books, arti­cles, speech­es, pri­vate papers) but could find no occur­rence of Santayana's remark. Noth­ing comes up, not even key phras­es ("remem­ber the past"…"condemned to repeat it"). So I'm inclined to believe that Churchill nev­er repeat­ed Santayana's remark in so many words.
Churchill wor­ried not so much that those who for­get the past are con­demned to relive it, but that the loss of the past would mean "the most thought­less of ages. Every day head­lines and short views." (House of Com­mons, 16 Novem­ber 1948) But per­haps his best remark on the sub­ject was this:
When the sit­u­a­tion was man­age­able it was neglect­ed, and now that it is thor­ough­ly out of hand we apply too late the reme­dies which then might have effect­ed a cure. There is noth­ing new in the sto­ry. It is as old as the Sibylline books. It falls into that long, dis­mal cat­a­logue of the fruit­less­ness of expe­ri­ence and the con­firmed unteach­a­bil­i­ty of mankind. Want of fore­sight, unwill­ing­ness to act when action would be sim­ple and effec­tive, lack of clear think­ing, con­fu­sion of coun­sel until the emer­gency comes, until self-preser­va­tion strikes its jar­ring gong—these are the fea­tures which con­sti­tute the end­less rep­e­ti­tion of history.
—House of Com­mons, 2 May 1935, after the Stre­sa Con­fer­ence, in which Britain, France and Italy agreed—futilely—to main­tain the inde­pen­dence of Aus­tria. (Churchill By Him­self, 490).