Churchill & the Bombing of Coventry
Churchill & the Bombing of Coventry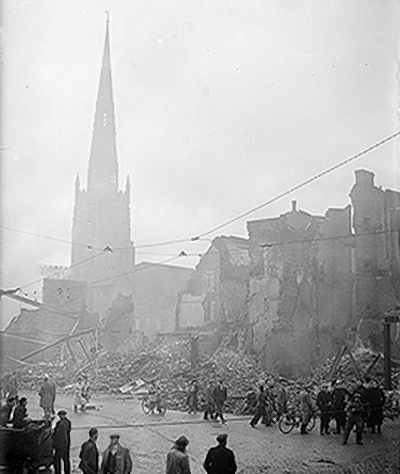 The Wei­der His­to­ry Group replied to a query, "Did Churchill allow Coven­try to be burned to pro­tect his secret intel­li­gence?" Their answer was some­what equiv­o­cal:
There cer­tain­ly have been a vari­ety of dif­fer­ent accounts, even sup­pos­ed­ly by eye­wit­ness­es, that con­tra­dict each oth­er as to how much Win­ston Churchill had learned from the Boni­face (lat­er Ultra) decoders as to the main tar­get for the Ger­man "Moon­light Sonata" air raid on the Mid­lands in Novem­ber 1940, and when did he ascer­tain it. Whether he mis­took it for a feint, with Lon­don the actu­al tar­get, of whether he knew of Coven­try and left it to its fate rather than com­pro­mise Britain's abil­i­ty to crack the Ger­man Enig­ma codes seems to depend on one's feel­ings toward Churchill.…
Not quite robust enough!
Whether you accept that Churchill "let Coven­try burn" does not depend on your "feel­ings toward Churchill." It depends on whether you know the facts.
The facts are that Churchill, leav­ing for the coun­try that night, read a despatch in his car pre­dict­ing a heavy raid upon Lon­don, not Coven­try. Declar­ing he would not spend the night in safe­ty while the cap­i­tal was under attack, he turned his car around and went back to Down­ing Street. Also, when the truth was known, RAF fight­ers were mus­tered to defend Coven­try, but it was too lit­tle and too late.