"Squeeze Germany until the Pips Squeak"
"Squeeze Germany until the Pips Squeak"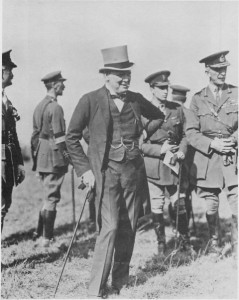 Writ­ing in the Ari­zona Repub­lic, Clay Thomp­son prop­er­ly cor­rects a read­er who believes it was Churchill who coined the phrase, "we shall squeeze Ger­many until the pips squeak" when he was "sec­re­tary of the navy." Mr. Thomp­son cor­rect­ly replied that this was not Churchill but, among oth­ers, Sir Eric Camp­bell-Ged­des, who served as First Lord of the Admi­ral­ty (civil­ian head of the Navy) in 1917-19. The line has also been ascribed to Prime Min­is­ter David Lloyd George and oth­ers.
Churchill, as Thomp­son says, crit­i­cized this pol­i­cy in The World Cri­sis, his mem­oirs of World War I. True to his max­im, "In war, resolution…In vic­to­ry, mag­na­nim­i­ty," Churchill, who was Sec­re­tary of State for War in 1918-19, argued that the Allies should ship boat­loads of food to Ger­many after the Ger­man sur­ren­dered, and that lenient terms be met­ed out to the defeat­ed ene­my.
But "squeez­ing Ger­many until the pips squeak" was indeed the pol­i­cy adopt­ed by the Allies at Ver­sailles, com­mit­ting Ger­many to vast repa­ra­tions and squeez­ing so hard they con­tributed to a Ger­man eco­nom­ic col­lapse in the 1920s, lead­ing ulti­mate­ly to Hitler.
Thanks to Clay Thomp­son for punc­tur­ing this par­tic­u­lar instance of "Churchill­lian Drift."