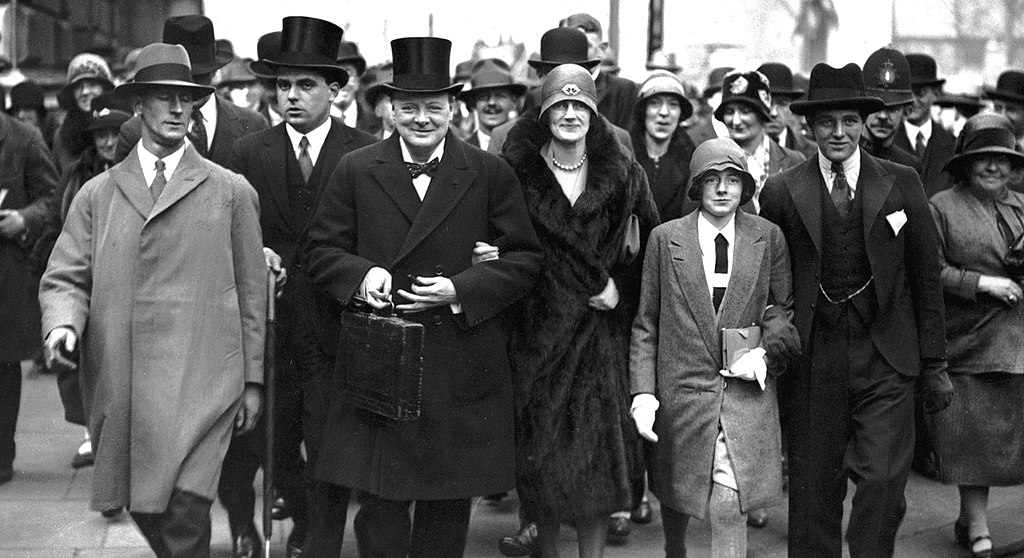 Churchill on the Annual Crisis of the National Debt
Churchill on the Annual Crisis of the National Debt
(Updat­ed from 2011.) The Unit­ed States has just blown through the $30 tril­lion mark in its Nation­al Debt. This is, ipso fac­to, the brok­est coun­try in his­to­ry. Nobody has ever paid off $30 tril­lion; no one can even imag­ine how much that is.
Peren­ni­al­ly we have the pathet­ic, face-sav­ing exer­cise of rais­ing the "debt lim­it." The par­ty in pow­er is for it. The par­ty out of pow­er deplores prof­li­gate spend­ing. The sides change and the same dud­geon oozes from oppo­site sides. "Thus we go on in strange para­dox," Churchill said in anoth­er con­text. "…decid­ed only to be unde­cid­ed, resolved to be irres­olute, adamant for drift, sol­id for flu­id­i­ty, all-pow­er­ful to be impotent."
He had a few things to say about Nation­al Debt, which may be worth a laugh or a cry.
When the National Debt was £30 million
In 1710 a Tory Min­istry had grant­ed a char­ter to a com­pa­ny trad­ing with the South Seas. In 1720 a group of Direc­tors approached the Gov­ern­ment with a plan to absorb the whole Nation­al Debt, then stand­ing at about £30 mil­lion. The scheme soon came to stink of dis­hon­esty, but the politi­cians were too greedy to reject it…. Wal­pole came to the res­cue with a scheme for graft­ing a large sec­tion of the South Sea cap­i­tal on to the Bank of England's stock and for recon­struct­ing the Nation­al Debt….
The last sec­tions of the Nation­al Debt tak­en over by the South Sea Com­pa­ny were por­tioned out between the Bank of Eng­land and the Trea­sury…. A sum of mon­ey was set aside from the rev­enue each year to pay off the Nation­al Debt was put into oper­a­tion. With­in a few months the sit­u­a­tion improved and Eng­land set­tled down again under anoth­er edi­tion of Whig rule. —WSC, The Age of Rev­o­lu­tion (New York: Dodd Mead, 1957), 109-10, 112, 115
Three centuries later
By the 1920s the UK Nation­al Debt had risen to the shock­ing fig­ure of near­ly £8 bil­lion ($20 bil­lion). As Chan­cel­lor of the Exche­quer in 1924-29, Churchill suf­fered for it. Accord­ing­ly he pro­posed mea­sures to pay it off. (This was when £8 bil­lion was "gigan­tic"….)
There are two ways in which a gigan­tic debt may be spread over new decades and future gen­er­a­tions. There is the right and healthy way; and there is the wrong and mor­bid way. The wrong way is to fail to make the utmost pro­vi­sion for amor­ti­sa­tion which pru­dence allows, to aggra­vate the bur­den of the debts by fresh bor­row­ings, to live from hand to mouth and from year to year, and to exclaim with Louis XV: "After me, the del­uge!" —WSC House of Com­mons, 11 April 1927
Two decades after that
The Sec­ond World War end­ed with Britain los­ing a quar­ter of her nation­al wealth, approx­i­mate­ly £7 bil­lion. Antho­ny Sel­don wrote of an econ­o­my "up-end­ed to pro­duce the max­i­mum war effort. Two-thirds of her export trade was lost, over a quar­ter of her mer­chant ship­ping. [By 1946] nine mil­lion able work­ers were still active­ly involved in war-relat­ed activ­i­ties." Bomb and rock­et dam­age was esti­mat­ed at £1.5 bil­lion. The Nation­al Debt tre­bled while the stan­dard of liv­ing fell. "The cost of Britain's war effort for four years exceed­ed her nation­al income by 50%."
In the teeth of this the new Labour gov­ern­ment deter­mined to spend unprece­dent­ed amounts on new pro­grams of social­iza­tion. Churchill was now Leader of the Oppo­si­tion, and oppose he did:
I do not believe in look­ing about for some panacea or cure-all on which we should stake our cred­it and for­tunes, try­ing to sell it like a patent med­i­cine to all and sundry. It is easy to win applause by talk­ing in an airy way about great new depar­tures in pol­i­cy, espe­cial­ly if all detailed pro­pos­als are avoid­ed. —Com­mons, 5 Octo­ber 1946
Here is a field of com­pli­ca­tions of the most extra­or­di­nary vari­ety. Why the Gov­ern­ment should choose this par­tic­u­lar moment to throw all this new sphere into con­fu­sion and dis­tur­bance and make a large addi­tion to the Nation­al Debt in order to thrust the clum­sy but­ter-fin­gers of the State into all this intri­cate appa­ra­tus can­not be imag­ined, still less explained. —Com­mons, 12 Novem­ber 1946
"Clumsy butter-fingers…"
…was not a new line. His capa­cious mem­o­ry for a melo­di­ous (mal­odor­ous?) phrase nev­er left him. Churchill had first deployed that one in Lan­cashire 45 years before:
I am myself one of those who hates Gov­ern­ment inter­fer­ence in trade mat­ters. (Hear, hear.) It is near­ly always a crime, and invari­ably a blun­der. There is no great advan­tage to be gained by thrust­ing the clum­sy but­ter-fin­gers of Gov­ern­ment offi­cials and par­ty politi­cians into the del­i­cate and sen­si­tive oper­a­tions of cap­i­tal and com­merce. (Cheers.) —Old­ham, 21 Octo­ber 1903
Nothing new under the sun
Now, Sir Win­ston has not inter­rupt­ed his first mil­lion years paint­ing to com­ment on the recent­ly "resolved" Nation­al Debt. And after all, by today's stan­dards, a cou­ple tril­lion here or there is pock­et change. But it is inter­est­ing that Nation­al Debts large and small were sub­ject to polit­i­cal shenani­gans cen­turies before even his time.
Nor will I sug­gest what Churchill would think of the amounts of debt in today's debates—heaven for­bid. The quo­ta­tions are are his own. Draw your own conclusions.