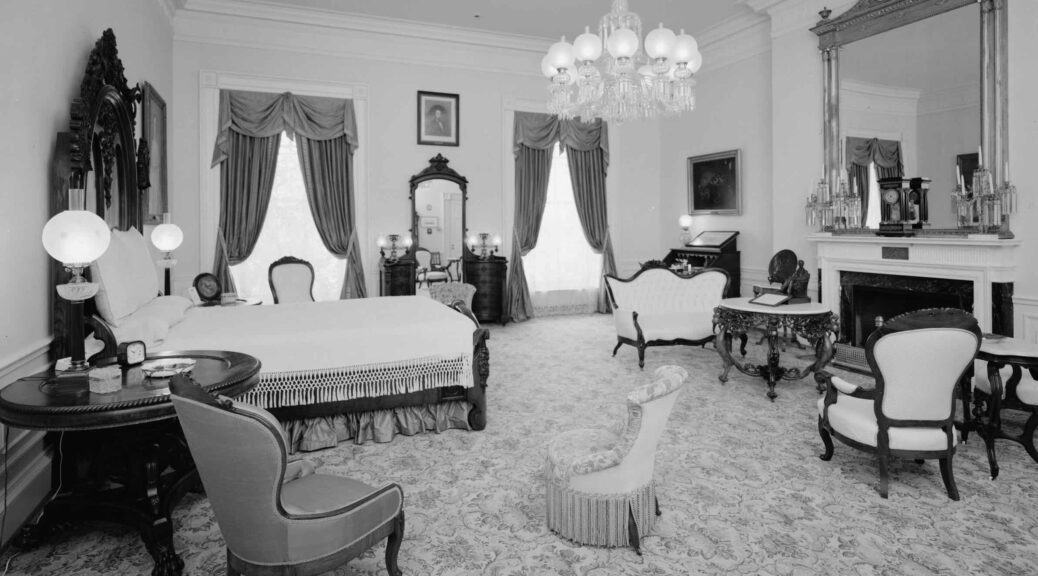 Churchill's Ersatz Meeting with Lincoln's Ghost
Churchill's Ersatz Meeting with Lincoln's Ghost
Was Churchill, on one of his vis­its to the White House, spooked by the ghost of Abra­ham Lin­coln? Ever a fan of Things That Go Bump in the Night, I was intrigued to receive this question.
Fred­er­ick N. Ras­mussen of the Bal­ti­more Sun, an admir­er of Sir Win­ston, told a sto­ry years ago, which has just float­ed back. Ras­mussen wrote:
Experts in the field of spec­tral phe­nom­e­na claim that Mary­land and Wash­ing­ton are rich in sight­ings…. A ghost sto­ry dat­ing to the Civ­il War that has per­sist­ed through the years is that of repeat­ed appear­ances of Abra­ham Lin­coln, who has been seen stand­ing in a win­dow of the Exec­u­tive Man­sion star­ing toward Vir­ginia, as he had done often dur­ing the war. Even Churchill, who thought noth­ing of tak­ing on Hitler and Mus­soli­ni, was not hap­py when assigned to the Lin­coln Bed­room. Quite often, he was found in a vacant bed­room across the hall the next morning.
There are end­less Lin­coln ghost sto­ries. Churchill's encounter would have occurred dur­ing one of his stays in the White House dur­ing the Sec­ond World War.
But his daugh­ter,
Lady Soames
, told me he was not eas­i­ly spooked. "He didn't real­ly believe in appari­tions." What about his con­fronta­tion with the ghost of his father in his 1947 short sto­ry,
The Dream
?
Lady Soames replied: "In that case, his fan­cy was released by the image of his father."
Naked encounter?
Wikipedia offers a vari­a­tion of Churchill meet­ing Lin­coln in its entry on Lincoln's ghost. The accom­pa­ny­ing foot­note ref­er­ences Mar­jorie B. Gar­ber, Pro­fil­ing Shake­speare, Rout­ledge, 2008:
British Prime Min­is­ter Win­ston Churchill loved to retire late, take a long, hot bath while drink­ing a Scotch, smoke a cig­ar and relax. On this occa­sion, he climbed out of the bath and, naked but for his cig­ar, walked into the adjoin­ing bed­room. He was star­tled to see Lin­coln stand­ing by the fire­place in the room, lean­ing on the mantle.
Churchill, always quick on the uptake, sim­ply took his cig­ar out of his mouth, tapped the ash off the end, and said "Good evening, Mr. Pres­i­dent. You seem to have me at a dis­ad­van­tage." Lin­coln smiled soft­ly, as if laugh­ing, and dis­ap­peared. Churchill smiled in embarrassment.
This may be a con­fla­tion of Churchill's famous ​naked encounter with Pres­i­dent Franklin Roo­sevelt (which appar­ent­ly did hap­pen). "The Prime Min­is­ter of Great Britain has noth­ing to hide from the Pres­i­dent of the Unit­ed States," Churchill report­ed­ly said.
Lincoln Bedroom
Eleanor Roo­sevelt arranged for Churchill to stay in the Lin­coln Bed­room. It was "the favorite of most male guests," recalled J.B. West, the chief ush­er. But upon his arrival on 22 Decem­ber [1941], the Prime Min­is­ter reject­ed the bed, so he wan­dered the sec­ond floor, "tried out all the beds and final­ly select­ed the Rose Suite," where SDR [Sara Delano Roo­sevelt] and the Queen [Eliz­a­beth the Queen Moth­er] had resided. —Blanche Wiesen Cook, Eleanor Roo­sevelt, Vol­ume III, 409.
***
Mrs. Roo­sevelt had arranged for [Churchill] to stay in the Lin­coln Bed­room, then locat­ed off the West Hall, the favorite of most male guests. How­ev­er, he didn't like the bed, so he tried out all the beds and final­ly select­ed the Rose Suite at the end of the sec­ond floor. —J. B. West & Mary Lynn Kotz, Upstairs at the White House: My Life with the First Ladies.
***
When Eleanor showed Churchill to the Lin­coln Bed­room (not then as famous as it was to become dur­ing the Clin­tons' occu­pan­cy of the White House), he turned it down, claim­ing the bed did not suit him. Mak­ing him­self at home from the start, Churchill then looked over the oth­er avail­able rooms. Alert as ever to oppor­tu­ni­ties, he chose a bed­room across the hall from Har­ry Hop­kins' almost per­ma­nent rooms, the Rose Room on the sec­ond floor, where Queen Eliz­a­beth had slept on her on her 1939 vis­it with King George VI. —Cita Stelz­er, Din­ner with Churchill: Pol­i­cy-Mak­ing at the Din­ner Table.
Reality
"It is true," writes Mr. Lehrman,
that Har­ry Hop­kins had been occu­py­ing the so-called Lin­coln Suite. Mr. Churchill was hap­py with the Rose Suite, as it was direct­ly across the hall from Hop­kins. It would seem that the pow­ers that be thought Mr. Churchill very impor­tant they showed him the Lin­coln Bed­room out of def­er­ence, Hop­kins notwith­stand­ing. For­tu­nate­ly, it seems Mr. Churchill did not like the bed, thus no cause for dis­turb­ing Hop­kins. Churchill was more than sat­is­fied with the Rose Suite, imme­di­ate­ly across the hall from Hop­kins, pri­mar­i­ly because it gave him imme­di­ate access to Hop­kins, with whom he already had a very spe­cial relationship.
So, unless the ghost of Mr. Lin­coln was in the habit of switch­ing rooms, he is unlike­ly to have appeared in Churchill's bed­room. Even less like­ly did the appari­tion appear as Churchill was emerg­ing from his bath. By the way, his baths though fre­quent did not occur late at night. The Lin­coln Bed­room wasn't so named until 1929. Before then it was the "Blue Suite." Lin­coln used it as a study, not a bed­room. Accord­ing to the White House Muse­um the bed­room fur­ni­ture was moved in by Pres­i­dent Tru­man in 1945.