Lectures and Book Signings
Lectures and Book Signings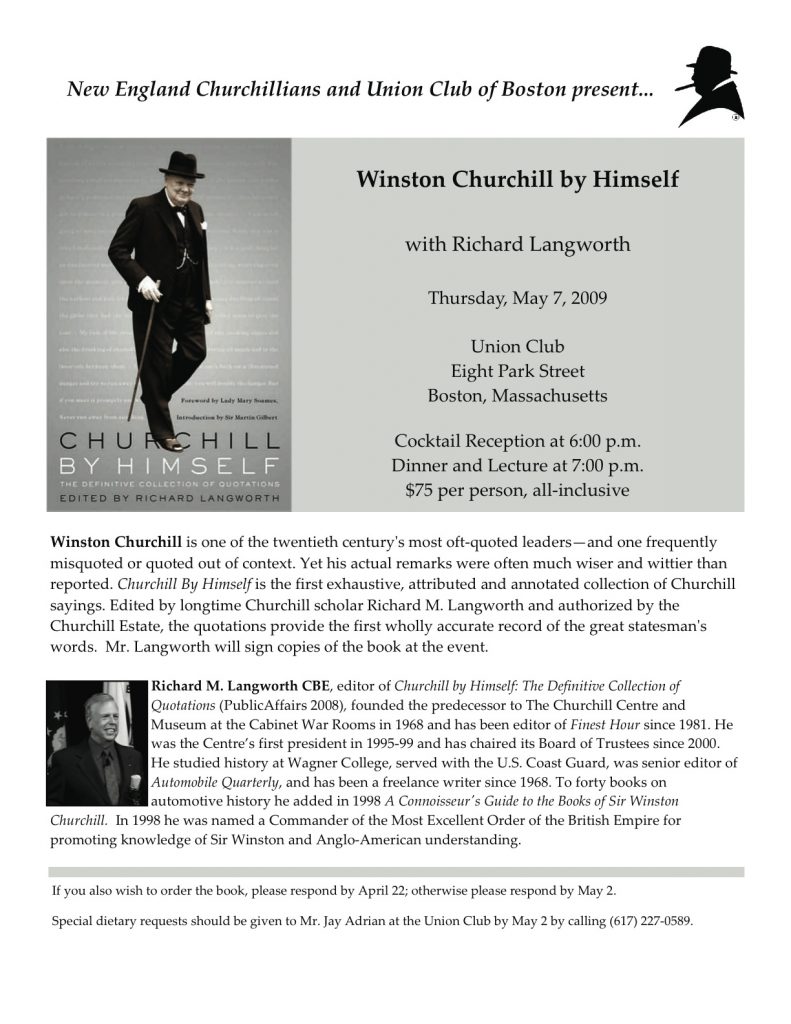 Churchill by Himself
LECTURES AND BOOK SIGNINGS
10 May 2010: Toron­to. Annu­al Din­ner, Inter­na­tion­al Churchill Soci­ety of Canada.
11 Sep­tem­ber 2009: Churchill For Today: "Shall We All Com­mit Sui­cide?" and Churchill's oth­er futur­ist essays: pan­elist and mod­er­a­tor. 26th Inter­na­tion­al Churchill Con­fer­ence, West­in St. Fran­cis Hotel.
7 May 2009, Boston: Eng­lish-Speak­ing Union and New Eng­land Churchillians, Union Club, 6PM.
3 May 2009, Detroit: Win­ston Churchill Soci­ety of Michi­gan, Dear­born Inn, 5:30PM.
2 May 2009, Chica­go: Churchill Friends of Greater Chica­go, Fair­mont Hotel, 6PM.
30 Novem­ber 2008, Dal­las: "Churchill by Him­self." North Texas Church­llians, Pap­padeaux Seafood Kitchen. Pre­sen­ta­tion and book signing.
30 Novem­ber 2007, Boston: "Churchill and Ire­land: Notable Pro­nounce­ments on Ire­land, 1901-1948." New Eng­land Church­llians, Union Club.
4 Sep­tem­ber 2006, Brad­ford, Ver­mont: "Packard's Hen­ry Joy: I Wish He Were Here." Packard Auto­mo­bile Clas­sics Joy Tour, Brad­ford Inn.
Since 2003: "Lead­ing Churchill Myths": A cor­nu­copia of baloney, explod­ed by trolling through the facts. Audi­ence discussion.
Since 2001: "Churchill's Wis­dom Calls to Us Across the Years": For five days after Sep­tem­ber 11th we were asked: What did Churchill say in sim­i­lar cir­cum­stances? What effect did it have? Is it appro­pri­ate now? Of course it is appro­pri­ate now.
1999-2002: "Churchill and the Art of the States­man-Writer": How to become the high­est paid jour­nal­ist of your time, write fif­teen mil­lion words and win the Nobel Prize for Lit­er­a­ture. With read­ings from Churchill's books. Deliv­ered at the Boston Athenaeum, fol­lowed by Philadel­phia, 2000 and Wash­ing­ton, 2002.