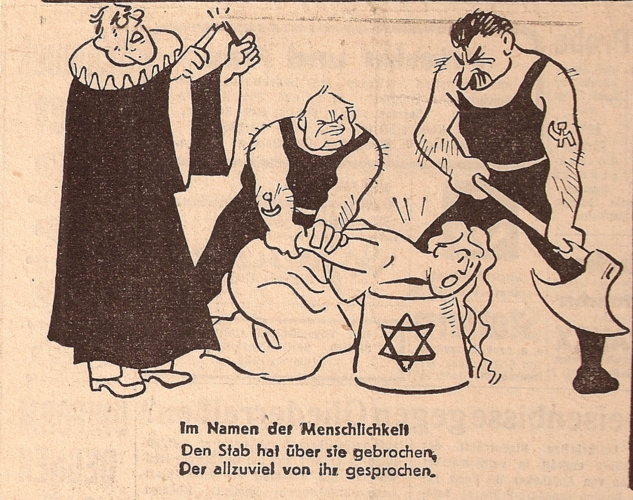 Not Churchill, re Germany: "We butchered the wrong pig"
Not Churchill, re Germany: "We butchered the wrong pig"
A Ger­man cor­re­spon­dent writes: "Churchill is mis­quot­ed as saying—with ref­er­ence to the Nazis ver­sus the Soviets—'We butchered [or slaugh­tered] the wrong pig.' The impli­ca­tion: he should have fought Stal­in, not Hitler.
"This seems to me revi­sion­ist wish­ful think­ing. He could nev­er have said that, since there is no such idiom in Eng­lish. He would have had to say, 'We fought the wrong ene­my.' Can you reveal some authen­tic infor­ma­tion as to the ori­gin of this misquotation?"
Sev­er­al queries along these lines fol­lowed pub­li­ca­tion of Her­bert Kuhner's "A Revival of Revi­sion­ism In Aus­tria." Appar­ent­ly Kuh­n­er gave the source as Robert, Lord Booth­by. (The web­site says it is cur­rent­ly under revision.)
Wrong pig – wrong quote
My first reac­tion was that Sir Win­ston Churchill would have found this phrase offen­sive to pigs! He did use ani­mal analo­gies, and could have invent­ed such an idiom. But he was very favor­ably dis­posed to pigs. (He famous­ly said, "Dogs look up to you, cats look down on you. Give me a pig! He looks you in the eye and treats you as an equal.") So he would not like­ly have com­pared Britain's ene­mies to porkers.
I searched the Hills­dale Col­lege Churchill Project dig­i­tal scans of Churchill/s canon, some 75 mil­lion words by and about him. This includes vir­tu­al­ly every­thing in his books, arti­cles, speech­es and pub­lished papers. I found no sign of the phrase, either with the word "slaugh­tered" or the word "butchered." Nei­ther did I find any state­ment of his sug­gest­ing Britain had "fought the wrong ene­my." This includes the mem­oirs of Lord Booth­by, who I do not regard as very reliable.
The primary enemy
One of Churchill's virtues was to rec­og­nize the main threat to peace at each junc­ture in his career. From 1933 to 1945, he was cer­tain that Nazi Ger­many was not the "wrong pig." He did begin to think, late in the war, that one mor­tal foe had giv­en rise to anoth­er. But he always kept things in perspective.
His change of view by 1945 was, how­ev­er, obvi­ous. Here is a key pri­vate remark record­ed by his pri­vate sec­re­tary, John Colville, on 23 Feb­ru­ary that year. The venue was Che­quers, the Prime Minister's offi­cial coun­try res­i­dence. The source is Colville's diaries, The Fringes of Pow­er (1986), 203-04:
…we sat in the Great Hall and lis­tened to The Mika­do played, much too slow­ly, on the gramo­phone. The P.M. said it brought back "the Vic­to­ri­an era, eighty years which will rank in our island his­to­ry with the Anto­nine Age." Now, how­ev­er, "the shad­ows of vic­to­ry" were upon us. In 1940 the issue was clear and he could see dis­tinct­ly what was to be done. But when [Air Mar­shal] Har­ris had fin­ished his destruc­tion of Ger­many, "What will lie between the white snows of Rus­sia and the white cliffs of Dover?"

Per­haps, how­ev­er, the Rus­sians would not want to sweep on to the Atlantic, or some­thing might stop them, as the acci­dent of Genghis Khan's death had stopped the horsed archers of the Mon­gols, who retired and nev­er came back. Har­ris: "You mean now they will come back?" Churchill: "Who can say? They may not want to. But there is an unspo­ken fear in many people's hearts."
1947
Lat­er Churchill wrote of a fan­cied encounter with the ghost of his father, Lord Ran­dolph Churchill. Enti­tled "The Dream," it recounts their con­ver­sa­tion about the years since his father's death in 1895. Now it was 1947, and Win­ston says:
Ten cap­i­tals in East­ern Europe are in Russ­ian hands. They are Com­mu­nists now, you know—Karl Marx and all that. It may well be that an even worse war is draw­ing near. A war of the East against the West. A war of lib­er­al civil­i­sa­tion against the Mon­gol hordes. Far gone are the days of Queen Vic­to­ria and a set­tled world order. But, hav­ing gone through so much, we do not despair.
No—never despair, he always said. But the his­tor­i­cal image of Genghis Khan was still on his mind.