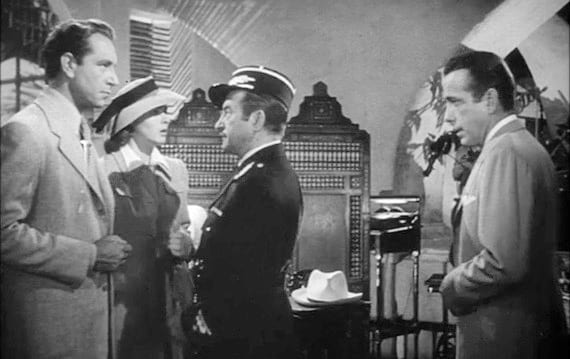 "Casablanca," Admiral Darlan, and Rick's Letters of Transit
"Casablanca," Admiral Darlan, and Rick's Letters of Transit
Darlan, Vichy, the French Fleet, and a Question
A PBS doc­u­men­tary on Churchill's destruc­tion of the French Fleet at Oran aired a decade ago.**See Mr. Overmeyer's note below. But I still get the same ques­tion about one of its more infa­mous char­ac­ters, Admi­ral François Dar­lan, Prime Min­is­ter of Vichy France dur­ing the Oran attack. He was also PM in ear­ly Decem­ber 1941: the time frame for Casablan­ca, one of the great movies of all time.
Dar­lan was by rep­u­ta­tion wily, untrust­wor­thy and scur­rilous. Eisen­how­er made him High Com­mis­sion­er in exchange for Vichy forces stand­ing down dur­ing the Novem­ber 1942 inva­sion of North Africa. He fell to an assas­sin in Decem­ber 1942.
Whose signature is on the Letters of Transit?
Emi­ly and Nor­man Rosen­berg, pro­fes­sors of Amer­i­can and inter­na­tion­al his­to­ry, first offered this side­light on Casablan­ca. In the movie, the fugi­tive Czech, Vic­tor Las­z­lo (Paul Hen­reid), and his wife Ilsa (Ingrid Bergman), arrive in Moroc­co on the run. They need to get out of Vichy ter­ri­to­ry, because Vic­tor is a free­dom-fight­er and the Gestapo wants him.
Alas for Vic­tor, his wife is the for­mer lover of Rick Blaine (Humphrey Bog­a­rt), pro­pri­etor of Café Améri­cain. And Rick—who pro­claims him­self firm­ly apolitical—has the only tick­ets out. These are a set of pur­loined "Let­ters of Tran­sit," grant­i­ng safe pas­sage to Lis­bon, and thence to Amer­i­ca. Rick has acquired the Let­ters from a shady char­ac­ter named Ugarte, played by Peter Lorre.
Many Amer­i­can view­ers believe Ugarte says the Let­ters are signed by Charles de Gaulle. But when Norm Rosen­berg wrote an analy­sis men­tion­ing this, he ran into con­tra­dic­tions. A Euro­pean pro­fes­sor chal­lenged the de Gaulle the­o­ry, say­ing the Let­ters of Tran­sit would have been signed by Darlan—not de Gaulle, who had been exiled and out­lawed by Vichy. Screen­writer Howard Koch actu­al­ly told Norm that de Gaulle was named (or in sub­ti­tles) in Amer­i­can ver­sions of the film because he was bet­ter known.
Answer: Neither Darlan nor de Gaulle, but Weygand
Read­er James Over­mey­er (com­ments, below) solved this rid­dle by point­ing out that the sign­er was nei­ther Dar­lan nor de Gaulle, but Gen­er­al Maxime Wey­gand, Del­e­gate-Gen­er­al in French North Africa when "Casablan­ca" was filmed. We con­firmed this by watch­ing the Peter Lorre episode on YouTube. Lorres's char­ac­ter can clear­ly be heard say­ing "Gen­er­al Wey­gand." Nor have we seen any evi­dence that a sub­ti­tle ever appeared sub­sti­tut­ing the names of Dar­lan or de Gaulle. (Thanks, Mr. Overmeyer.)
Sequel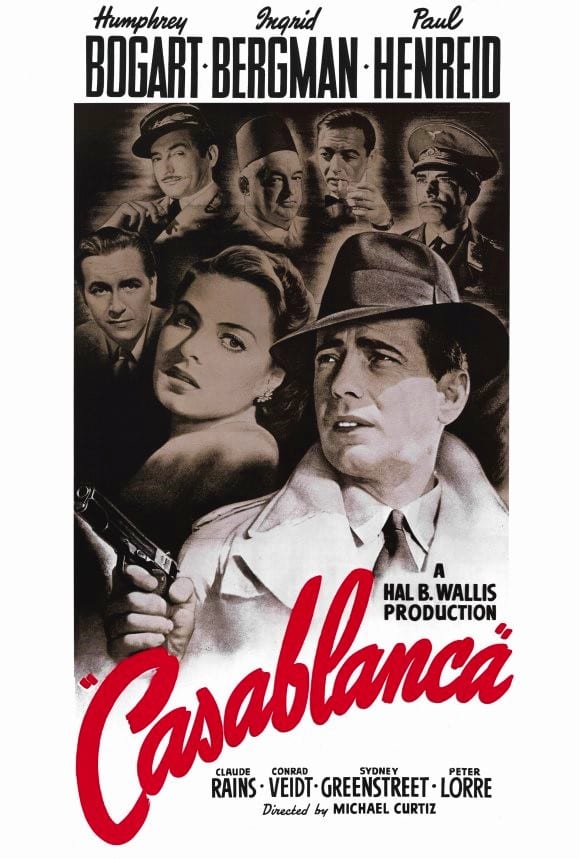 As Casablan­ca fans all know, Rick even­tu­al­ly pass­es the Let­ters to Vic­tor and Ilsa, who take off for Lis­bon and free­dom. Then Rick sells out and makes off with Inspec­tor Louis Renault (Claude Rains) to join the French Resis­tance. Because, of course, Rick has stood for lib­er­ty all along.
Inci­den­tal­ly, Claude Rains loved New Hampshire's beau­ti­ful lake dis­trict. For many years he lived in Cen­ter Har­bor, five miles from me, and was a great bene­fac­tor to the com­mu­ni­ty. He and his sixth wife are buried in Red Hill Ceme­tery. We pay an annu­al vis­it, where we recite Bogie's final line: "Louis, I think this is the begin­ning of a beau­ti­ful friend­ship."
Michael Walsh is a screen­writer and a friend of Hills­dale Col­lege who wrote a stun­ner nov­el for Casablan­ca fans. Walsh tells what hap­pened after Ilsa and Vic­tor left on the plane for Lis­bon. He also relates Rick's, Ilsa's, Louis' and Sam's lives before they came to Casablan­ca. (Rick's real name was Itzhak Baline, and Walsh explains why he had to leave New York in a hur­ry.) If you yearn to hear their voic­es again, Mr. Walsh's book brings them to life. Not to spoil it, but Rick and Ilsa meet and love again. You won't put this book down.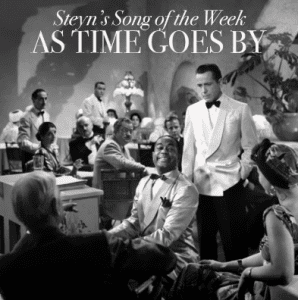 Further reading
"The Plea­sures of Prague: 'You Must Remem­ber This'": The Blue Duck­ling restau­rant in Prague. We could almost see Sam at the piano play­ing that song for Rick and Ilsa….
< As Time Goes By: the song
Mark Steyn's beau­ti­ful account of "As Time Goes By," Her­man Hupfeld's 1931 song which hardy any­body remem­bered by the time of "Casablan­ca." Except for one man…. Click here.
** Note: Darlan and Oran
Secrets of the Dead: Churchill's Dead­ly Deci­sion, nar­rat­ed by Liev Schreiber, pro­duced by Richard Bond, is a one-hour DVD. The con­clu­sion (includ­ing com­ments by a French sur­vivor) seems some­what reluc­tant­ly to pro­vide sup­port for the Churchill Cabinet's deci­sion to attack the French fleet. Stills and live video sup­port the fac­tu­al sto­ry line.
Among the experts, Sir Mar­tin Gilbert is his usu­al knowl­edge­able and artic­u­late self. Naval his­to­ri­an Andrew Lam­bert is low-keyed and excel­lent; War­ren Kim­ball is crisp and on top of the issues. The sur­vivors of Oran are touch­ing­ly and expres­sive­ly authen­tic. Pro­fes­sor Kim­ball said that the action "showed the British would fight…even if they fought dirty." Did the Mar­quess of Queens­ber­ry Rules apply to the Sec­ond World War? I would sug­gest instead Lady Soames's con­clu­sion: "I dare­say Papa had to do some pret­ty rough things, but they didn't unman him."
Bal­ance par­tic­u­lar­ly fails over Dar­lan. The doc­u­men­tary describes him as an author­i­ta­tive and trust­wor­thy fig­ure (lots of close-ups of the Admi­ral splen­did­ly uni­formed with deter­mined expres­sions). But Dar­lan was an Anglo­phobe, an anti-Semi­te, a liar and a pompous ass, one of the most reviled Vichy lead­ers, and nobody mourned his assas­si­na­tion. A rounder view of Dar­lan would have bet­ter informed the account of his role in July 1940.