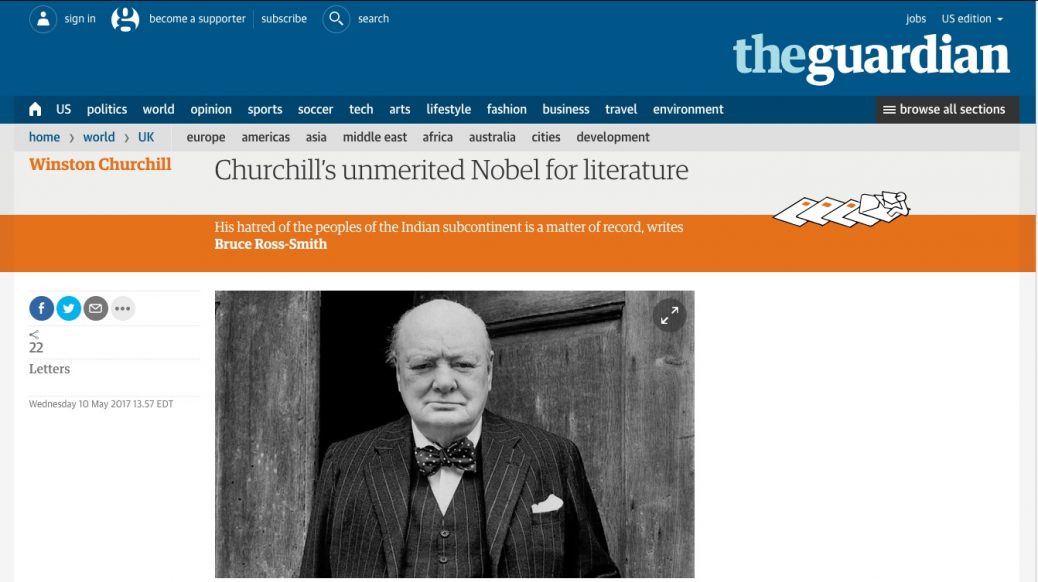 "Churchill's Unmerited Nobel Prize"
"Churchill's Unmerited Nobel Prize"
A let­ter to The Guardian presents a new Churchill Trans­gres­sion. His 1953 Nobel Prize in Lit­er­a­ture (for "mas­tery of his­tor­i­cal and bio­graph­i­cal descrip­tion [and] ora­to­ry defend­ing exalt­ed human val­ues") is unde­served! The writer says:
As his­to­ri­an David Reynolds has detailed, the six vol­umes of Churchill's his­to­ry [sic; it was mem­oir not his­to­ry] of the Sec­ond World War were built upon selec­tive mem­o­ry forged out of ego, not least the "great man's" fleet­ing mem­o­ry of the 1943 Ben­gal famine, in which more than 3.5 mil­lion peo­ple per­ished, to a large extent as a direct con­se­quence of Churchill's poli­cies and actions. His hatred of the peo­ples of the Indi­an sub­con­ti­nent is a mat­ter of record.
It is always intrigu­ing to read a new chap­ter in the unfold­ing cat­a­logue of Churchill's Per­fidy. Even if the evi­dence offered con­sists of mis­un­der­stand­ing Pro­fes­sor Reynolds, swal­low­ing an emp­ty myth, and seiz­ing on an unto­ward com­ment in a moment of frus­tra­tion ("I hate Indians").
This let­ter deserves a Nobel Prize of its own. To quote Churchill's famous 1944 rasp­ber­ry: "I should think it was hard­ly pos­si­ble to state the oppo­site of the truth with more precision."
What the Nobel was for…
1) It is a fun­da­men­tal error to believe that Churchill's Nobel Prize for Lit­er­a­ture was for
The Sec­ond World War
. It was award­ed in 1953, when the war mem­oirs were still incom­plete. The Nobel Com­mit­tee not­ed instead his auto­bi­og­ra­phy,
My Ear­ly Life,
and his biog­ra­phy,
Marl­bor­ough.
The schol­ar
Leo Strauss
called
Marl­bor­ough
"the great­est his­tor­i­cal work writ­ten in our cen­tu­ry, an inex­haustible mine of polit­i­cal wis­dom and under­stand­ing." Churchill's war vol­umes may have influ­enced the Com­mit­tee, so wide­ly were they praised. But none of the Committee's review­ers men­tion
The Sec­ond World War
in their comments.
.
Caesar and Cicero
In award­ing the prize, Sigfrid Siw­ertz of the Swedish Acad­e­my called Churchill
…a
Cae­sar
who also has the gift of
Cicero's
pen. Nev­er before has one of history's lead­ing fig­ures been so close to us by virtue of such an out­stand­ing com­bi­na­tion. In his great work about his ances­tor,
John Churchill, First Duke of Marl­bor­ough
, Churchill writes, "Words are easy and many, while great deeds are dif­fi­cult and rare." Yes, but great, liv­ing, and per­sua­sive words are also dif­fi­cult and rare. And Churchill has shown that they too can take on the char­ac­ter of great deeds.*
Refer­ring to his war speech­es, the Nobel com­mit­tee also cit­ed Churchill's "bril­liant ora­to­ry defend­ing exalt­ed human val­ues." Siw­ertz writes of "the resilience and pun­gency of his phras­es." He quotes Lord Birkenhead's descrip­tion : a "glow of con­vic­tion and appeal, instinc­tive and price­less, which con­sti­tutes true elo­quence." Churchill's ora­to­ry, Siw­ertz con­tin­ues, "is swift, unerr­ing in its aim, and mov­ing in its grandeur."
Who Wrote What
2) David Reynolds'
In Com­mand of His­to­ry
is an excel­lent study of the war mem­oirs. Reynolds explains how Churchill employed teams of experts to help com­pile its six lengthy vol­umes. But Reynolds con­cludes that it was a clas­sic mem­oir. It was Churchill's case, to be sure, but elo­quent­ly pre­sent­ed. Churchill him­self signed off on every word. Giv­en such a tal­ent­ed team as Reynolds describes, how did they man­age to offer only "selec­tive mem­o­ry forged out of ego​"?​ ​And whom does the writer ​think wrote Churchill's war speeches?
Bengal Famine: again
3) Slan­der about the Ben­gal Famine is get­ting to be a very old chest­nut. It was refut­ed begin­ning 2008, with Arthur Herman's Pulitzer-nom­i­nat­ed
Gand­hi & Churchill.
Hills­dale College's
Fate­ful Ques­tions,
vol­ume #19 of Churchill Doc­u­ments, shows
the sus­tained effort Churchill and his Cab­i­net made to get grain to India
. The doc­u­ments show they scoured the stock­piles from Iraq to Aus­tralia, tried to come up with sub­sti­tute grains, even implored Roo­sevelt (who refused). The doc­u­ments sup­port Arthur Herman's con­clu­sion: ​"With­out Churchill, the Ben­gal Famine would have been worse."
Priorities for India
4) In 1942, the
Indi­an Con­gress Par­ty
pre­scribed only pas­sive resis­tance if Japan invad­ed India. This affront­ed Churchill. "
I hate Indi­ans," he exclaimed. Affront­ed he might be, giv­en what the Axis Pow­ers had in mind for India.
William F. Buck­ley, Jr.
said of this remark: "I don't doubt that the famous gleam came to his eyes when he said this, with mis­chie­vous glee—an offense, in mod­ern con­ven­tion, of geno­ci­dal magnitude."
Yet this was the same Churchill who set out three pri­or­i­ties for the new Viceroy of India,
Gen­er­al Wavell
: a) "Defense of India from Japan­ese men­ace." b) "The mate­r­i­al and cul­tur­al con­di­tions of the many peo­ples of India." c) "Assuage the strife between the Hin­dus and Moslems and to induce them to work togeth­er for the com­mon good." After win­ning the war, feed­ing the peo­ple. Some hater.
Why?
Where do peo­ple get these false, sad notions? The ​late
Har­ry Jaf­fa
said it stems from a pub­lic appetite for arti­cles which den­i­grate nobil­i­ty or idealism:
Young peo­ple are led to believe that to suc­ceed in pol­i­tics is to prove one­self a clever or lucky scoundrel. The detrac­tion of the great has become a pas­sion for those who can­not suf­fer greatness.
Pro­fes­sor Jaf­fa said that thir­ty years ago. He hadn't seen any­thing yet.
_______
*An inex­pen­sive book from the Nobel Library, con­tain­ing Siwertz's pre­sen­ta­tion speech, Churchill's response, with excerpts from
My Ear­ly Life
and an appre­ci­a­tion by
Hugh Trevor-Rop­er
, is
Albert Camus – Win­ston Churchill
(1971). The book also excerpts
The Island Race.
This was
a con­den­sa­tion of Churchill's
His­to­ry of the Eng­lish-Speak­ing Peo­ples. HESP,
unpub­lished at the time of the prize-giving.