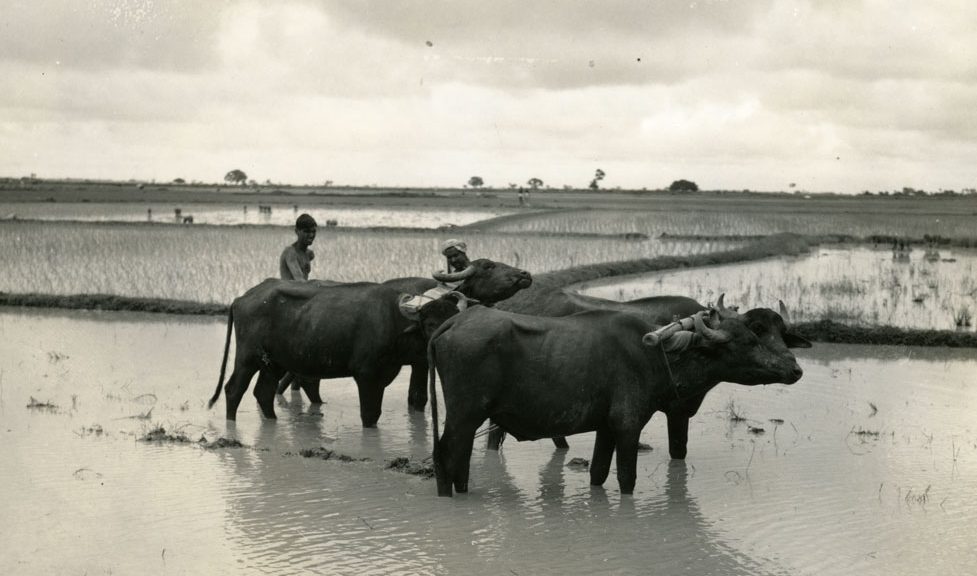 Bengal Famine: The Hottest of Churchill Debates
Bengal Famine: The Hottest of Churchill Debates
Bengal 1943-44
Most pop­u­lar by far: On both the Hills­dale Col­lege Churchill Project web­site and this one, more read­er com­ment is engen­dered over Churchill's role in the 1943 Ben­gal Famine than any oth­er sub­ject. A lot of it, pro and con, is by Indi­ans them­selves. This is under­stand­able. The food short­age that rav­aged Ben­gal in 1943-44 was the great­est human­i­tar­i­an cri­sis in India's his­to­ry. Up to three mil­lion peo­ple died—5% of the province's pop­u­la­tion. Pro­por­tion­al­ly, think 16 mil­lion Americans.
The book that start­ed the con­tro­ver­sy, Churchill's Secret War, is now eight years old. Despite vast evi­dence to the con­trary, notably in Hillsdale's The Churchill Doc­u­ments, Win­ston Churchill con­tin­ues to be blamed by the igno­rant who haven't done their home­work. The crit­ics don't say he caused the famine. They say he did noth­ing to help, and even hin­dered the help that was offered.
In real­i­ty, Churchill and the British War Cab­i­net did their lev­el best to alle­vi­ate Bengal's plight. They con­sid­ered Cana­da, Iraq, Aus­tralia and the USA, with vary­ing options, for ship­ments of wheat and even bar­ley. Aus­tralia proved the largest source. In the end they eased the tragedy, thanks to Field Mar­shal Wavell, the Indi­an Viceroy Churchill had appointed.
His­tor­i­cal dis­cus­sion by calm voic­es is always wel­come, though increas­ing­ly scarce. Here is one such that makes some new points, pro and con. It is a 2018 com­ment on the 2015 Churchill Project arti­cle, "Did Churchill Cause the Ben­gal Famine?"
This is not a rehash of the whole sto­ry, or facts already estab­lished. For that, please refer to the links at the bot­tom of this article.
Latest Case Against
The arti­cle, "Did Churchill Cause the Ben­gal Famine?," an Indi­an read­er writes, "implies that Win­ston Churchill was a sav­ior (again), in that he com­plete­ly and tru­ly believed that Indi­ans were worth sav­ing. If this was case please tell me why the Denial Pol­i­cy existed….
Don't use the rea­son that he want­ed to allow the Japan­ese to not have food sup­plies. If you checked the col­o­niza­tion of Indone­sia by the Dutch, you'll find that their scorched earth pol­i­cy did noth­ing to frus­trate the Japan­ese slight­ly and make the denizens of Indone­sia a liv­ing hell.
To all the posts show­ing the ben­e­fits that India gained of the colo­nial rule from the British, well that is no bet­ter than say­ing that tor­ture induces pain tol­er­ance. The idea of India, although prim­i­tive, did exist at the time. The uni­fi­ca­tion of the provinces would like­ly have occurred nat­u­ral­ly in a chang­ing world. Our own con­sti­tu­tion learned and impro­vised on oth­er people's democ­ra­cy to cre­ate a bet­ter democ­ra­cy for India in general.
Indi­ans are very for­giv­ing of the past atroc­i­ties that occurred: famines (not just 1943), Jal­lian­wala Bagh (Amrit­sar Mas­sacre) the Rowlett Act, the 1857 mutiny. 'Sci­en­tif­ic Forestry' caused a major change and prob­lems for for­est vil­lages Edu­ca­tion: the cur­rent edu­ca­tion sys­tem in India focus­es major­ly on rote mem­o­riza­tion instead of con­cept learn­ing. This tech­nique is only use­ful for few but is applied to all. This sys­tem was intro­duced first by the British.
The only ways I feel that the British helped in any way are the removal of slav­ery and of Sati; and help­ing to remove of the caste sys­tem by let­ting Dal­its, such as the great B.R Ambed­kar, have an ene­my to focus on, allow­ing him become a major influ­ence on the cre­ation of the con­sti­tu­tion of India.
Response
If all the British did was remove slav­ery and Sati, and dimin­ish the caste sys­tem, those were pret­ty big things.
But the arti­cle did not say Churchill was a sav­ior. It said he did not will­ful­ly exac­er­bate the cri­sis and moved every means avail­able to him to alle­vi­ate the Ben­gal famine. Iron­i­cal­ly, it was ulti­mate­ly end­ed by the Viceroy he had appointed.
If by "uni­fi­ca­tion" the read­er means a unit­ed India emerg­ing after inde­pen­dence, he great­ly under­rat­ed the vast divides among the many reli­gions and nation­al­i­ties. In 1926, over two decades before inde­pen­dence, Churchill wrote his wife:
Read­ing about India has depressed me for I see such ugly storms loom­ing up…. Mean­while we are hold­ing on to this vast Empire, from which we get noth­ing, amid the increas­ing abuse and crit­i­cism of the world, and our own peo­ple, and increas­ing hatred of the Indi­an pop­u­la­tion, who receive con­stant and dead­ly pro­pa­gan­da to which we can make no reply.…only a Mus­lim-major­i­ty state in the north­ern part of the Indi­an sub-con­ti­nent would pro­tect Mus­lim minor­i­ty rights if and when the British left.
It is fair to men­tion the British Raj's abo­li­tion of slav­ery and Sati. ("The ladies went to their deaths with dig­ni­ty, in the man­ner of a cel­e­bra­tion," reads one account of the lat­ter.) And Britain tried to break down the caste sys­tem. Yes, there were atroc­i­ties. Churchill railed against them, like Jal­lian­wala Bagh (Amrit­sar) in 1919, demand­ing the per­pe­tra­tors be pun­ished. His ear­ly objec­tions to Gand­hi were over fear of Brah­min dom­i­na­tion, par­tic­u­lar­ly over the Dal­its. Yet in 1935 he said Gand­hi "has gone very high in my esteem since he stood up for the Untouchables."
Case for the Defense
In 1944 Churchill told Sir Arcot Ramasamay Mudaliar, India's rep­re­sen­ta­tive to the War Cab­i­net that "the old idea that the Indi­an was in any way infe­ri­or to the white man must go." Specif­i­cal­ly he said: "We must all be pals togeth­er. I want to see a great shin­ing India, of which we can be as proud as we are of a great Cana­da or a great Australia." **
These are not the remarks of a white suprema­cist, but a man who exalt­ed above all, despite his impe­ri­al­ist upbring­ing, the rule of law under a just constitution—inspired in India's case by Britain's. That was anoth­er good thing the old Raj left in its wake.
It is true that the "Denial Pol­i­cy" (deny­ing rice and sea trans­port to Japan­ese invaders of Bur­ma). was a fac­tor in the Ben­gal famine. But the destruc­tive weath­er and sub­se­quent hoard­ing were much greater prob­lems. It should be obvi­ous to any fair-mind­ed per­son that the invad­ing Japan­ese had far less benign inten­tions for a con­quered India than the old British Raj. War is hell—which is why nations spend so much of their effort try­ing to avoid it.
** Duff Hart-Davis, ed., King's Coun­sel­lor: Abdi­ca­tion and War: the Diaries of Sir Alan Las­celles (Lon­don: Wei­den­feld & Nicol­son, 2006), 173.
Further Reading
Please see and con­sid­er the facts of the mat­ter, and the truth:
"Chastis­ing Churchill," by the Indi­an schol­ar Zareer Masani.
"Absent Churchill, Bengal's Famine Would Have Been Worse," by Arthur Her­man, author of Gand­hi and Churchill.
"Indi­ans are Get­ting Post-Truth His­to­ry," by Andrew Roberts at the Jaipur Lit­er­ary Festival.