Novelist Winston Churchill, American
Novelist Winston Churchill, American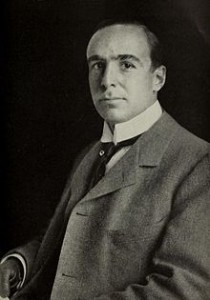 The Amer­i­can nov­el­ist Win­ston Churchill, a dis­tant rela­tion, was so promi­nent around the turn of the cen­tu­ry that Win­ston Spencer Churchill intro­duced him­self and promised to use his mid­dle name to dis­tin­guish him­self from the bet­ter-known Amer­i­can. The amus­ing cor­re­spon­dence between them ("Mr. Win­ston Churchill to Mr. Win­ston Churchill") appears in Eng­lish Winston's auto­bi­og­ra­phy, My Ear­ly Life. Amer­i­can Win­ston was a minor politi­cian who once held a seat in the New Hamp­shire leg­is­la­ture, which caused Eng­lish Win­ston, who "pro­posed to become Prime Min­is­ter," to sug­gest the droll pos­si­bil­i­ty of Amer­i­can Win­ston becom­ing Pres­i­dent of the Unit­ed States at the same time. But Amer­i­can Win­ston rose no high­er, los­ing a bid for Con­gress on the Bull Moose tick­et in 1912.
The two first met in Boston dur­ing Eng­lish Winston's lec­ture tour in 1900, where the Amer­i­can threw a din­ner par­ty for him. Great cama­raderie pre­vailed and both agreed there would be no more confusion–but Eng­lish Win­ston got the din­ner bill and Amer­i­can Win­ston got the Englishman's mail! Lat­er they grew apart, pos­si­bly because Amer­i­can Win­ston was a promi­nent friend of fel­low-Pro­gres­sive Theodore Roo­sevelt. (TR ardent­ly dis­liked Eng­lish Win­ston, "I think," said his daugh­ter Alice Roo­sevelt Long­worth, "because they were so much alike!") TR often vis­it­ed Churchill and oth­ers gath­ered around Augus­tus Saint-Gau­dens at the lit­er­ary colony in Plain­field, New Hamp­shire.
Between 1900 and 1917, when he stopped writ­ing nov­els, the Amer­i­can Win­ston Churchill pub­lished numer­ous best sell­ing nov­els includ­ing Richard Carvel, The Cri­sis, The Inside of the Cup, A Mod­ern Chron­i­cle, A Far Coun­try, The Cross­ing, Con­is­ton, The Title-Mart, The Celebri­ty, The Dwelling Place of Light, Mr. Crewe's Career, Mr. Keegan's Elope­ment, and a sin­gle non-fic­tion work, A Trav­el­er in Wartime. His books are gen­er­al­ly in good sup­ply and do not com­mand high prices, except for the occa­sion­al fine first edi­tion.
Win­ston Spencer Churchill the Eng­lish­man pub­lished only one book-length work of fic­tion, Savro­la.
Amer­i­can Win­ston began by writ­ing his­tor­i­cal fic­tion, evolved through themes of Amer­i­can Pro­gres­sives, and end­ed on a reli­gious note with The Faith of Frances Cran­i­ford (1917) and, after a long hia­tus, his final book, The Unchart­ed Way: The Psy­chol­o­gy of the Gospel Doc­trine (1940). Most of his titles are still read­i­ly avail­able at low prices.
Win­ston Churchill lived most of his life in Cor­nish, New Hamp­shire, where he is buried. He died in 1947.