Why the Turks Like Churchill
Why the Turks Like Churchill
How great was Atatürk? The ques­tion came up exam­in­ing Turk­ish atti­tudes to Churchill, which one might expect would be hos­tile. In 1914, Churchill's Admi­ral­ty denied Turkey two bat­tle­ships being built in Britain as World War I erupt­ed. In 1915, Churchill pushed hard (though did not con­ceive of) the attacks on the Dar­d­anelles and Gal­lipoli. (See also "com­ments" on this post from thought­ful Turks.)
Atatürk
One his­to­ri­an spec­u­lat­ed that Churchill mir­rored the courage and resource­ful­ness of Mustafa Kemal (Atatürk). Anoth­er said there "might be a lin­ger­ing impres­sion that Churchill had helped save Turkey from the red men­ace by his resis­tance to Russ­ian demands on the Dar­d­anelles Straits—of course it was Har­ry Tru­man who did the heavy lift­ing there [through the Tru­man Doc­trine]"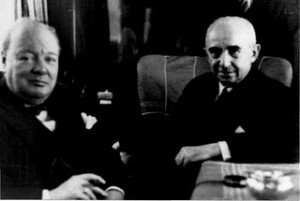 The Turks have abun­dant rea­sons to feel pos­i­tive toward Churchill, aside from his per­son­al courage, and his post-1945 resis­tance to Sovi­et designs on the Dar­d­anelles (when he was out of office and pow­er­less). Churchill's lik­ing for Turkey dat­ed back to 1910, when he toured Anatolia—partly on a loco­mo­tive cow-catcher!—and "met many of the brave men who laid the foun­da­tions of mod­ern Turkey" (as he wrote to Turk­ish Pres­i­dent Ismet İnönü in 1943).
Churchill's Admiration
Churchill under­took sev­er­al risky trips in World War II. His vis­it to İnönü was one of them. He went to Istan­bul after Casablan­ca, in a peri­od when he was away from home four weeks. Nor was the meet­ing entire­ly in vain, as he told Par­lia­ment in May 1944. Despite "an exag­ger­at­ed atti­tude of cau­tion," İnönü inter­vened to halt chrome exports to Ger­many. This was more impor­tant then than it may seem now.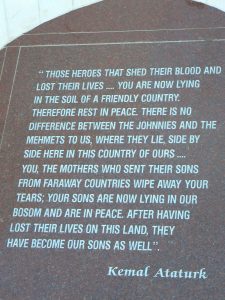 While under­stand­ing that he ruled by dik­tat, Churchill had pro­found admi­ra­tion for Atatürk. He wrote in 1938: "The tears which men and women of all class­es shed upon his bier were a fit­ting trib­ute to the life work of a man at once the hero, the cham­pi­on, and the father of mod­ern Turkey. Dur­ing his long dic­ta­tor­ship a pol­i­cy of admirable restraint and good­will cre­at­ed, for the first time in his­to­ry, most friend­ly rela­tions with Greece." (Churchill by Him­self, 321).
Chanak
Sir Mar­tin Gilbert's Churchill: A Life (and his bio­graph­ic vol­ume IV in more detail) record Churchill's per­for­mance in the 1922 Chanak cri­sis. This added to his Turk­ish cred­its. Churchill per­sis­tent­ly argued, in telegrams, let­ters and Cab­i­net meet­ings, for a firm stance by Britain and the Domin­ions. But he restrained a bel­li­cose, pro-Greece Lloyd George from act­ing rash­ly when the Turks marched near British-occu­pied Chanak. Even­tu­al­ly there was a nego­ti­at­ed set­tle­ment. With that, the Con­ser­v­a­tives bolt­ed the Lloyd George Coali­tion. This cost Lloyd George his pre­mier­ship and Churchill his seat in Par­lia­ment. Mar­tin Gilbert con­cludes (Churchill: A Life, 454):
Churchill saw the Chanak cri­sis as a suc­cess­ful exam­ple of how to halt aggres­sion, and then embark on suc­cess­ful nego­ti­a­tions, by remain­ing firm. But "Chanak" had become the pre­text not only for the fall of the Gov­ern­ment but for one more, unjus­ti­fied, charge of his own impetuosity.

Meeting İnönü
Gilbert's Churchill: A Pho­to­graph­ic Por­trait records WSC's 1943 let­ter above, which he hand­ed İnönü when they met. After remem­ber­ing "the brave men," Churchill explained:
There is a long sto­ry of the friend­ly rela­tions between Great Britain and Turkey. Across it is a ter­ri­ble slash of the last war, when Ger­man intrigues and British and Turk­ish mis­takes led to our being on oppo­site sides. We fought as brave and hon­ourable oppo­nents. But those days are done, and we and our Amer­i­can Allies are pre­pared to make vig­or­ous exer­tions in order that we shall all be together…to move for­ward into a world arrange­ment in which peace­ful peo­ples will have a right to be let alone and in which all peo­ples will have a chance to help one another.
Not bad for the hoary old impe­ri­al­ist. This rep­re­sents rather an improve­ment on some more recent west­ern over­tures to Turkey. I sus­pect many Turks still feel pret­ty good about Churchill. The Adana, Turkey sid­ing where the İnönü meet­ing occurred has been turned into a park ded­i­cat­ed to peace.