Printed Signatures and "Painting as a Pastime"
Printed Signatures and "Painting as a Pastime"
I recent­ly acquired Paint­ing as a Pas­time, reprint­ed 1965. Across from the title page is the mem­o­rable pho­to of Mr. Churchill at an easel. Under this pho­to is his sig­na­ture. The sig­na­ture seems authen­tic, how­ev­er I am not an expert and am unsure. For this edi­tion, is there a sig­na­ture that has been print­ed under the pho­to? —W.R.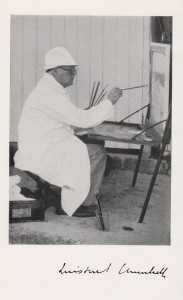 Yes; it's a print­ed sig­na­ture, present in every copy of the book. When Churchill actu­al­ly signed copies, it would usu­al­ly be on the first free end­pa­per, or occa­sion­al­ly on the title page.
Paint­ing as a Pas­time, Churchill's charm­ing essay on his chief hob­by (and oth­er hobbies—he is also big on books) was first pub­lished in The Strand mag­a­zine in 1921, reprint­ed in Thoughts and Adven­tures, and final­ly pub­lished as a vol­ume in its own right in 1948. It has noth­ing what­ev­er to do with war or pol­i­tics, and every­thing to do with hav­ing fun. Numer­ous reprints make it read­i­ly available.
For lovers of his paint­ings, the best book avail­able is Sir Win­ston Churchill: His Life and His Paint­ings, by David Coombs and Min­nie Churchill, which doc­u­ments all 550+ paint­ings, traces their where­abouts, and pic­tures most of them in full color.