With "Our Nige" at Hillsdale, 20 Feb. 2017 
I am pleased to join Nigel Farage and my colleagues at Hillsdale College's next Churchill Conference and Dinner, held in conjunction with the "The Art of Winston Churchill: An Exhibition at Hillsdale College," including paintings and memorabilia. Like most Hillsdale Churchill conferences, there are no registration fees or meal charges, all of which are pre-funded.
Mid-winter timing has no effect on attendance, especially since it coincides with the College's February Visit Day. For an invitation, and lists of local accommodations, please contact me via this website. (The paintings, organized by the National Churchill Museum, Fulton, will be on display from January through March.)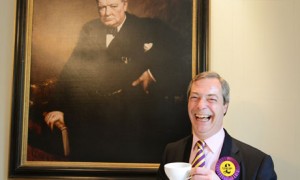 Nigel Farage built the UK Independence Party from a fringe group to the point where it dominated UK elections for the European Parliament and was a key force in Britain's June 2016 vote to leave the European Union.
To say Mr. Farage is controversial would be an understatement, and there is no denying his colorful personality, powerful advocacy and skill in debate. Sharing our admiration of Sir Winston Churchill makes Nigel of particular interest to us at the Hillsdale College Churchill Project, which is soon completing the Churchill official biography.
Hillsdale has sponsored three previous Churchill events and is planning more at various venues, including the Allen P. Kirby Center for Constitutional Studies and Citizenship in Washington, D.C. In 2018, Hillsdale will celebrate completing Winston S. Churchill—at 31 volumes the longest biography in history—on the 50th anniversary of the death of Randolph Churchill, its original author.
Seminar Schedule of Events
7:30 a.m.  Registration opens (Searle Center lobby)
7:30-9:00 a.m.  Continental breakfast
9:30 a.m.: "Churchill's My Early Life" with Paul A. Rahe, Professor of History, Hillsdale College
10:30 a.m.: "Winston Churchill, Myth and Reality," with Richard M. Langworth CBE, Senior Fellow, Hillsdale College Churchill Project
12:00 p.m.: Luncheon,  "Churchill's Understanding of Europe," with Larry P. Arnn, President, Hillsdale College (Searle Center dining room)
2:00 p.m." "The Westminster Exhibition," with Jonathan and Duncan Sandys, great-grandsons of Sir Winston Churchill
3:00 p.m.: Tour of the Westminster Exhibition
5:30 p.m.: Reception (Searle Center dining room)
6:45 p.m.: Dinner (Searle Center dining room)
8:00 p.m.: Remarks by President Larry P. Arnn; "The Significance of Brexit and Trump" with Nigel Farage, MEP
9:15 p.m.: Hospitality (Searle Center dining room)
Paintings Exhibition
Firth of Forth, ca. 1925, oil on canvas, 25 x 30 in.
Boats at Cannes Harbor, 1937, oil on canvas, 24 x 30 in.
Palazzo Vecchio in Florence, 1951, oil on canvas 24 x 20 in.
Lake Near Breccles, 1930s, oil on canvas 21.5 x 29 in.
On the Var, ca. 1935, oil on canvas 20 x 25 in.
Distant View of Èze, 1930s, oil on canvas 20 x 30 in.
The Mill at St-Georges-Motel, ca. 1932, oil on board 24 x 32 in.
Coast Scene Near Marseilles, 1930s, oil on canvas 25 x 30 in.
Marrakech, Morocco, 1947, oil on canvas 22 x 27 in.
Avenue at Frinton-on-Sea, Essex, with Diana Churchill, ca. 1922, oil on canvas 20 x 24 in.
Winston Churchill at His Easel Painting the Mill at Dreux, by Paul Maze, 1932, oil on canvas 18 x 12.5 in.
Artifacts
Provided by  the National Churchill Museum, Westminster College, Fulton, Missouri:
Dispatch Box of The Hon. Winston S. Churchill M.P., Chancellor of the Duchy of Lancaster, 1915
Top Hat with Signatures of Winston Churchill, Franklin Roosevelt and Joseph Stalin
Churchill Cigars, 1956