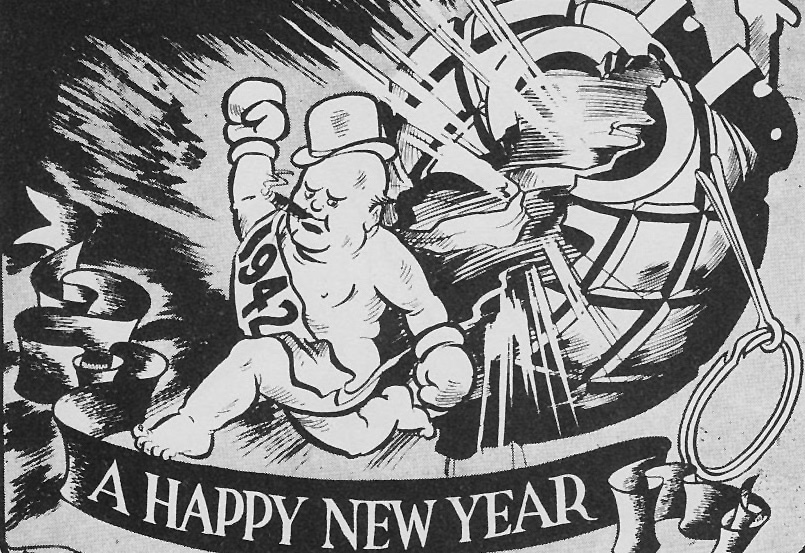 Happy New Year 1942: Where was Churchill?
Happy New Year 1942: Where was Churchill?
Ques­tion: I was born in 1942 (Nia­gara Falls, New York). I have a sen­ti­men­tal curios­i­ty over where Churchill was as his pock­et watch sec­ond hand swept from 1941 to 1942. Do you know the cir­cum­stances on that New Year's Eve? —E.C., Michi­gan, USA
Answer: Unex­pect­ed­ly (because I don't know many of his end-of-year pro­nounce­ments), I do. Don't tell me you were born on Jan­u­ary 1st. If you were, Churchill might have been hurtling past Nia­gara Falls vir­tu­al­ly at the same time!
It was a key moment in his sto­ry, and in the his­to­ry of World War II. For the first time since the war had start­ed, he knew Britain was going to win. He didn't know when that will be; but he was cer­tain of the out­come.
1 January 1942
As 1942 began, the attack on Pearl Har­bor was three weeks old. Amer­i­ca was in the war at last. Churchill was on a train return­ing from Ottawa, Ontario (where he had made the "Some chicken–some neck!" speech to the Cana­di­an Par­lia­ment) to Wash­ing­ton, where he wo;uld resume his strat­e­gy meet­ings with Pres­i­dent Roo­sevelt in the omi­nous days fol­low­ing Pearl Har­bor and the Japan­ese inva­sion of south­east Asia.
The Prime Min­is­ter called his staff and news­pa­per reporters to the din­ing car of his train to wel­come the New Year. Then, rais­ing his glass to the com­pa­ny, he made this toast:
Here's to 1942, here's to a year of toil—a year of strug­gle and per­il, and a long step for­ward towards vic­to­ry. May we all come through safe and with hon­our.
—from Churchill by Him­self page 498, the pre­dic­tions chap­ter enti­tled "Churchill Clair­voy­ant." The first pub­lished ref­er­ence is in Churchill's speech vol­ume, The End of the Begin­ning (Lon­don: Cas­sell, 1943, page 3).
His sen­ti­ments at that time are not entire­ly inap­pro­pri­ate for the cir­cum­stances in which we per­pet­u­al­ly seem to find our­selves in the 21st cen­tu­ry.