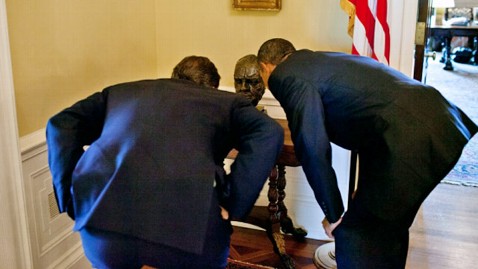 It's Baaaack! The Winston Churchill Bust Furore, Round 3
N.B. The Epstein sto­ry is expand­ed in The Amer­i­can Spec­ta­tor, 30 Jan­u­ary.
It seems that every four or eight years we must have a Great Media Hoe­down over a bust of Win­ston Churchill by Jacob Epstein arriv­ing at, or depart­ing, the White House. The revolv­ing door bust belongs to the British Embassy. It has twice resided on loan in the Oval Office. Ipso fac­to, it has twice returned to the Embassy. Per­haps it should hang on a Zip line between the two build­ings to con­ve­nience the spir­it of the moment.
When­ev­er the Epstein makes a trip back or forth, the media explodes in spec­u­la­tion.…