Poland and the Holocaust: What Churchill Knew
Poland and the Holocaust: What Churchill Knew
On 12 Jan­u­ary 2012, Mr. Paul Bonow­icz staged a one-man protest against Churchill on the verge of the A40 round­about in South Ruis­lip, Mid­dle­sex, against "the lies which were put in British books about Win­ston Churchill….I am Pol­ish and we know he betrayed Pol­ish peo­ple." He added: Churchill "knew about the Holo­caust, he knew Jew­ish peo­ple were dying, but he didn't help. After the war there was a deal between Churchill and Stal­in, and the price was Poland. Part of my coun­try was sold to the Sovi­ets. It was Churchill who decid­ed which part, not the Poles." —Uxbridge Gazette.
Churchill did know abut the Holo­caust, but con­trary to pop­u­lar belief, he tried to do some­thing about it—and was the only allied leader who did.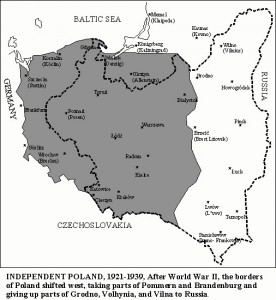 In 1938, the Teschen Dis­trict of Czecho­slo­va­kia was "sold to the Poles," who hap­pi­ly took it, as a result of Munich; and in 1939 part of Poland was "sold to the Sovi­ets" by the con­quer­ing Nazis. In sum­mit con­fer­ences at the close of World War II, Churchill first protest­ed, then acqui­esced, and ulti­mate­ly ago­nized over the shift­ing of Poland to the west, "sell­ing" an east­ern slice to Rus­sia and com­pen­sat­ing Poland with part of Ger­many: "I think a mis­take has been made, in which the Pro­vi­sion­al (Com­mu­nist) Gov­ern­ment of Poland have been an ardent part­ner, by going far beyond what neces­si­ty or equi­ty required," he told the House of Com­mons on 16 August 1945 (Churchill By Him­self, 179).
Mr. Bonow­icz is protest­ing a non-issue. With the Red Army occu­py­ing all of Poland by 1945, there was lit­tle Churchill could do except hope (for­lorn­ly), that Stal­in would make good his promise of free elec­tions. Some Poles have nev­er for­giv­en him, although Churchill was first to pre­dict Communism's fall, thanks to patri­ots such as Lech Wale­sa. Of Poland before and dur­ing World War II, Churchill added in August 1945: "There are few virtues that the Poles do not possess—and there are few mis­takes they have ever avoided."