Hess Flight Authorized? Latest Buzz
Hess Flight Authorized? Latest Buzz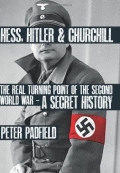 Peter Pad­field is the author of a recent book, Hess, Hitler & Churchill, which claims that Rudolf Hess's May 1941 flight to Britain (gen­er­al­ly thought the solo act of a lunatic) was autho­rized by Hitler, and that Hess had with him a pro­pos­al for an armistice with Britain and Ger­man with­draw­al from West­ern Europe in exchange for a free hand to attack Russia.
Rudolf Hess (1894-1987) had been Hitler's Deputy Fuehrer until the flight; after World War II he was tried at Nurem­berg and sen­tenced to life imprisonment.
Accord­ing to Padfield's book sum­ma­rized by the Dai­ly Tele­graph, Hess brought with him a type­writ­ten pro­posed treaty, on Ger­man Chan­cellery paper, propos­ing a state of wohlwol­lende Neu­tral­i­tat ("well wish­ing neu­tral­i­ty") between Britain and Ger­many, even dis­clos­ing the date for Hitler's planned attack on the Sovi­et Union (22 June 1941).
Mr. Pad­field* is an accom­plished con­trar­i­an, but his book will have to explain Hess's own claim (to be look­ing for anti-Churchill ele­ments in Britain); and first-per­son tes­ti­mo­ny from those around Hitler, such as Albrecht Speer, who observed Hitler's furi­ous reac­tions when he was informed of the Hess flight.
This is not to say Hitler might not have wel­comed an arrange­ment leav­ing him a free hand in the east. It is well known that he hoped for some kind of stand-off with Britain after the fall of France, and was nev­er keen about invad­ing Eng­land. But sure­ly he was smart enough to know he'd nev­er get that from Churchill, who he knew was firm­ly in pow­er by May 1941. (See fol­low­ing post.)
=======
* Titan­ic fol­low­ers like me know Peter Pad­field as author of a con­vinc­ing book, The Titan­ic and the Cal­i­forn­ian, exon­er­at­ing Cap­tain Stan­ley Lord of the Ley­land lin­er Cal­i­forn­ian, who sup­pos­ed­ly remained immo­bile with­in visu­al range of the sink­ing Titan­ic in April 1912. Pad­field used naval tech­nol­o­gy and a bat­tery of mea­sure­ments to argue that Cal­i­forn­ian was nowhere near that close. His book, which will be repub­lished short­ly, is the lead­ing text of the "Lordites," who claimed that Stan­ley Lord had been wrong­ly accused, notably by Wal­ter Lord (no rela­tion), author of the 1956 best­seller, A Night to Remember.