The Churchill Bust: Not Again!?
The Churchill Bust: Not Again!?
The elec­tion of Mr. Trump promis­es a sur­prise around every cor­ner. But I nev­er expect­ed the old Churchill bust busi­ness to come fly­ing back on the wings of pet­ty out­rage.
Lest this be thought pedan­tic, let's start with two mod­est pro­pos­als: 1) For any U.S. pres­i­dent to keep a bust of Win­ston Churchill in the Oval Office is, for any­one who admires Churchill, a great thing. 2) Every pres­i­dent has the right to the totems of his choice.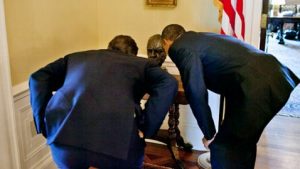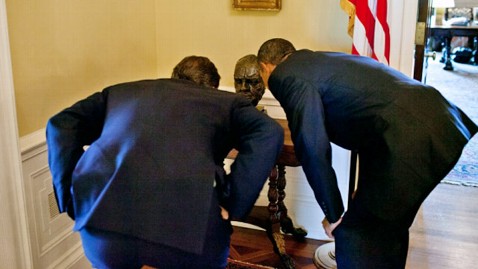 There is a lot of igno­rance and con­fu­sion over exact­ly what Churchilliana resides in the White House. There are sto­ries that Mr. Oba­ma reject­ed a Churchill bust or "put it into moth­balls" out of hatred toward the British prime min­is­ter, British colo­nial­ism, and so on. There is no proof of this at all. (Poli­ti­fact gets the sto­ry almost right, but is still con­fused over which bust is now present in the Oval Office.)
The Bust that Never Left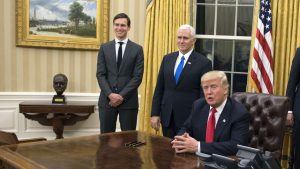 It is rarely report­ed that there's been a Jacob Epstein bust of Sir Win­ston Churchill in the White House since 1965. This one (which bears a brass plaque) is the one Pres­i­dent Trump ini­tial­ly placed in the Oval Office, sim­ply by mov­ing it down­stairs from its pre­vi­ous posi­tion in the fam­i­ly quar­ters.
I have said many rude things about Mr. Oba­ma, but not over the sec­ond Epstein, loaned to Mr. Bush after 9/11. I greet­ed its return (to the British Embassy) with facts, then with reduc­tio ad absur­dum. I said the Oba­ma White House actu­al­ly had more Churchilliana than the Bush White House, since Epstein #2 was replaced with Win­ston S. Churchill, Mar­tin Gilbert's majes­tic biog­ra­phy, which weighs as much and takes up more space. I praised jour­nal­ist Jake Tap­per, who deserves at least an OBE for blast­ing out the truth with a much larg­er trum­pet than I, back in 2012.
In clear­ing up some mis­in­for­ma­tion from the White House, Tap­per revealed the exis­tence of this first Churchill bust in the build­ing. It has been there since the British gov­ern­ment pre­sent­ed it to the White House fol­low­ing Churchill's death. It too is one of the famous Epsteins. Iden­ti­cal, in fact. (Epstein cast few­er than a dozen. Anoth­er is at Wind­sor. I sold one myself when I was a Churchill book­seller.)
Until Pres­i­dent Trump moved it to the Oval Office, Epstein #1 resided out­side the Treaty Room in the White House res­i­dence. Since Pres­i­dent Oba­ma had to pass it every time he entered the Treaty Room on his way to watch a bas­ket­ball game, it can hard­ly be assert­ed that he was deter­mined to rid the house of Churchill images. (In describ­ing this bust and dai­ly encoun­ters with it, Oba­ma declared, "I love the guy.")
The Bust that Did Leave
The sec­ond Epstein, in Pres­i­dent George W. Bush's Oval Office (with­out a brass plaque) was not returned specif­i­cal­ly by Mr. Oba­ma, although he received much blame for that act. James Bar­bour, British Embassy press sec­re­tary, told Tap­per it was "lent to the George W. Bush Admin­is­tra­tion from the UK's gov­ern­ment art col­lec­tion, for the dura­tion of the pres­i­den­cy." White House cura­tor William All­man said in 2010 that the deci­sion to return the Churchill bust had been made before Mr. Oba­ma even arrived. "It was already sched­uled to go back."
It is true that the incom­ing Oba­ma admin­is­tra­tion was offered an extend­ed loan out of cour­tesy, but want­ed to make room for a bust of Mar­tin Luther King, Jr. They might well have act­ed know­ing the White House had anoth­er one. James Bar­bour added: "The White House col­lec­tion has its own Epstein bust of Churchill, which Pres­i­dent Oba­ma showed to Prime Min­is­ter Cameron when he vis­it­ed the White House….[Now] let's get on and focus on see­ing who wins most medals in the Olympics."
Inci­den­tal­ly, con­trary to a news report, Mr. Trump did not remove the King bust. "I would nev­er do that," he said, "because I have great respect for Dr. Mar­tin Luther King." I haven't been in the Oval Office recent­ly, so per­haps some­one will tell me if the Lin­coln bust was moved out to make room for Churchill's? This does not imply any dis­re­spect, par­tic­u­lar­ly after the mov­ing cer­e­mo­ny Trump held at the Lin­coln Memo­r­i­al. After all, there are only so many side tables.
Tapper Fought on the Beaches
It bears men­tion­ing that the George W. Bush Pres­i­den­tial Library in Dal­las, which con­tains a repli­ca of the Oval Office, is miss­ing an Epstein Churchill on the side table. A docent there told me they would love to have one to fill the space. So if any kind donor would like to step up, feel free.
And thanks to Jake Tap­per, who wrote in 2012: "How did I fig­ure out what was real­ly going on? I nev­er gave in, nev­er, nev­er, nev­er, nev­er. In noth­ing great or small, large or pet­ty." As pet­ti­ness goes, this sub­ject has had quite a ration.
Addendum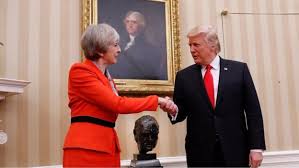 Wash­ing­ton, 27 Jan­u­ary 2017— Accom­pa­ny­ing Prime Min­is­ter May on her first vis­it to Pres­i­dent Trump was Epstein Churchill Bust #2 (black plaque on plinth, the one loaned to Bush), which has now returned to pride of place in the Oval Office. Epstein #1 (brass plaque on plinth), which Trump had orig­i­nal­ly moved to the Oval, is pre­sum­ably now back upstairs in the fam­i­ly res­i­dence.
Togeth­er with the Offi­cial Biog­ra­phy, pre­sent­ed to Pres­i­dent Oba­ma by Prime Min­is­ter Gor­don Brown, the White House now has more Churchilliana than ever; which Churchill admir­ers must regard as a great thing.