"An empty taxi arrived and Clement Attlee got out"
"An empty taxi arrived and Clement Attlee got out"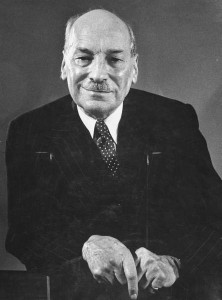 John Andrews in "Who needs a Gov­er­nor, any­way?" (Den­ver Post, 26 Feb­ru­ary 2012) writes:
"An emp­ty taxi drove up to 10 Down­ing Street," joked Win­ston Churchill about the man who defeat­ed him for prime min­is­ter in 1946, "and out of it stepped Clement Attlee." Droll, but Attlee laughed last. Noth­ing suc­ceeds like success.
Andrews not only indulges in a Churchill red her­ring, but he gets the usu­al word­ing wrong—and the date wrong. Attlee's Labour Par­ty defeat­ed Churchill's Con­ser­v­a­tives in July 1945.
Though it's all over the Web, Churchill nev­er said this about Attlee, and quot­ing Churchill to this effect con­sid­er­ably miss­es his atti­tude toward polit­i­cal opponents.
Queried about the remark, Churchill replied to the effect that Mr. Attlee was an hon­or­able and gal­lant* gen­tle­man and that he, Churchill, would dep­re­cate any such remark.
The remark is list­ed in sev­er­al Churchill quo­ta­tion books, always with­out attribution–because there is none.
_______
*In Par­lia­men­tary par­lance, "gal­lant" refers to a Mem­ber of Par­lia­ment who has served in the forces.