"Bring a friend if you have one"
"Bring a friend if you have one"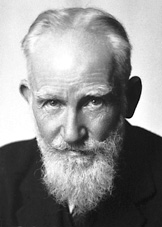 Alas the famous exchange between Churchill and George Bernard Shaw is fic­tion.
Accord­ing to the usu­al­ly reli­able Kay Halle, in her quo­ta­tions book Irre­press­ible Churchill (Cleve­land: World, 1966, page 116), Shaw wrote to Churchill in 1924: "Am reserv­ing two tick­ets for you for my pre­miere. Come and bring a friend—if you have one."
Churchill, Halle says, replied: "Impos­si­ble to be present for the first per­for­mance. Will attend the second—if there is one." Finest Hour edi­tor Dal­ton New­field explained in the 1970s that the play in ques­tion was Shaw's "St. Joan."
But Allen Pack­wood, direc­tor of the Churchill Archives Cen­tre, has just come across an cor­re­spon­dence in a remote cor­ner of the Churchill Papers (CHUR 2/165/66,68) in which both Shaw and Churchill deny the exchange:
"A Mr. Tatham writes to George Bernard Shaw on 15 Sep­tem­ber 1949 ask­ing to pub­lish the famous exchange with WSC over the­atre tick­ets.
"Shaw replies: 'The above is not only a flat lie but a polit­i­cal libel which may pos­si­bly dam­age me. Pub­lish it at your per­il, whether in asser­tion or con­tra­dic­tion.'
"Tatham also writes to Churchill, whose sec­re­tary, Eliz­a­beth Gilli­att, replies on 16 Sep­tem­ber 1949 as fol­lows: 'he [Churchill] con­sid­ers Mr. Bernard Shaw is quite right in call­ing the inci­dent to which you refer 'a flat lie.'"
The famous retort has been reprint­ed in many quote­books, includ­ing mine, but no more.