"You see, Mr. President, I have nothing to hide"
"You see, Mr. President, I have nothing to hide"
Obit­u­ar­ies for Churchill's wartime sec­re­tary Patrick Kin­na report that he saw a naked Churchill greet Franklin Roo­sevelt at the White House, say­ing he had "noth­ing to hide from the Pres­i­dent." Con­rad Black in Franklin Delano Roo­sevelt: Cham­pi­on of Free­dom has Churchill deny­ing he ever appeared to the Pres­i­dent com­plete­ly undressed. My guess is that the obit­u­ary writ­ers are read­ing more into Kinna's sto­ry about "noth­ing to hide" than was actu­al­ly there. Do you know the full sto­ry? —M.T.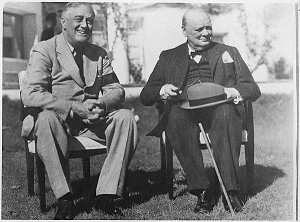 A sto­ry like this is very sus­cep­ti­ble to being embell­ished or obfus­cat­ed through count­less recitals by inti­mates (and friends of inti­mates) over the years. The most like­ly inter­pre­ta­tion is that Churchill made some off­hand remark, but was not stark naked when the Pres­i­dent arrived in his room. (Remem­ber, FDR entered his bed­room; Churchill's ever-present valet would have hand­ed him a tow­el as he climbed out of the tub in the adjoin­ing bath­room.)
I use this tale to demon­strate the vararies of quote attri­bu­tion in the pref­ace to Churchill by Him­self:
To rely on [the Inter­net] for proof of a Churchill quo­ta­tion is per­ilous. It is full of sup­posed quo­ta­tions he either nev­er said, or repeat­ed from some pri­or speak­er. The test of any quo­ta­tion, on the Inter­net or else­where, is whether it is accom­pa­nied by attri­bu­tion. If not, it may be pure invention—or words put in Churchill's mouth to make it more inter­est­ing.
Take for exam­ple WSC's cel­e­brat­ed line to Roo­sevelt, emerg­ing naked from his bath: "The Prime Min­is­ter of Great Britain has noth­ing to hide from the Pres­i­dent of the Unit­ed States." Can it be believed? As noth­ing very momen­tous hinges on the issue, and giv­en the impru­dence of imput­ing untruth to WSC's body­guard Wal­ter Thomp­son (who first quot­ed it), and with con­sid­er­able attri­bu­tion, I con­clud­ed that it can.
Har­ry Hop­kins, FDR's advis­er, repeat­ed his ver­sion of this remark (using "con­ceal" instead of "hide") often enough to raise at least a pre­sump­tion in favour of its verac­i­ty. As against such con­sid­er­a­tions is the tes­ti­mo­ny of Churchill him­self. Hop­kins' biog­ra­ph­er Robert Sher­wood once screwed up the courage to ask Churchill point blank whether the sto­ry was true or false. WSC said it was "non­sense," that he "nev­er received the Pres­i­dent with­out at least a bath tow­el wrapped around him."
As to the dec­la­ra­tion itself, Churchill added: "I could not pos­si­bly have made such a state­ment as that. The Pres­i­dent him­self would have been well aware that it was not strict­ly true." Yet Churchill lat­er told King George VI that he was "the only man in the world to have received the head of a nation naked." (Chap­ter 33, Ripostes…Naked encounter.)
Truth, how­ev­er, is elu­sive, and what is most impor­tant in this unpor­ten­tous inci­dent is that what­ev­er the actu­al facts, the report­ed words are con­sis­tent with Win­ston Churchill's per­son­al­i­ty. More sig­nif­i­cant­ly, they are con­sis­tent with the extra­or­di­nary lack of cer­e­mo­ny that char­ac­terised the rela­tion­ship of Churchill and Roo­sevelt: the col­le­gial way they worked togeth­er, despite many dis­agree­ments.