Why Didn't They Listen to Churchill?: Alistair Cooke's Take
Why Didn't They Listen to Churchill?: Alistair Cooke's Take
Back in the 1930's, who all denounced and crit­i­cized Churchill for his beliefs in the rad­i­cal Nazi Ger­many? Who specif­i­cal­ly mocked him? Obvi­ous­ly Churchill was right about Hitler and his plans but who in the polit­i­cal, intel­lec­tu­al, or enter­tain­ment are­nas vil­i­fied him? —A.H.
The answer to your ques­tion, I think, is "just about every­body," from the Roy­al Fam­i­ly to ordi­nary cit­i­zens, most of the media, his own par­ty, the Labour and Lib­er­al par­ties, and cer­tain­ly most intel­lec­tu­als and enter­tain­ment per­son­al­i­ties.
The chief rea­son was World War I, which had mas­sa­cred a gen­er­a­tion, and was still so near in mem­o­ry that no one wished to con­tem­plate anoth­er war. (And, as Sir Mar­tin Gilbert reminds me, at least two Cab­i­net Min­is­ters who had actu­al­ly fought in the trench­es in World War I—Antho­ny Eden and Alfred Duff Coop­er—sup­port­ed Churchill.)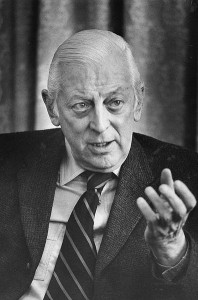 Although spo­ken in 1988, I think the most sen­si­tive and thought­ful remarks about how Churchill was held in his "Wilder­ness Years" were those of Alis­tair Cooke—a first­hand observer—delivered to the Churchill Con­fer­ence that year at Bret­ton Woods, New Hamp­shire. I have had this speech, "Churchill at the Time," post­ed on Finest Hour Online. I draw your atten­tion to these com­ments in par­tic­u­lar:
Those years, espe­cial­ly, have been over-dra­ma­tized, because our knowl­edge of the tremen­dous dra­ma to come makes us see Churchill as a reject­ed giant, a lone­ly, stub­born hero, who in the end was right. I imag­ine that most of us here would like to think that, had we been in Britain in say 1934 or '35 or '36, we should cer­tain­ly have been on Churchill's side. We'd have said, "Yes, it's true about the Ger­man air force." In fact I don't think ten per­cent of us would have been with him. He was a rant­i­ng nui­sance. Out of pow­er, he had two obses­sions: India and Hitler.

When he got up to speak, he would rant about India as the "Jew­el in the Crown," or about the immi­nent per­il of Hitler. We must remem­ber that even by the 1930s the coun­try was exhaust­ed still from the enor­mous slaugh­ter of the First World War. There were two slo­gans going around: "Peace at any Price" and "Against War and Fas­cism." Sure­ly two of the sil­li­est slo­gans. One might as well be "Against Hos­pi­tals and Dis­eases." But these con­tra­dic­to­ry slo­gans were accept­ed because at that time most peo­ple in Britain felt they would do any­thing to get rid of Hitler—except fight him. And that was what they per­ceived Churchill want­ed to do.