Churchill's Washington Humor, Part 2
Churchill's Washington Humor, Part 2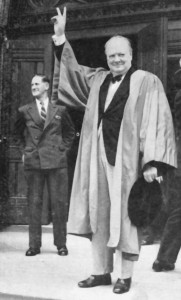 Con­tin­ued from Part 1…
Win­ston Churchill was the only for­eign­er to have made three speech­es to joint ses­sions of Con­gress. His last was in 1952—whose text I was asked for by Nel­son Mandela's rep­re­sen­ta­tives when Man­dela, a Churchill admir­er, him­self addressed a joint ses­sion. In his 1952 speech Churchill famous­ly told Congress:
I am hon­oured indeed by these expe­ri­ences which I believe are unique for one who is not an Amer­i­can cit­i­zen. It is also of great val­ue to me, on again becom­ing the head of His Majesty's Gov­ern­ment, to come over here and take coun­sel with many trust­ed friends and com­rades of for­mer anx­ious days.
Lat­er he remarked, "I have not come here to ask you for money"…and some present claim they heard him add (not quite sot­to voce): "…for myself!"
One of the most famous wise­cracks, bandied about the Inter­net, is not con­firmed. If he did say it, he would have spo­ken in pri­vate, since he was very care­ful about crit­i­ciz­ing allies pub­licly. But a lot of peo­ple think that if he didn't say this, he thought it:
The Amer­i­cans can always be trust­ed to do the right thing, once all oth­er pos­si­bil­i­ties have been exhausted.
You can nev­er go wrong in Wash­ing­ton quot­ing a rel­a­tive­ly pop­u­lar politi­cian, espe­cial­ly one who hasn't been in office for twen­ty years or more. Churchill nev­er failed to allude to and quote Bourke Cock­ran, the New York Con­gress­man who had befriend­ed him in his youth, and whose ora­to­ry he most admired. In 1941 in Wash­ing­ton, he did not hes­i­tate to wheel out his favorite Cochran expres­sion as he wound up his most famous speech to Congress:
It is not giv­en to us to peer into the mys­ter­ies of the future. Still, I avow my hope and faith, sure and invi­o­late, that in the days to come the British and Amer­i­can peo­ples will for their own safe­ty and for the good of all walk togeth­er side by side in majesty, in jus­tice, and in peace.
—-
Quo­ta­tions are from Churchill By Himself.